Reid Comes of Age!
2005-04-20
_________________
The first ever Czech Open, played over the last weekend turned out to be a tournament of tight games and big surprises. And, most of all it became the tournament of one particular, rapidly improving youngster from "north of the border". Youth and uncertainty are arguably welcome novelties in racketlon since this game has so-far been dominated almost exclusively by players that often are well into their thirties and it has also, seemingly, become a rarity lately to see any of the top players loose to anyone lower ranked. Good bye stability, welcome change? English racketlon journalist Ray Jordan reports from Prague;
_________________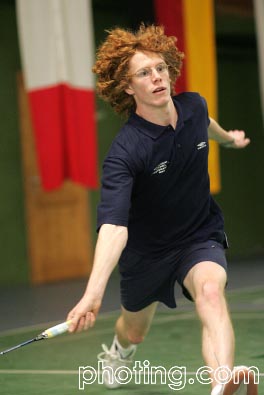 Calum Reid. Storming forward.
(Photo: www.photing.com )
20 year old Calum Reid from Stirling, in Scotland, became the youngest winner of an event since the tour began 3 years ago. In the closest fought Elite Competition there has ever been, the young Scot defeated Sweden's experienced Rickard Persson by one point in the final, having also just scraped through his semi-final against the German newcomer Elmar Schaub by 2 points.
The final itself was an enthralling affair, with the two players being relatively even in all four sports. Calum played very positively in the table tennis, top-spinning whenever he could and serving well to achieve a 20-22 defeat, "7 too many" by Rickard's own admission, who knows he could have played better. Calum also had the mental advantage in the squash, as he defeated the tall Swede 11-9 in the doubles event on Friday - after repeating the victory, this time 21-15, he was clearly in the driving seat. Calum's squash has improved immensely since his last event in Vienna; he has played constantly all winter and the rewards were obvious - he didn't lose a squash set all weekend. Onto the badminton, really the only discipline where Rickard was in control, as he worked himself into a lead and maintained it, smashing well into Calum's body whenever he could - 21-13 to the journalist. This left Calum 4 points down, but he had been playing the better tennis over the weekend so hopes were high for the British contingent constantly supporting on the sidelines. They matched each other point for point to start with, both seeming reluctant to come to the net on what was a particularly fast surface. At 8-8, Calum won four points in a row, but then so did Rickard; 12-12 and the odds were in the Swede's favour. However, 'Clum' showed the kind of mental resolve he had needed in his previous game to go 20-14 up…. Two fantastic points from Rickard meant he needed just one more to ensure at least a Gummiarm finish, but he played a backhand just wide and a large roar of victory combined with relief from Calum meant he had won his first tour event - the first of many one would assume.
The final was pretty typical of the whole tournament; 7 of the last 8 games from the quarter finals onwards were won by 11 points or less. Possibly the most captivating game also involved young Calum, and a newcomer to the international circuit, Elmar Schaub from Linden, just north of Frankfurt. Elmar, a training partner of Holger Stamm, caused a sensation in his first match when he knocked out John O'Donnell +13. He regards table tennis as his first sport (he uses short pimples on the backhand, something which neither John 21-10, nor Calum, 21-12, seemed to cope well against), closely followed by badminton and tennis, a profile clearly not suited to the Englishman from Coventry. In the game with Calum, after getting off to a 21-12 start, he managed 5 points in squash, although if he continues to play racketlon we can look forward to big improvements in that area. It was the badminton which won the game for Calum though; considering Schaub had already beaten both O'Donnell and Stamm with the feather balls, 17 points was a fantastic total - Calum winning several points with his trademark backhand cross court drop. The tennis was pure drama; needing to reach 19 points, Reid found himself 17-10 down, unable to cope with the strong German's big first serve. However at this point the nature of racketlon and Elmar's inexperience showed as Calum came back to win at 19-19, helped along the way with some great net play and 2 double faults from the wild card entrant.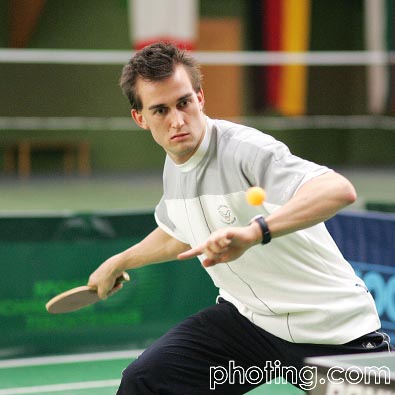 Michael Dickert. Another player of the young generation.
(Photo: www.photing.com )
Third place overall went to the badminton specialist Mathias Fagerstrom (Sweden), after he beat the higher ranked Marcel Weigl in the quarter finals (+5), but losing to Persson (+10) in the semis. Further indication of his badminton strength was in evidence (if evidence be needed!) in the match for 3rd place, in which he beat Elmar Schaub before the tennis, including a 21-2 badminton win against the German 5th division player! There were plenty of other interesting contests throughout the main draw; Nick Macey beat Calum Munro in the second round for the first time; winning too heavily at the first two sports for the crafty Scot to be able to catch up, although Nick then under-performed as he lost heavily to Rickard. Michael Dickert, the other 'youngster' who was seeded along with Calum is, like the Scot, also constantly improving but lost to the eventual winner in the quarter finals, and although it was a lot closer than when they played in Vienna, Calum's vast improvement in squash once again proved decisive.
Lilian once again too strong for rivals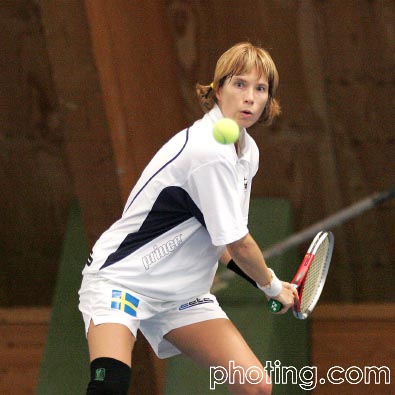 Lilian Druve. Back on Top, which suits her best.
(Photo: www.photing.com )
Lilian Druve won yet another title in Prague after beating Silke Altmann in the final; very impressively Lilian won the table tennis against Silke and certainly looked much improved in doing so - perhaps she has been training in preparation for her next meeting with Sarah!? Although losing the squash to the German, she was always in control in the badminton (as she always is!), and then did enough at tennis to win by 12 points overall. Ulrike Steinwender and Natalie Lawrence must be pleased with reaching their seeded positions in the draw as it is certainly the best finish by an English lady in a tour event and I believe also by an Austrian lady? One thing that must be noted is the disappointing turnout in the ladies' event - 16 had entered but only 11 arrived to play, unfortunately depriving some of the ladies of enough games. The women's Amateur/Elite plate event was won by strong tennis player Linda Jansson from Sweden, who was unfortunate enough to have lost to finalist Altmann in the main draw.
O'Donnell and Reid a Class Apart!
The men's Class 1 event (which doubled up as an Elite plate) was unsurprisingly won by John O'Donnell after his shock exit in the first round proper. He didn't make any mistakes this time round as he defeated a whole host of Germans, first Heinz Nowicki, then Kristian Achenbach, Oliver Zwiers and finally the Austrian Christoph Krenn, only needing to play the tennis against badminton specialist Achenbach. This certainly proved though, that there is a whole class in difference between O'Donnell and Reid, the new British Number 1! The Amateur event was very much dominated by the Austrians, with Christoph Csar beating Manuel Repa in a fairly close final (+12). In fact, 4 of the quarter finalists in the amateur event were from Austria, demonstrating Marcel and team's wonderful powers of persuasion and promotion of the sport!
Bredberg comfortable once again
Sweden's world number 2 veteran Ulf Bredburg won the veteran's event with relative ease, his closest match being +17 against Bogdan Miezynski, the surprise finalist from Poland, who had defeated England's second seed, Richard Whitehouse in the first round. Watching Ulf, it is hard to say which is his strongest, or in fact weakest sport, as he is a very all-round player, although I think his tennis is probably stronger than the others. Fortunately for Bogdan, he came up against a squash player in each round, and his good badminton/table tennis combination, combined with steady tennis enabled him to progress through to the final, where Ulf was just too strong. Graham "taxi" Norton of England came third, losing to Bredberg in the semis before defeating Austria's Erich Knotter to snatch 'bronze'. Richard Whitehouse recovered from his surprise early exit to take the veteran's plate.
Krenn/Macey & Nilsson/Druve victorious in doubles!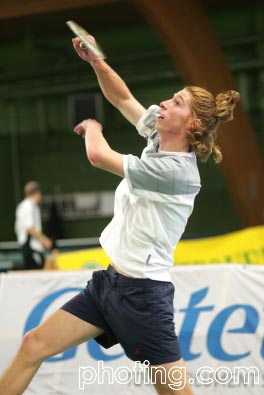 Christoph Krenn. Another youngster.
(Photo: www.photing.com )
This was the first time a doubles event was held outside of England, and the first time there has been a mixed doubles event on the tour. It has to be said, they were both a huge success, with doubles games being at least twice as hard to predict than normal racketlon games! The top seeds Persson/Fagerstrom fell in the semi-finals to the English pairing of O'Donnell/Websdale, and although on paper perhaps a surprise, they didn't look too comfortable in their previous round game against Reid/Jordan either; perhaps evidence that in Britain club tennis and badminton is mainly played as doubles, whereas on the continent the emphasis is more on singles play. The Austro/Anglo pair of 'big bird' and Nick 'Dean' Macey however proved remarkably strong throughout; only losing the squash set in the final against O'Donnell/Websdale and thoroughly deserving their victory - certainly a case of second time lucky for Macey having lost by a gummiarm in the first doubles final at the British open a year ago. The mixed doubles title was won by Joachim Nilsson and Lilian Druve, who beat Marcel Weigl and Ulrike Steinwender in the final, after some noticeable early round defeats, with Achenbach/Altmann & Sach/Seifert biting the dust at an early stage!
Fantastic Playing Conditions
Most players agreed, these were among the best playing conditions on the tour so far. Apart from the strip of light above the badminton courts which meant you occasionally lost a 'feather ball' in the light, the courts and surfaces were excellent, and the natural flow of players from table tennis to squash to badminton to tennis along with an organised time schedule meant for very few hold ups. The hotel and the playing centre were right next to each other, and a corridor ran from the sports hall to the 1st floor of the hotel for easy access. Although the hotel was on the very edge of Prague and you needed to either take a taxi or the shuttle bus to the metro station, the facilities were very nice and Metro tickets about 25p each!
Being located in Prague, the tournament of course had its advantages, being one of Europe's most loved and visited cities, and for further tournaments at this venue (which Marcel and his Czech counterparts assure us there will be), I would recommend an extra day is set aside to visit the city properly. The nightlife was also very good, and I must thank Herr Achenbach for taking us to a very impressive nightclub with beers at 1 Euro each, a sentiment shared by Elite winner Calum Reid, victorious despite being out until the early hours - maybe Magnus will take note and prepare similarly in future?!
One final word about 'the most innovative T-shirts on the whole tour'. Hmmm…. The English contingent are considering creating their own with famous quotes from the various tournaments such as "How could that be a stroke, I couldn't get out of the way?" and, "Can you volley in table tennis?" (Both not named at this point to save embarrassment).
Once again, thanks to the organisational team, thanks to the Czechs for having us, and well done to Calum on his first victory (of many), see you all in Belgium!
____
For full results from the event see the homepage of Racketlon Federation Austria; www.racketlon.at.
_________________________________