Geographical Advice
Date: 2005-09-16
_________________
The home of Gothenburg Racketlon World Open is Alelyckan's Sport Center in Gothenburg. (See their website at www.alelyckanssportcenter.com.)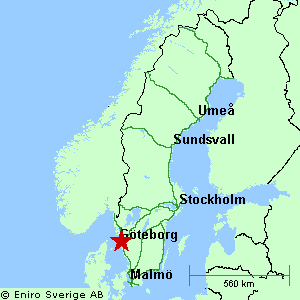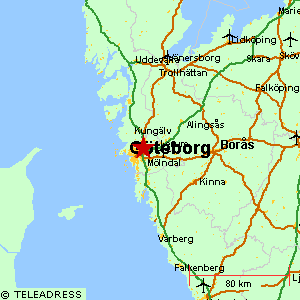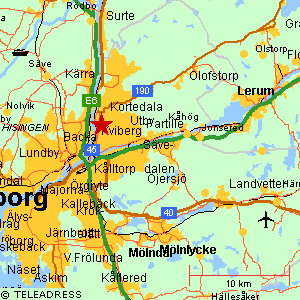 Alelyckan is located about 5km north east of Gothenburg City. The street address is:
Alelyckans Sportcenter
Gamlestadsvägen 313
402 52 Göteborg
Website: www.alelyckanssportcenter.com
Here is how to get there:
By car:
It takes less than 10 minutes from the center of town. Go to Gamlestadstorget and follow the signs to Alelyckans industriområde. When you have reached Göfab (supermarket on the left hand side) there is about 1.5km left. You will see the sport center on the right hand side.
By bus:
Lines 70, 78 or 79 leaves Gamlestadstorget (the tram stop) about once every half hour.
By air:
A)
The main airport (Landvetter) is located about 30km east of Gothenburg City (at road 40 at the far right of the map above). Airport buses run frequently to the city (takes about 20 minutes). From there you can either take a taxi (SEK 100-150) to Alelyckan or go by public transport (tram 8 from Brunnsparken to Gamlestadstorget. Then bus as above). It will probably take you about 40 minutes from the airport to Alelyckan if you go by airport bus, then taxi. Count at least an hour if you go by public transport all the way.
B)
If you travel with Ryanair you will not land at Landvetter airport but at Säve (or Gothenburg City Airport as Ryanair prefer to call it). It is closer to the city and situated approximately 12 kilometres to the north west of the city. (Look for Säve in the map above). A coach service from the airport to Gothenburg leaves 30 minutes after the arrival of Ryan Air flights. The bus back to the airport leaves the bus terminal 90 minutes before the departure time. The journey takes approximately 30 minutes.
There is a regular taxi service to Gothenburg Central Station from the airport that costs in the region of SEK265. A taxi all the way to the sport center will probably cost a bit more.

Shuttle
We will operate a mini-bus shuttle service during the weekend, with frequent rides between the Kviberg Youth Hostel and the Sport Centre. In addition, we will be able to pick people up at the airport according to advance agreement. Please, get in touch and we will try to give you a lift!
_________________________________