Adamsson and Altmann Claim First Tour Titles!
Date: 2005-06-08
_________________
Belgium is seriously gearing up for the 2006 World Championships to be held in Oudenaarde in June next year. With 265 participants this year's tournament became the biggest event in the history of the IRF, only comparable to last year's world championships (234 entries). Racketlon journalist Ray Jordan reports;
_________________
Sweden's Stefan Adamsson and Germany's Silke Altmann both claimed their first IRF tour titles at the Belgian Racketlon Open, held in Oudenaarde last weekend. Stefan came through a very strong Men's Elite event to beat Rickard Persson in the final, needing only one point in tennis to secure victory, after strong performances in the first three disciplines; +18 (tt17-21, ba21-10, sq21-7, te7-10). When the draw was made, everyone was looking forward to a possible semi-final clash between Stefan and Magnus Eliasson, but unfortunately Magnus had to concede due to a leg injury a few points into the squash set, with the match still finely balanced at +3 for Magnus after the first two disciplines.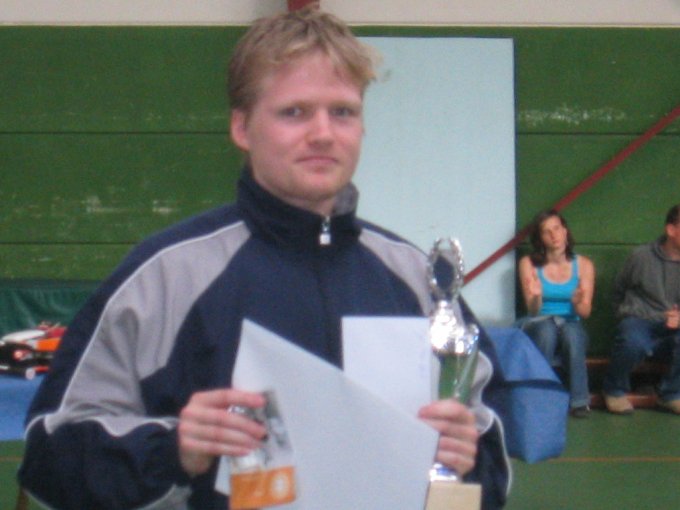 Stefan Adamsson, Sweden. "Too strong and too young."
After the final Rickard admitted "Stefan is too strong and too young for me". The tall table tennis specialist realises that he must play very well on the day to challenge either Stefan or Magnus, particularly in the middle two sports, and is earning a reputation for being the everlasting runner-up. Stefan's only close game over the weekend was against Steven Verbruggen, who he edged out +8. He also beat Christian Wall, recent conqueror of Mats Källberg at the Swedish championships, in his group before defeating Marcel Weigl in the quarter-finals. Rickard had comfortable group wins over Nick Macey and Joachim Nilsson, before defeating Mathias Fagerström in the last eight and John O'Donnell at the semi-final stage - all players he has played several times before!
The standard of play was very high throughout the elite event, and the eight seeds progressed to the quarter-finals where one match in particular stood out, between John O'Donnell and Calum Reid, dubbed "the Battle of Britain". The last time these two met was in Germany when John won, but since then the current world junior champion has improved his game significantly, particularly in squash. Calum got off to a good start winning the table tennis 21-13 - something he didn't manage in previous encounters. That was followed by 15-21 to John at badminton, and 8-21 to John in squash, although the game included one or two dubious let calls. John was 11 up going into the tennis, and Calum was the favourite amongst the spectators. At 15-5 to the Scot it looked as though he would pull through, but John held on and, finishing with a fortunate net ball, took the game 11-19. Things took a turn for the worse in his semi-final against Rickard though, once he only managed 6 points in the table tennis and lost the badminton, the contest was over. The other quarter-finals saw Magnus defeat Henrik Håkansson +20 (15-21, 21-6, 21-11, 3-2), Rickard beat Mathias +8 (21-5, 3-21, 21-19, 21-13) and Stefan beat Marcel +23 (21-9, 21-19, 21-12, -).
Of the Belgian elite entries, performances from Peter Duyck and Adolphe Diez-Fernandez were very impressive, with Peter beating Calum Munro in his group and Adolphe getting the better of both Jeff Buckinx and Michael Dickert. Peter and Adolphe contested the final of the Belgian championships, which Peter won, but I don't think we have seen the last of the table tennis and tennis specialist from Wallonia - indeed Adolphe was heard to quote, "This year I came to play, next year I come to win!" If he improves his badminton and squash significantly, that may well be possible. Of the other elite players, Darren Kerins stood out with some great results, in particular victories against World Championship quarter-finalist Anders Rickan, and Calum Munro.
. . .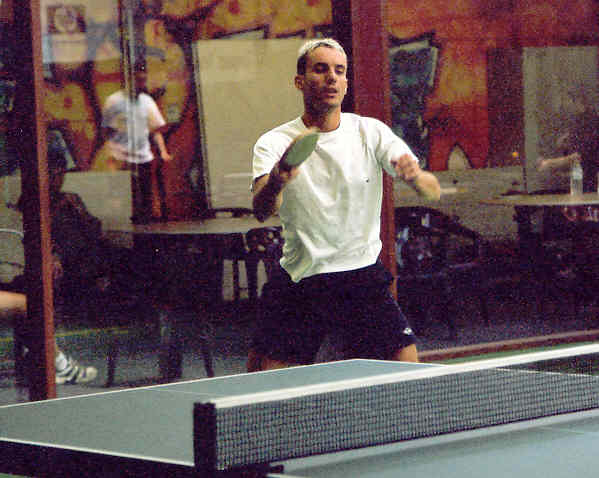 Peter Duyck - Belgian Champion. And Adolphe Diez-Fernandez - "Next year I come to win!"
The ladies event was always going to be a closely contested affair, with 8 of the top 15 ranked women present. In the end, Germany's Silke Altmann came through in a close final against Katy Buchanan +8 (21-10, 24-22, 13-21, 17-14), and although Katy has been out of practice lately Silke played very well throughout to deservedly claim Germany's first tour title which will propel her to at least fifth in the world rankings. She also won a particularly close encounter with Susanna Lautala-Näykki of Finland by +2 in her semi-final, after beating both 'P' Thomson and Mireille Slootmans in the group stages. Natalie Lawrence had a particularly good tournament, finishing third with a win over Susanna; more good news for the England squad for November.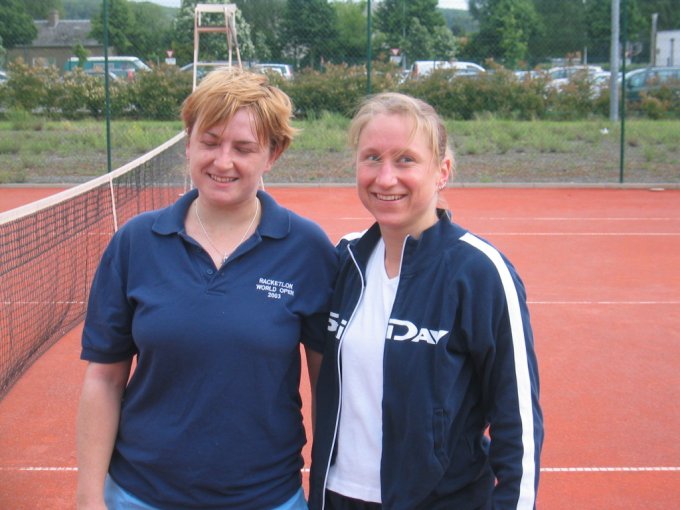 Katy Buchanan (Scotland) and Silke Altmann (Germany)
- last year's and this year's winners.
In the veterans' event, Poland's Bogdan Miezynski won his first title, having threatened to do so in Prague. He beat England's Dave Greatorex in a very close final +1, repeating the result of their earlier encounter in the group stages, which he won +6. Bogdan has a combination of good badminton & table tennis, backed up with steady tennis (and almost non-existent squash) - possibly the right profile to challenge Par Carleke? Although I still think he would be too far off at this stage. Dave meanwhile, has shown tremendous commitment to the tour since his first tournament in Stockholm, and along with one or two other hardcore English competitors, may show his face in Bulgaria next month. The other vets semi-finalists were Graham 'taxi' Norton (who lost out to fellow countryman Greatorex), and local player Hans Bockstael, who won the all-Belgian group last weekend.
The Class B event was well supported and strong in standard - particularly noticeable when top two seeds and occasional elite competitors Mathias Pusa Persson and Kristian Achenbach went out in the group stages. The event was won by England's Stuart Websdale who, after winning his group comfortably, proceeded to win his quarter-final, semi-final and final with margins of 4, 1 (gummiarm!), and 2 points! He beat another Englishman, Mark Jackson in the final +3 (21-16, 21-8, 13-21, 12-19) - surely both players will enter the elite event at their next tournament? Semi-final losers in Class B were Germany's table tennis star Heinz Nowicki and Manuel Repa of Austria. Repa, who is extremely all-round, had a good tournament in beating badminton expert and professional drinker Achenbach at the group stages, and top vet and solicitor Richard Whitehouse in his quarter-final before losing the gummiarm point to Websdale.
The Class C event was won by Poland's Borys Leszek, Poland's second success of the tournament, who beat Michael Mercier of Belgium in the final. Borys has, in typical Polish fashion, strong badminton and good table tennis and will surely move up to Class 1 for the next event. Class D was won by Koen Remy who came through despite losing the first three sports against Geert Van Landeghem (both Belgium). There was further British success as 'wee' Niall Munro won the junior event at a canter - at 15 years old he certainly has the potential to emulate his dad, and also will not be affected by drinking too much beer (perhaps a lesson there Nick?). The closest game he had was a +23 victory in his group. The ladies B event was won on a gummiarm (!) by Belgium's Inge Van den Herrewegen over Susan Woods of England. The ladies reportedly had to call over IRF rep Stuart Foster to check on the rules once the game had finished in a tie!
Once again the Belgians showed the rest of us how to host a tournament, an incredible effort from all concerned, especially those who spent hours constantly driving us all backwards and forwards!! The tournament ran to schedule, results and 'fixtures' were displayed accurately and updated regularly, the free accommodation was once again excellent (if a little noisy!!!), the selection of prizes outstanding, the food and drink cheap, tasty and served with a smile, the court responsibles fantastic, and the hospitable Jan was of course forever smiling! Even the rain we were promised only made a brief appearance, enabling a lot of the non-Belgians to play on clay for the first time. The icing on the cake though, has to be the report on regional Belgian television that was shown on Sunday evening. The report lasted for several minutes and featured footage of the final between Stefan & Rickard, as well as an interview with Gert (that raised cheers so loud they could be heard in Ghent!). Just another example of the great attitude towards sport they have in Belgium.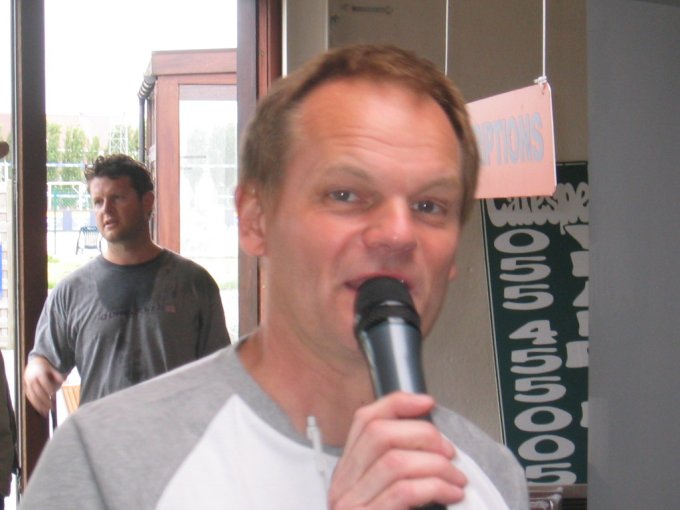 .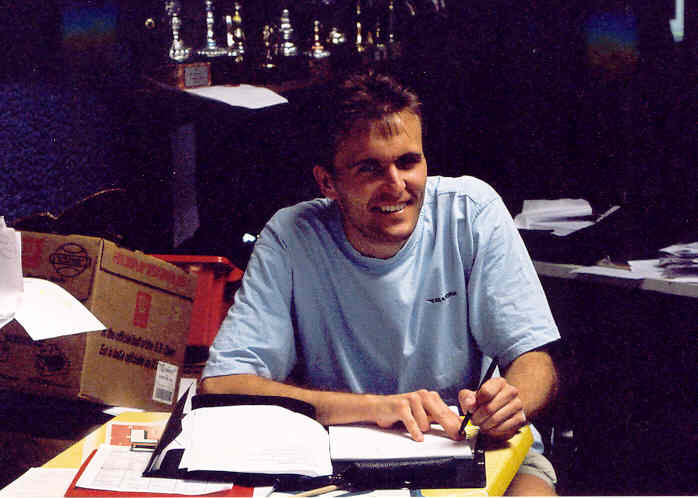 Jan Vercammen, energetic tournament director - and Gert Peersman, President of the Belgian Racketlon Federation + TV personality
Planning for the World Championships here next year has already begun and it will be hard to imagine a more successful tournament if all goes well. This tournament had the biggest entry so far with 265 competitors after 'no-shows', and they will be able to accommodate more next year. It is hard to imagine anyone who came to this tournament not wanting to come back for the Worlds in 2006, and it remains to be seen if any of the tournaments remaining on the tour next year can eclipse the effort made by the Belgian team, well done guys!!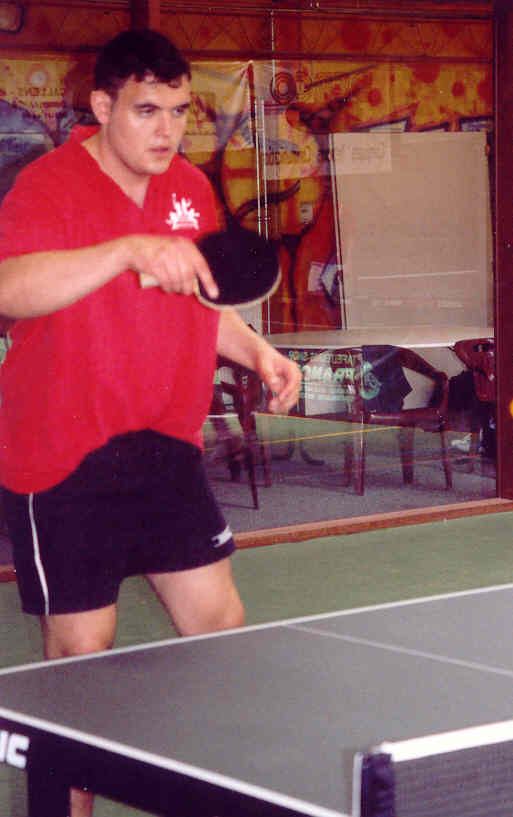 The author. Ray Jordan.
________
For full results and another report from the tournament, see tournament homepage; http://www.dhondtopenracketlon.be/
For more pictures from the event and further reports in both German and English, see www.racketlon.at (for a direct link to the photo page, click here.) More pictures should also appear on the tournament homepage within shortly.
_________________________________