Invincible!
2006-04-03
_________________
Contagiously inspired Keith Lesser reports from the first British Closed Racketlon Championships..
_________________
Tournament: Mad4Rackets British Closed Racketlon Championships
Date: 1st & 2nd April 2006
Venue: Next Generation Club West Midlands
Order of Play: Table Tennis, Badminton, Squash and Tennis (5 Serves)
It's a beautiful day!

A distinguished and impressive event, Stuart Websdale acted as Tournament Director and put in a performance of a lifetime. Investing much of his time in British Racketlon, Stuart must be commended for this astonishing job. It is no secret the UK aim to be the biggest and best racketlon nation in the world. 30 new players participated in the event. Buzzing and enthused, all players are ready to launch themselves into racketlon stardom.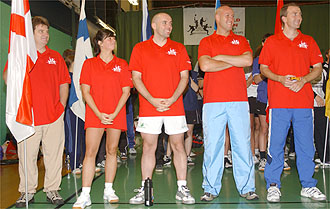 The first British Champion O'Donnell (in the middle).
Here as a member of the English National Team
at the third Racketlon World Champs in Gothenburg 2003.
O'Donnell was Invincible

In the main events O'Donnell, Lawrence, Whitehouse and Hogg won through for top prize. O'Donnell needed three points in the final, this he achieved with ease against a battling Calum Munro. John, sharp from the Czech Open, was outstanding. Undefeated at squash all weekend, he did however manage to lose some badminton and table tennis. However, you had the feeling, a bit like when Magnus plays, that John was not going to lose. 21-7 in table tennis is a total that many better players would be happy with against the awkward pimpled customer Calum Munro. 16 points in badminton is more than most would muster. However, Calum's 10 points in squash shows that the Scot is a future Veterans World Champion. In his win over Number Two Seed Websdale in the semi, Calum again got double figures in squash and showed excellent stamina and fitness.

Kirstie Leach, One for the Future!

The ladies runner-up, a novice in table tennis, showed her credentials with a close match against English International Natalie Lawrence. Kirstie is a highly ranked tennis player and pushed Natalie well into the tennis and one would estimate Kirstie making a significant impact on the international stage, 2006 should see further representation in the World's Top Ten. Natalie is improving and squash coaching sees her getting stronger and stronger. Table Tennis Coaching on April 9th at the newly formed Heston Racketlon Club could see Natalie coming to Belgium to WIN.

Vicious Squash Genius!

Once again brutal athlete Richard Whitehouse came off a squash court with devastating effect. Ken Bound, himself a squash specialist, pronounced "he was too good". For such a mild mannered, friendly chap, Richard certainly possesses some clinical racket ability. If he manages to practice table tennis in the next couple of months he is the best in the world, end of story. Ulf Bredberg is a better tennis player, but he should be worried, very worried. Richard Thomson v Magnus Eliasson - 13-21- Table Tennis (Vienna); "The Ball Came at me like a SNAKE". This same quote was exclaimed by a mystery racketlon player over the weekend of The British Championships. Can Whitehouse deliver the snake? Can he take gold?

Roland Leigh will Step up To Elite

Class B winner and newcomer looks to participate in Belgium. An excellent badminton, squash combination sees a parallel perhaps to Stuart Websdale when he first participated. 21-9 over Selwyn Walmsley in the final at squash is palpitating – Selwyn is a club first team squash player! 4 nets in table tennis didn't give Selwyn the start he needed. 21-0 would be more accurate than the eventual 21-7. Rob Conber works at the Next Generation Centre alongside Nigel Hunter. Hunter's win over Matt Schlotter was the best tennis match of the weekend. The professional tennis coach came out on top 21-17. A further victory over Hogg JNR suggests Hunter poses trouble to certain profiles. Rob himself played 4 matches. Feeling dazed and confused, Rob put his first racketlon experience into words. "I had a shower and went to bed". He lost a gummi to bronze finisher Niall Munro and won a gummi against badminton supreme Gareth Shaw. Twice in one weekend, Rob also fancies the trip to Belgium.

Ooo-oo-ooo, ooo-oo-ooo Why do you build me up (build me up) Buttercup, baby Just to let me down (let me down) and mess me around ...

The best match in Class C was runner-up Ed Qualtrough delivering a gummi victory over Table Tennis and Tennis Newcomer Nick Corking. Gareth Preece won the Class C and is a solid allrounder, playing mainly tennis. Ed debuted at Heston last October. Qualtrough evolving from the Sheffield University Table Tennis Club Hall of Fame has improved his three lesser sports immensely.

Foulds will break the World's Top 20 in 2006.

First described by Ray Jordan as "Chris Noakes without the tennis" – John Foulds looks set to lay this comparison to rest. Here are some facts:

1. He has played badminton 36 times in 2006.
2. Foulds-O'Donnell 21-13, 17-21, 15-21 – John was also losing the badminton at one point. John F is now strong at the first three sports.
3. Foulds now legitimately can challenge Websdale, Jackson and Kerins for the England Number Three Spot.
4. Foulds may go to Finland to boost his World Ranking.
5. He had injury trouble in Prague and thus did not perform to the best of his ability.

"I'll tell you one thing, it's always better when we're together"

Thanks again to everyone. Let us grow as one. What a team, what a tournament, what a sport.
/KL (keith.lesser @ racketlon.com)

_________________________________