All Set for Thomson?
2006-03-09
_________________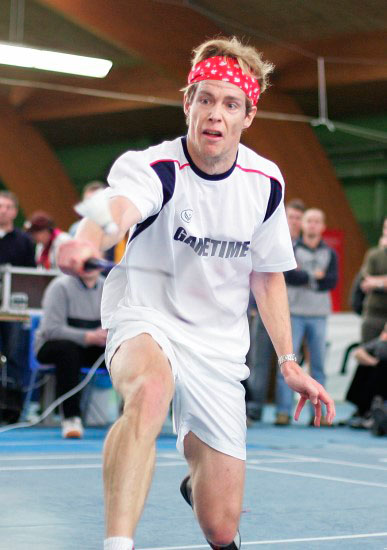 Richard Thomson, Canada. (Photo: www.racketlon.at )
As the 2006 IRF Racketlon World Tour makes this year's third stop at the fashionable Badminton & Racquet Club of Toronto during the upcoming weekend nothing but a big surprise could stop Toronto native Richard Thomson to pick up his first tour title and the $800 (Canadian) prize cheque.

Thomson made his first racketlon appearance at the inaugural Canadian Open two years ago, when he shocked the racketlon community by coming very close to beating Magnus Eliasson in the semi-final. The figures back then were:

Eliasson-Thomson +12
Tt: 21-3, Ba: 16-21, Sq: 14-21, Te: 16-10

Not bad for a first timer against the World No.1! Especially, since there seemed to be plenty of room for improvement(!) - particularly in table tennis. This result (and the subsequent runner-up achievement in the 2005 Canadian Open) inspired Thomson to make his first trip to Europe and the World championships in Vienna last November, which confirmed that he is already among the World's top racketlon players. He finished third after having made Eliasson work very hard in the semifinal;

Eliasson-Thomson +10
21-13, 15-21, 21-15, 14-12

After having gained a remarkable 13 points in table tennis (Eliasson complained after the match that the ball came at him "like a snake" - a reflection of the fact that Thomson tried a new unusual rubber) and a safe win in badminton, many in the audience started to predict a Canadian in the World Championship final. Especially, since some of them knew that Thomson was aiming for a big positive difference in squash. But that turned out to be the wrong strategy in this match. Aiming for a big positive difference implied a safe game without errors and very long rallies. He will probably not try that against Eliasson next time, Thomson said after the match; "His retrieving was better than I expected". And a calculated big win was slowly and exhaustingly turned into a clear defeat 15-21 and that is where the match was lost.

Nevertheless, this world championship semifinal goes down racketlon history as a classic and Eliasson has indeed implied that without this exahusting showdown he might have been able to give Kärkkäinen a better match in the final soon afterwards...

At the 2006 Canadian Open there is no Eliasson and no Kärkkäinen. So who could possibly stop Thomson?
More info on the Canadian Open is available on the tournament homepage; www.canadianracketlon.ca

/H
_________________________________