Biggest Tournament in North America!
2007-03-05
_________________
Tournament Director Stephane Cadieux previews below this year's Canadian Open, that has attracted several interesting profiles (see below!!) from the world of racket sport; among them the two best ranked Racketlon players in the world; Sweden's Magnus Eliasson [WR1] and Scotland's Calum Reid [WR2]. That will be challenged by the Canadian bronze medalist at the 2005 Racketlon World Championships in Vienna; Richard Thomson.
Full draws are now available on the tournament homepage; www.canadianracketlon.ca (click here for a direct link).
_________________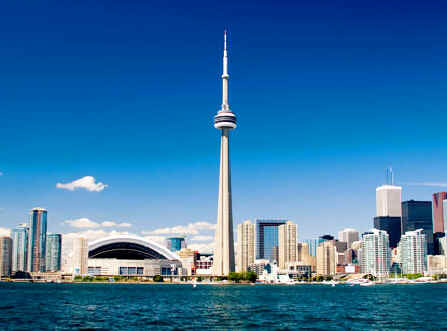 View of Toronto's skyline and the famous CN Tower

This year's Canadian Open will be the biggest ever at 102 participants. For the fourth consecutive year, the Badminton & Racquet Club of Toronto will host the Canadian Open. This year's Super World Tour status brings a lot of excitement to all of us in Canada. Here is a short preview of some of the events;

Men's A

Magnus Eliasson will likely meet last year's finalist Danny Shannon in the quarter finals. This should be an interesting match-up considering Shannon's badminton and squash expertise. Johan Porsborn might face-off against Michael Dichert in the second quarter-final, assuming he can beat last year's B champion Ken Berger. Tournament Director Stephane Cadieux's awaits the winner of Christoph Krenn, and table tennis specialist Rod Bedard (Cadieux's first round opponent was a late cancellation). Thomson will also face a match-up against a table tennis expert in Alex Charpentier, while Calum Reid will take on Peter Brix, the finalist from the Victoria tournament. The best quarter-final of the tournament could be Calum Reid against Richard Thomson. The world #2 will challenge last year's Canadian Open Champion and 2005 World Championship bronze medalist.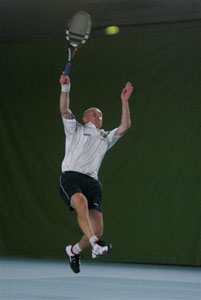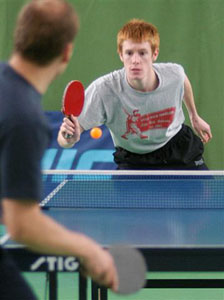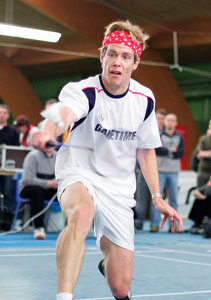 World No.1, World No.2 and their Canadian challenger.
Photo: BMM, BMM and photing.com

Women's A

#1 seed Sue Woods awaits in the quarter final the winner between squash specialist Annette White and well rounded B&R member Sue Fleming. Last year's runner up and Junior National Champion in Badminton Alex Bruce will challenge BC runner Allison Marr. This should be the best first round match of the women's A draw. Table tennis expert Ghislaine of Montreal will take on a junior from the Toronto region, who has competitive experience in badminton and tennis. BC's Racketlon Champion Damarix Brix will likely meet squash professional and #2 seed Shona Kerr in the quarter-finals.

Men's O45's

Can anyone defeat two times defending champion Gary Helmkay? This will be the most challenging year for Helmkay to defend his tittle. BC runner-up Peter Brix will be one of the favorites to challenge him. Former 80th ranked player in the world in table tennis Horatio Pintea will also be a force to be reckoned with in the O45's. Pintea will have a tough quarter-final match against squash professional Tim Bacon from the USA. #2 seeded Frank Sabetti will be one of the top contenders, with his strong table tennis, squash and tennis skills.

Men's B

South Korean Andrew Kim is favored to win the Men's B, although last year's runner-up Albert Wong might have something to say about that. There are quite a few squash and tennis specialists in the category that will challenge some of the best.

Men's C

Last year's runner-up Peter Healy is favored to win this year's event. Paul Poirier and James Leduc might be his biggest challenges. B&R nationally ranked Juniors Peter Butler and Ross Golding will attempt to finish off their opponents before even entering the tennis.

Womens B

All rounder Sara Griffiths is one of the favorites to win this year's B event. Badminton Professional Jenny Kue might be her biggest obstacle in capturing the title.

_________________________________