The Scot is Catching Up!
2007-03-20
_________________
This year's Canadian Open, the only tour event west of the Atlantic, became the biggest and best so-far containing several highly interesting matches. Much of the attention was e.g. focused on Scotland's Calum Reid's (WR2) quarterfinal against Canada's number 1 Richard Thomson. After his performance at the 2005 World Championships in Vienna Thomson has sometimes been referred to as a member of an exclusive group of four racketletes "in a league of their own" (together with Finland's Kärkkäinen, Sweden's Eliasson and England's Struthers) whereas Calum Reid, the 2006 U21 World Champion, was the young challenger, who had been improving at an alarming rate lately. As it turned out Reid seized an unexpectedly clear victory winning in all sports except the squash:

Calum Reid (SCO WR2) - Richard Thomson (CAN WR18) +16 (tt:21-6 ba:21-16 sq:13-21 te:10-6)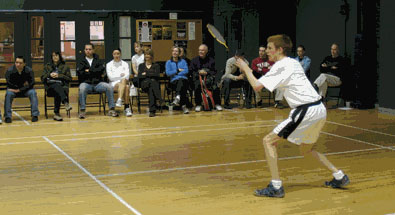 Calum Reid. Good badminton throughout the weekend.
Winning 21-16 against Thomson and 21-19 against Eliasson.
(photo: Stephane Cadieux)

It was the badminton that decided the match. Reid has improved this sport a lot lately and managed to win it against most before-hand speculations. But it is probably the epic battle in the squash that the audience will remember the longest. The rally at 1-0 for example was described by Thomson after the match as "one of the longest and toughest I have ever had". The fact that he became World Champion in squash doubles (see newsitem) last year gives that statement a certain glow... In the end Reid gained an impressive 13 points in squash (after having been up 10-9!), making it possible for him to enter the tennis with a 12 point lead, which Thomson never came close to recover.

Reid's quarterfinal victory against Thomson paved the way for a highly interesting final between the two players topping the world ranking; the king and the form strong prince. With an age difference of 17(!) years (Eliasson was born in 1968 while Reid in 1985) it would also be a match between great experience and fresh youth. Their latest previous encounter was in the English Open final (see newsitem) almost half a year ago and ended in a crushing +25 victory for Eliasson (tt:18-21 ba:21-11 sq:21-3 te:-). This time it would become trickier for him... The Scot is catching up! Read Tournament Director Stephane Cadieux's report below;
/H
_________________
2007 Canadian International Racketlon Open
March 9th - 11th
Toronto - Badminton & Racquet Club

This year's Canadian Open had a record high, 103 participants, including 12 international players. Athletes from Sweden, Austria, Germany, England, Scotland, Whales, South Korea and the USA brought some international flare. This year's event was part of the Super World Tour, one of only four tournaments in the world. Here is a small report of the Men's A Final;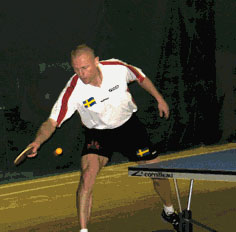 Magnus Eliasson at the B&R, Toronto.
(photo: Stephane Cadieux)

The Dream Final!

The stage was set for the dream final, world #1 Magnus Eliasson from Sweden against the 2nd world rank player from Scotland, Calum Reid. Eliasson had dominated their previous encounter, and was planning nothing different on Canadian soil. The big question for the talented 22 year old Scott was whether or not he could stay focused on his own game without the 38 year old Swedish veteran intimidating him. The table tennis was an intense battle of spin serves, amazing defensive neutralizing shots, and attacking forehands. Eliasson won the table tennis 21-19, his first victory against Reid in this discipline. Next was badminton, where Reid had never beaten the World Number 1. Reid led right from the start, maintaining a 3 or 4 point lead until the 20 point mark, (at which point he led by only one). He managed to close off the game with an unbelievable net role, giving him the 21-19 victory. Eliasson was the clear favorite going into squash, although Reid had displayed steady improvements in his recent performances. Reid got the early lead, and seemed to be able to maintain it through the halfway point. It took them 25 minutes just to get to the 11 point mark. The constant challenges of lets and strokes somewhat influenced the length of the match. With both players content to extend the rallies and maintain a rallying tempo, it quickly became a battle of fitness. They were both displaying extraordinary retrieving abilities, but could never seem to tire each other out. Reid led by as much as 16-13, before Eliasson decided that he had just about enough. Eliasson gained control of the T, and simply overpowered Reid to take the game 21-17. Eliasson was now leading by four points going into tennis. Both players were considered to be quite even in tennis, with a slight edge in Reid's favor. Unfortunately for Reid, it wasn't meant to be. Eliasson was all business from the very start and took the early lead with his steady play, forcing Reid to make the early mistakes. Reid showed some signs of nerves, never really finding his hitting rhythm. You could sense him being tentative, especially on second serves, where his motion was somewhat robotic and lacked his usual explosive leg transfer. This resulted in a few double faults, and some very attackable second serves. Eliasson ended the match at 18-9 (+13), throwing his hands up in celebration. All in all, the hour and fifty minute match was an excellent display of athleticism and unparalleled fitness. The eighty or so spectators were treated to a tremendous final to end the most successful Canadian Open to date.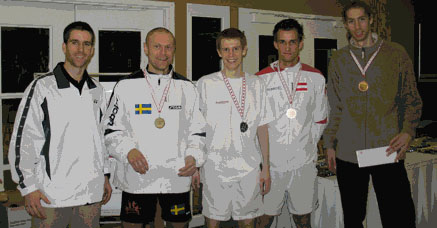 From the left: Tournament Director Stephane Cadieux, Magnus Eliasson (1),
Calum Reid (2), Michael Dickert (3), Christoph Krenn (4)
(photo: Stephane Cadieux)

The women's A final was a re-match of the Pacific Rim Open Challenge in Victoria, British Columbia this past fall. Damarix Brix got the best of Allison Marr in their previous encounter, but could she duplicate that performance? Marr seemed determined to prove her opponent wrong from the very start of the match, controlling the table tennis with a 21-11 victory. She never looked back, as she dominated the next two sports, 21-6 in badminton and 21-5 in squash. The match did not need to go to tennis with a +46 point differential in Marr's favor.

The Men's B finals featured the young Austrian Johannes Schubert who temporarily resides in Northern California, and the former Junior Nationally ranked badminton player Mike Fedryk. The first two sports were essential even, with table tennis going in Schubert's favor (21-5), while Fedryk won the badminton portion 21-6. Fedryk continued his winning ways, edging out the energetic Austrian by four points 21-17 in squash. With a slight lead of three points, Fedryk had to score 19 points in tennis to claim the title. He fell a little short, with Shubert winning tennis 21-13 for an overall, victory of a mere five points.

The Women's B final featured B&R member Sara Griffiths and Granite Club Assistant Badminton Professional Jenny Kue. Griffiths was simply too consistent for Kue in the table tennis, resulting in a comfortable 21-9 win. Kue used her strong badminton skills to completely dominate the badminton portion of the four racket marathon with a score of 21-2. Kue managed to utilize her skillful badminton footwork and racquet skills in order to overpower Griffiths with a 21-10 win in squash. Griffiths returned the favor in tennis by playing mistake free, similar to her table tennis performance. In the end, Kue's dominating badminton display was the difference with a 7 point victory.

The Men's O45's featured Peter Brix of Victoria, British Columbia, and Horatio Pintea from Ottawa, the nation's capital. Brix was the finalist in the Men's A at this year's Pacific Rim Open, while Pintea is a former table tennis National team member. Pintea made a few mistakes in table tennis and surprisingly allowed five points to be scored against him. Badminton was very evenly matched, with Pintea edging out Brix 21-19. A controversial line call from Brix towards the end of the badminton segment created a little extra tension for the remaining two sports. Brix dominated the squash with a 21-6 victory. Pintea led by three points heading into tennis with both players seemingly well matched. The match ended at 19-17 in Pintea's favor, giving him the +5 margin of victory.

The Men's C final featured last year's finalist and this year's 1st seeded player Peter Healy (fresh off his "gummy arm" semi-final win) and 5/8 seed Ed Smit. Smit seemed to have Healy in trouble after the first two sports, winning table tennis 21-14 and badminton 21-17. Smit's 11 point lead quickly vanished after Healy took control in squash and won 21-8. Healy went into tennis with a two point lead, and his confidence grew with every rally. His tennis was a notch above his opponent's, winning 21-11 for an overall win margin of +12.

Overall, the tournament was a tremendous success. The Badminton & Racquet Club of Toronto looks forward to hosting this event again next year. For the full results please visit our tournament website at: www.canadianracketlon.ca .

/SC


Results in Summary:

MEN'S A
Quarter Finals:
Magnus Eliasson (SWE) defeats Danny Shannon (CAN)
21-8, 17-21, 21-11, 11-5 (+25)
Michael Dickert (AUS) defeats Johan Porsborn (SWE)
21-6, 21-18, 21-9, 18-21 (+27)
Christoph Krenn (AUS) defeats Stephane Cadieux (CAN)
21-7, 10-21, 21-14, 21-9 (+22)
Calum Reid (SCO) defeats Richard Thomson (CAN)
21-6, 21-16, 13-21, 10-6 (+16)

Semi-Final:
Magnus Eliasson (SWE) defeats Michael Dickert (AUS)
16-21, 21-11, 21-6, 11-6 (+25)
Calum Reid (SCO) defeats Christoph Krenn (AUS)
21-12, 21-18, 21-5 (+28)

¾ Playoff:
Michael Dickert (AUT) defeats (AUT) Christoph Krenn
19-21, 21-8, 21-9 (+22)

Final:
Magnus Eliasson (SWE) defeats Calum Reid (SCO)
21-19, 19-21, 21-17, 18-9 (+13)

WOMEN'S A
Quarter-Finals:
Sue Woods (WAL) defeats Annette White (CAN)
21-4, 21-13, 21-17 (+29)
Allison Marr (CAN) defeats Abran Ghislaine (CAN)
4-21, 21-1, 21-7, 21-12 (+26)
Leah Desbarres (CAN) defeats Mary Hall (CAN)
17-21, 21-17, 21-4, 8-21 (+4)
Damarix Brix (CAN) defeats Shona Kerr (USA)
21-13, 21-8, 4-21, 22-20 (+6)

Semi-Finals:
Allison Marr (CAN) defeats Sue Woods (WAL)
13-21, 21-18, 21-12, 18-16 (+12)
Damirix Brix (CAN) defeats Leah Desbarres (CAN)
21-12, 21-8, 5-21, 21-13 (+13)

¾ Playoff:
Sue Woods (WAL) defeats Leah Desbarres (CAN)
21-7, 12-12, 8-21, 19-21 (+8)

Finals:
Allison Marr (CAN) defeats Damarix Brix (CAN)

MEN'S O45

¾ Playoff:
Frank Sabetti (CAN) defeats Gary Helmkay (CAN)
Default

Finals:
Horatio Pintea (CAN) defeats Peter Brix (CAN)
21-5, 21-19, 6-21-19-17 (+5)

MEN'S B
¾ Playoff:
Jamie Herman (CAN) defeats Cory Shannon (CAN)
21-7, 21-8, 21-13, 16-21 (+30)

Final:
Johannes Schubert (AUT) defeats Mike Fedryk (CAN)
21-5, 6-21, 17-21, 21-13 (+5)

MEN'S C
¾ Playoff:
Michael Sylla (GER) defeats Mike Dunsmuir (CAN)
21-4, 21-18, 21-7, 5-21 (+18)

Final:
Peter Healy (CAN) defeats Ed Smit (CAN)
14-21, 17-21, 21-8, 21-11 (+12)

Womens B
¾ Final:
Kathy Rintoul (CAN) defeats Claire Barker (CAN)
21-5, 24-22, 21-4, 10-21 (+13)

Final:
Jenny Kue defeats Sara Griffiths
9-21, 21-12, 21-10, 10-21 (+13)

_________________________________