A Canadian Challenger?
Date: 2004-03-23
_________________

When the first Canadian Open in Racketlon was held in Toronto last weekend (12-14 March) Canadian rookie Richard Thomson took Sweden's World no.1 Magnus Eliasson by surprise in the semi-final round. He did not win but it was shockingly close and many members of the audience did not remove his chances from the agenda until a good while into the end tennis game. The score: Tt: 21-3, Ba: 16-21, Sq: 14-21, Te: 16-10! concluding at a total end difference of +12! points for Eliasson.

12 points might still seem like a confident margin but before the tennis set Eliasson was only 6 points ahead and given Thomson's solid tennis background the final result seemed very uncertain. However, in a stable manner that has become very familiar to the racketlon community Eliasson came out the winner; perhaps not so much because of spectacular shots but rather because of fewer mistakes. For Thomson, who only plays tennis regularly during the summer season the opposite was more true; several spectacular shots but rather many mistakes.

Thomson's main background is in badminton ("that's all I did for ten years") although he had not touched a badminton racket for several years before the tournament. Nowadays he plays more squash and perhaps mainly "squash doubles" (a game fairly unfamiliar to many Europeans; it is played on a court almost twice the area size of a normal squash court with a harder ball but with normal squash racquets). As seen by the 3-21 result against Eliasson his weakness is without doubt table tennis, a fate that he shared with many of the other Canadians. Last, it should be added to his list of sports merits that his golf handicap equals zero.

Thomson announced after the tournament his intention to take part in the Vienna World Championships in November. With a bit of table tennis practice and, probably more importantly, some adjustments of his tennis and badminton abilities to take them closer to his real potential he will be a severe threat to anyone. In fact, it does not feel far fetched to speculate about a Canadian World Champion. In the match for third prize against Sweden's World No. 6 Rickard Persson, Thomson was the clear winner by +10! (Tt: 5-21 Ba: 21-17 Sq: 21-3 Te: 16-12!) and it seems already clear that there are not many among the top 10 that could beat him.

But the title and the 1000 Canadian Dollars went to the World Champion, Magnus Eliasson, who has not lost a racketlon match since May last year when he was beaten by Stefan Adamsson in the Swedish Championship final. After the bigger Thomson threat was cleared away in the semi-final he had no difficulty handling the English no.1 (and also organiser of the Canadian Open) John O'Donnell. Last time they played each other was in the final of the Austrian Open in September and compared to that occasion the difference between them seemed to have increased rather than decreased. Eliasson won by a safe margin of +22! points (Tt: 18-21, Ba: 21-10, Sq: 21-18, Te: 11-0!). O'Donnell did see one positive thing about this result, however, in the fact that he won the table tennis for the first time. "Now, I have beaten him in all three of the events except tennis, at one time or another. It is now just a matter of combining those victories in the same match" O'Donnell said after the match. Eliasson, on the other hand, commented that "O'Donnell seemed satisfied after having won the table tennis" implying that competition then turned surprisingly weak in the remaining three events.

The ladies' class attracted 12 women of three different nationalities but no-one came close of threatening Scotland's World no.4 Katy Buchanan, who has improved her game quite impressively during the last year as a consequence of almost singular determination to reach the very top. Buchanan has even given up her career as a bass guitarist in a punk group in order to get the time she need to practice racketlon. She beat Canadian Sonja Vojnov in the final by a devastating margin of +41! points - which was built up during the first three sets only, after which the match was interrupted. Detailed score: Tt: 21-12, Ba: 21-8, Sq: 21-2!

From a wider perspective the Canadian Open was one of the most important milestones in the history of the game of racketlon so-far since it constituted the first racketlon competition on the American continent and indeed, probably the first racketlon tournament of size outside western Europe. Against that background the number of participants that tournament organiser O'Donnell managed toattract was amazing. No less than 79 people were listed in the draw making this the biggest(!) racketlon tournament so-far outside Scandinavia. And reception among the Canadians was unmistakably enthusiastic as there were several rumours of follow-up events being planned in other parts of Canada as well as constant talk about going to Europe to take part in any of the other tour events, the most obvious choice, of course, being the World Championship in Vienna in November.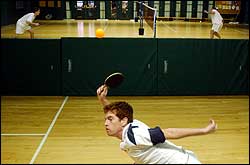 First-time racketlon competitor Mike Callaghan,
foreground, battles at table tennis while two other
players duke it out on the badminton court behind him.
The sport centre ("The Toronto Badminton and Racquet Club", known among it's members as "The R&B") as such was a new and partly exotic experience for most of the European visitors. Described by one of the Canadian participants as "very WASP" (WASP=White Anglosaxian Protestant) it contained features like a 12 000 dollar club entrance fee, a strict rule prescribing nothing but white clothing (taking at least one of the European players by total surprise) and piles of fresh cloth towels being offered in the showers. Add a very friendly atmosphere of almost family character and a centrally located bar environment from which all four sports could be watched and it becomes evident that the experience was not just exotic but also thoroughly enjoyable.
In addition to the large number of Canadians that took part, all for the first time in a racketlon event, the tournament meant that another three countries (Trinidad-Tobago, Egypt and the United States) could be added to the list of nationalities that have taken part in any of the tour events. At present this list contains 23 different nationalities, which must be considered fairly impressive given that racketlon was only played in three countries (Finland, Sweden, Austria) as late as late as November 2001 when the first international racketlon tournament took place in Gothenburg. In parallell the number of players that have taken part in a tour event is growing at a similar pace and is now rapidly approaching the 1000 players mark. Canadian Open meant a leap to above the 600 mark and big break-through tournaments in both Belgium and Germany (look under EVENTS on the racketlon.com startpage) are scheduled for the next couple of months. As a consequence of this general development questions like "Is racketlon the fastest growing sport in the World?" have started to emerge...

Among the players that took part were several racquet players of exceptionally good quality such as Horatio Pintea (Canada), Stephane Cadieux (Canada), Ashley Fisher (Australia) and Don Lee (Trinidad-Tobago);

Horatio Pintea was a former world class table tennis player, who ranked as high as 90 in the world at the end of the Eighties. The Swedish racketlon community should be interested to know that he played in Sweden for a while, where he showed off a winning game against players like e.g. Mikael Appelgren (four times Team World Champion, three times Individual European Champion).

Stephane Cadieux was a former(?) semi-professional badminton player, who could also inform that he had himself organised a multi-racket tournament in Canada a few years ago for all 4 sports except table tennis, yet another example of the fact that the idea to combine racquet sports seem to have existed in most countries at one time or another.

Ashley Fisher was a professional tennis player, whose best result this year is a doubles victory in the Mexico City ATP tournament. He also took part in Stockholm Open at the end of last year. See player profile for more information about him.
Don Lee, finally, has been the top ranked squash player of Trinidad-Tobago since the age of 14(!) until currently at the age of 31.

But none of these four racquet stars were (as yet!) all-round enough to be able to make a real mark at the Canadian Open. Admittedly, Fisher was not given the best of opportunities since he faced Eliasson in the second round; Cadieux encountered a smiliar fate by losing to another Swede, second seed Rickard Persson (also in the second round). The third Swede in the elite draw (Hans Mullamaa) took care of Lee already in the first round by making good use (21-0) of his real weakness, which turned out to be badminton. Pintea, finally, was the one that stayed in the tournament the longest and did not get knocked out until in the semi-finals, where he faced Austrian winner Michael Dickert. (It should be emphasized, however, that Pintea took part in the Class 1 category and not in the Elite event, as did all the other three.)

However, the four players above constitute a good sign that the word of racketlon seems to be spreading within the top echelons of all four sports. Another great sign of this came in January this year as former Tennis World No.1 Stefan Edberg won his first racketlon tournament (see short report) and yet another is scheduled for the next tour event, British Open in London first weekend of April, where former British squash No.1 Peter Verow has entered the Veteran class. Verow won the British National Squash Championships in 1978 and was (according to squash connoisseur Chris Noakes, as cited from the Racketlon Chat 19 March) at the time regarded as "one of the most talented squash players in the world".

Racketlon.com is honoured by this attention from the rest of the racquet world and welcomes all these awe-inspiring names - and everyone else - to the wonderful world of racketlon where professionals and amateurs can compete side by side in a unique and fascinating way!
_________________________________