Chris Noakes announces racketlon retirement!
2005-01-23
_________________
Racketlon journalist Ray Jordan reports from the latest developments within the English Racketlon community:
_________________
One of Racketlon's most colourful characters Chris Noakes, of England, has announced his retirement from competitive racketlon. The decision was originally taken just before Christmas and has only just been confirmed by the world number 22, who cites injuries and time pressure as being the main factors.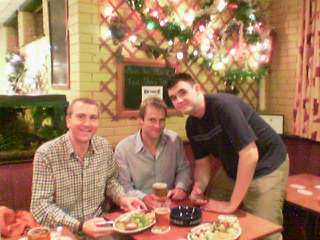 Douglas Struthers, Chris Noakes and Ray Jordan
enjoying Christmas dinner at Simon Martin's squash club

Chris has enjoyed a relatively short but eventful and successful racketlon career, reaching a high of 14 on the world ranking, as well as representing England in the team event in Germany. His first tournament was in September 2003 at the first Austrian Open in Vienna - "possibly the best racketlon venue on the tour" - according to the man himself, when he lost to Sweden's Henrik Håkansson. Since then Chris has enjoyed success in one form or another at every tournament he has played in. His best tournament and performance, by his own admission, was undoubtedly at the Bulgarian Open in July 2004, where he finished 3rd beating Bulgaria's big talent Nikolay Angelov in the 3rd/4th play off. He had earlier lost narrowly to friend and adversary Calum Reid in the semi-final.
His most comprehensive victory has to be winning the Class 1 event at the British Open last April, where he comfortably made his way to the final, beating Michael Matsson of Sweden. Reaching the semi-finals of Class 1 at the World Championships in 2003 and losing out to Calum Munro by one point in the team event at the German Open figure amongst his other successes. In the summer Chris also became the very first and ONLY racketlon player to have his own website, set up by his dedicated fan-base!
There is, however, good news for racketlon fans everywhere! Chris has said that despite retiring from competitive play, he will still attend some tournaments as a coach and spectator. "I definitely intend to keep in touch with the racketlon world and the people I've got to know," Chris informed the author recently. As a racketlon enthusiast, and also a good friend and mentor to potential 2005 World Champion Doug Struthers, we are sure to continue seeing Chris at tournaments. His youngest (9 years old) son Alex is a very promising squash player and Chris would like to spend more time concentrating on developing his game, and that alongside his persistent Achilles injury helped him to make the decision - "during these recent months of injury enforced rest from racketlon training I've not missed it", he said.

Chris will continue to play competitive table tennis locally as well as maintaining his squash game, but he knows that it would be asking too much of himself to continue playing, and especially training for racketlon, which takes up a lot of time. Chris has said that he is confident he will be in Vienna for the World Championships later this year as a spectator and maybe coach to the England squad looking to improve on last year's bronze medal!

All the best Chris, and we hope to see you at many more tournaments cheering us on in the future!!
_________________________________