Gummiarm Drama in Coventry Open Final
2004-08-22
_________________
Table tennis specialist and English racketlon journalist Ray Jordan reports from Coventry, England.
_________________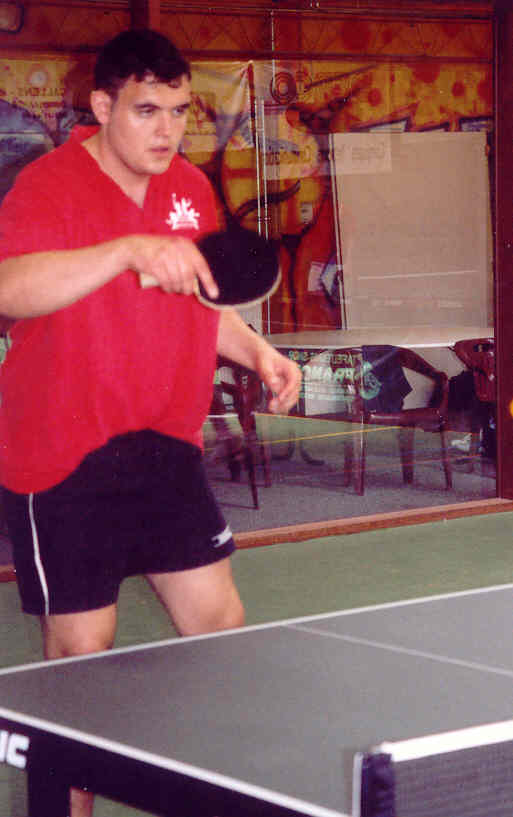 Ray Jordan, England (author and runner-up with 6 lost match points)
The 2nd Coventry Open was held this weekend at the Esporta Club, Coventry. Superbly organised by John O'Donnell, the tournament ran to schedule and the 25 competitors (the majority new to Racketlon) left delighted with the way the tournament went.

The entrants consisted of no less than four different nationalities; English, Egyptian, Colombian & Scottish - although it has to be said the non-English contingent now all live in Coventry!

Surprisingly there was also one Finn - Mark Finn, a member of the Esporta Club and a strong badminton player.

The 23 men and 2 women were drawn into a straight knockout, with some players receiving first round byes. Notable racketlon regulars in the draw included Graham Norton & Richard Whitehouse( world no. 4 and no.2 vets), Owen Harris, Stuart Websdale, Tom Whitehouse (recent Scottish Open Amateur Champion) & Ray Jordan.

The tournament was won by Stuart Websdale of Derby, a former England squash international (U19 level) and county badminton player, who recently played in the Scottish Open and was unfortunate to be drawn against eventual runner up Peter Campbell.

He beat Ray Jordan in a tense and nailbiting final watched by '3' spectators, one of whom was the organiser! Ray got off to his usual good start in the table tennis, restricting Stuart to 2. However, Stuart promptly got his revenge with a 21-6 victory at squash. After also winning the badminton 21-12, Stuart only needed 17 at the tennis to win. After being 20-11 down and having saved 5 match points, Stuart came back to win the Gummiarm point. Once again (and may I add for the THIRD tournament in a row) Ray won the spin and put his opponent in to serve - a tactic that clearly doesn't work!

There was an absolute marathon match in the last 16 round, once again involving Stuart. He beat Graham Norton 34-32 in the tennis, having a one point advantage going into it! Is that the longest ending to an organised racketlon match or can the Scandinavians put me right on that one?! [Editor's comment: Most probably! The margin-of-two counting has not been around for more than about two years and Racketlon.com has not heard of anything near this! (Note also that it decided the match(!)]

The full result between Stuart & Graham:
Stuart bt Graham +3
12-21, 21-13, 22-20, 34-32!!!!!
There were several new faces at the tournament who we could (hopefully) be seeing more of. Semi-finalist Simon White from Leicestershire is a very strong badminton player who can turn his hand at the other three disciplines - unfortunately he came across the eventual winner at the penultimate stage.

Pete Morris, a veteran table tennis player from Coventry could be a danger in the veteran category as he showed in winning the plate event against Caroline Chennals - only 19 and a county squash player & strong tennis player. With some regular practice she could also be a danger in badminton and table tennis, demonstrating very natural technique in both. Have the England team found a lady player for Vienna? If not, then certainly one for the future.
Results:

Main Event (from QF)

Adam Terheege bt Tom Bury +2
19-21, 51-5, 5-21, 21-17

Ray Jordan bt Oliver Jackson +16
21-1, 5-21, 21-11, 23-21

Simon White bt James Bogle +18
22-20, 7-21, 21-2, 21-10

Stuart Websdale bt Tom Whitehouse +13
21-18, 21-6, 10-21, 21-15

SF

Stuart Websdale bt Simon White +5
13-21, 21-2, 6-21, 21-12

Ray Jordan bt Adam Terheege W/O
(no show)

FINAL

Stuart Websdale bt Ray Jordan +1 (Gummiarm)!!!
2-21, 21-6, 21-12, 16-21 (1-0)

Plate Final:

Pete Morris bt Caroline Chennals +20
2-21, 21-16, 8-21, 21-14

_________________________________