She Returned to Win
2006-03-29
_________________
113 players from 13 nations came to Prague to take part in the 2006 Racketlon Czech Open. And, no, noone could stop the Swedes from winning almost all "open" classes. (The only exception was the Men's Doubles ...in which no Swedes took part.) See report below.
_________________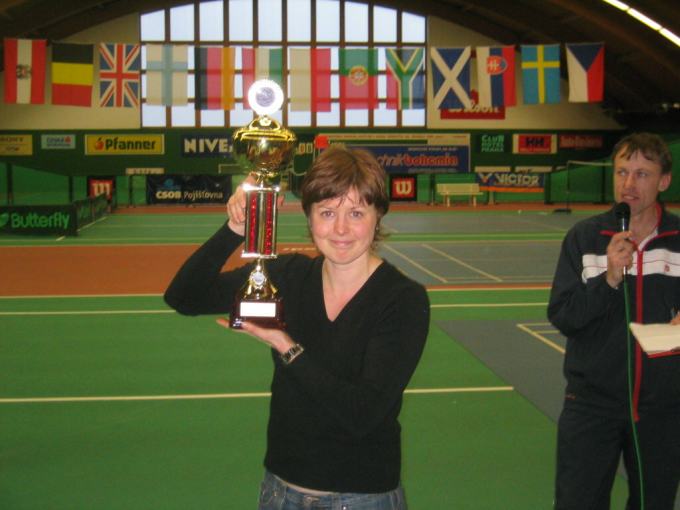 Only one year after she came to Prague for her first racketlon tournament Linda Jansson is the winner after beating the World No.1 in the final.
Will this rate of improvement continue during the two months that remain until the World Championships in Belgium?
(photo: www.racketlon.at )
The constantly improving Swedish tennis specialist Linda Jansson managed to defeat the everlasting youth Lilian Druve in a tight final. The favourites Magnus Eliasson in Men's Elite and Ulf Bredberg in Seniors' Class quite easily defended their positions as Worlds No 1:s in the 2nd Czech Open played in Prague March 24-26.

Prague received the tournament players this year with a grey and rather cold weather in contrast to last year's welcome with beautiful spring and the sun shining over the Club Praha hotel and Sport complex. However, the heat in the sport centre was not less intense than last year. An impressive starting field appeared in all classes with many of the top ranked players attending.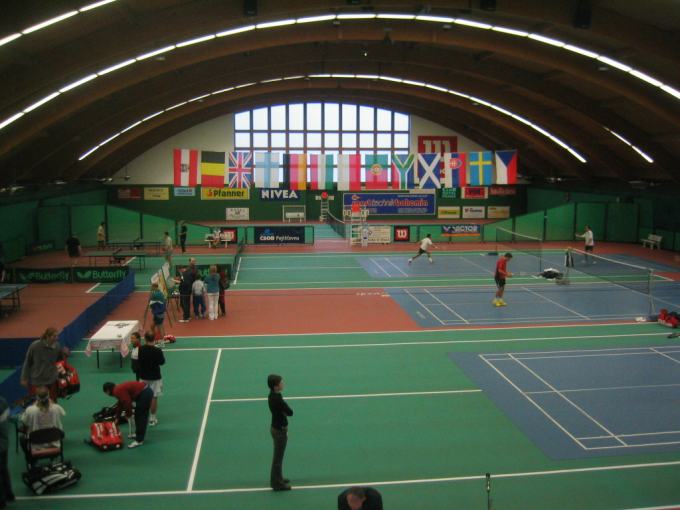 The sport center.
(photo: www.racketlon.at )

In the Men's elite no real surprises were seen up to the semifinals. Magnus was there up against the hardserving Austrian tennis player Christoph Krenn while the young Sports Business studying Scotsman Calum Reid took on the Austrians' second hope, the very fit Michael Dickert. Krenn, managed to bring the match against Magnus to the tennis, through a strong performance, particularly in badminton where he managed to beat Magnus this time (last time he lost 21-7). However, Magnus squash game, again, prepared the ground for a relatively tight but yet rather comfortable victory in the end. As an outsider you really pity those guys going into a squash game against Magnus. Firstly you know he is almost impossible to beat, and secondly, you know that they are going to metabolise lactic acid for a couple of hours afterwards.

Defending champion Calum Reid managed to deal with Dickert through his very safe and wise game and good touch in all four sports. Dickert, who likewise is a very strong and fit allround player made a good performance but did not really get the start he needed in table tennis to make it a real challenge.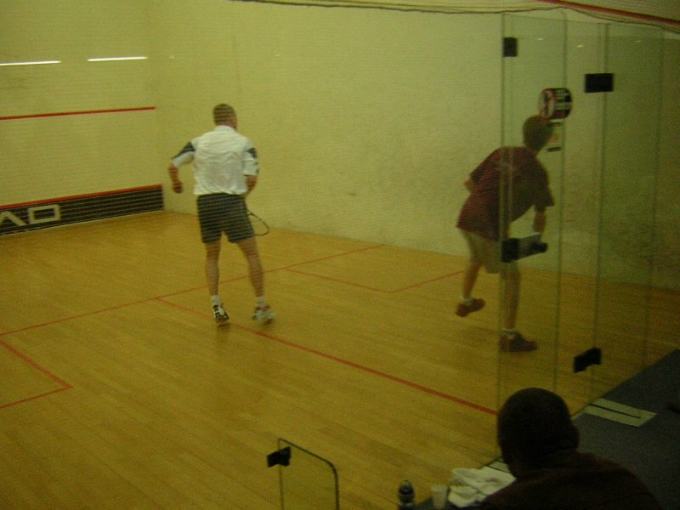 Eliasson (WR 1) against Reid (WR 4) in the final.
(photo: www.racketlon.at )

Magnus against Calum in the final displayed Swedish power against Scottish touch. Callum got off to a good start in table tennis but in the badminton, which Callum also needed to win to really stand a chance in the end, Magnus power was too much this time for the young Scotsman. Although Callum has really improved his squash game the last year, there was not much he could do to stop Magnus from winning squash with a wide margin and thereby in reality securing yet another victory to his already rich collection of titles. Impressive performance by Magnus who was able to win eventhough you feel he did not really reach his highest potential neither in table tennis nor in badminton this time. Impressive! The very talented Calum who plays very wisely and with great touch would need to add a little aggressiveness to his game to be a real threat to Magnus.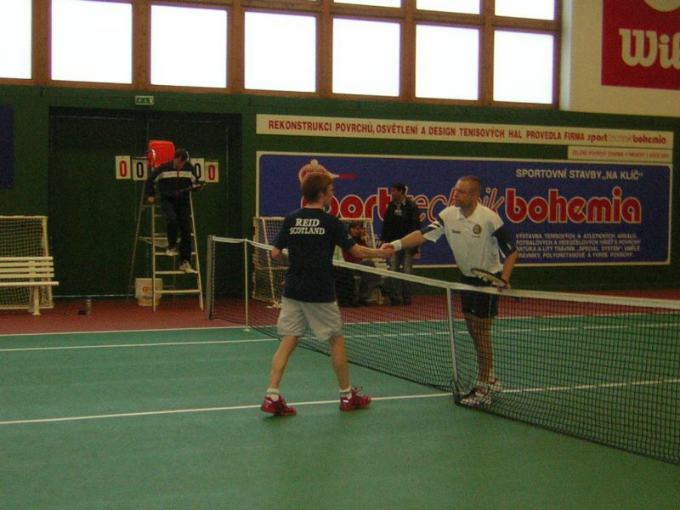 Game Over. Eliasson - Reid +15 (tt:16-21,ba:21-11,sq:21-10,te:6-7)
(photo: www.racketlon.at )
In the women's class the two Swedish top seeded ladies Lilian Druve and Linda Jansson cruised their way to the final quite easily. I don't think many expected Linda, who has rapidly climbed to the top ranked players, to be a real threat to Lilian yet, but we were all so wrong. Linda, ranked No 6 in the world before this tournament (ed's note: now number 3, see new version of the rankings), has quickly become a very strong allround player (just like Lilian), but with tennis rather than badminton as her true speciality. Nevertheless, due to Lilian's excellent badminton Linda was well behind before the decisive tennis. Lilian needed only(?) six points to secure the title, but Linda was merciless this day and won by 21-1! after a brilliant performance with elegant and error-free tennis. Linda, who still has a lot of "improvement potential" in the other three sports thereby took her first international title (but surely not the last!!). Was this the beginning of a new era with a new Swedish queen on the throne? The coming World championships will be truly interesting with several ladies - not just these two - within reach of the World Champion title. (ed's note: World No.1 Druve has now lost to Sarah McFadyen (Scot), Silke Altmann (Ger) and Linda Jansson since last summer. And Susanna Luatala-Näykki, who beat Altmann in the last World Championships is known to improve at a rapid rate...)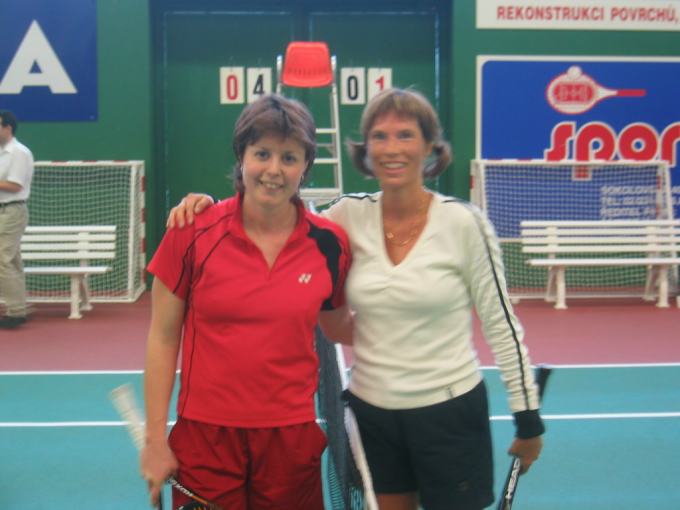 Jansson-Druve +5 (tt:19-21,ba:6-21,sq:22-20,te:21-1)
(photo: www.racketlon.at )
UK vs Ulf Bredberg! That was how the Senior's class was announced before the tournament and that was how it also turned to be. In the semi-finals there were Greatorex vs Appleton on the lower half and Norton vs Bredberg on the upper. Both matches went to tennis and the tennis specialists Bredberg and Appleton rather comfortably won their matches. So, Ulf Bredberg, who has not competed internationally since the World Championships in Vienna, vs the recent Hungarian Open and Canadian Open champion Michael Appleton in the final. Michael, who came to Prague with just one purpose in mind - to beat Ulf (which he announced publicly several times, with a lot of humour of course) - had improproved his table tennis significantly and after winning badminton he was only 8 points down before the squash. In the two previous matches between the two very competitive players, the squash game has been extremly tight. Everybody was thus expecting the match to be decided in the tennis. However, Bredberg wanted differently and displayed new strong qualities in his previously clearly weakest sport and managed to win by 21-3! over the somewhat surprised Appleton. Game over! and the title to yet another Swede - Bredberg once again.
/UB45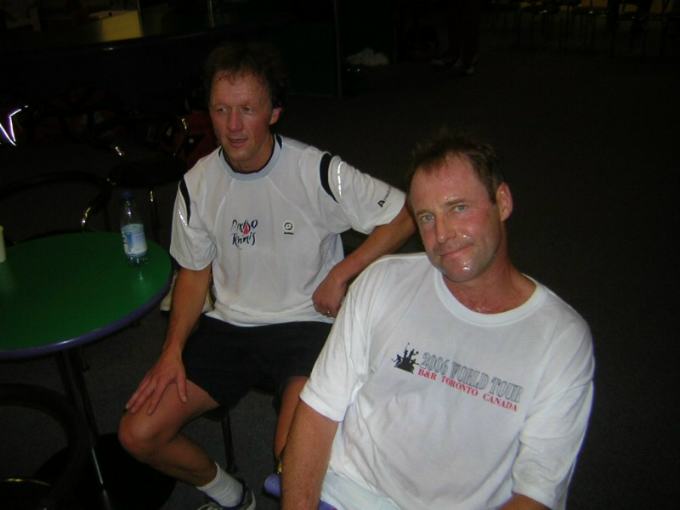 Veteran finalists. One more tired than the other...
Bredberg - Appleton +26 (tt:21-11,ba:19-21,sq:21-3, te: - )
(photo: www.racketlon.at )
Results in Summary
(for full results, see this page)
Men's Elite
Quarterfinals:
Magnus Eliasson SWE - Elmar Schaub GER +19 (tt:7-21,ba:21-9,sq:21-5,te:8-3)
Christoph Krenn AUT - John O´Donnel ENG +2 (18-21,21-18,6-21,21-4)
Michi Dickert AUT - Marcel Weigl AUT +22 (21-6,21-12,18-21,1-0)
Calum Reid SCO - Joachim Nilsson SWE +29 (21-13,21-10,21-11)
Semifinals:
Eliasson - Krenn +16 (21-15,17-21,21-6,5-6)
Reid - Dickert +13 (18-21,21-15,21-15,13-9)
Bronze:
Dickert - Krenn +22 (21-9,21-15,21-17)
Final:
Eliasson - Reid +15 (16-21,21-11,21-10,6-7)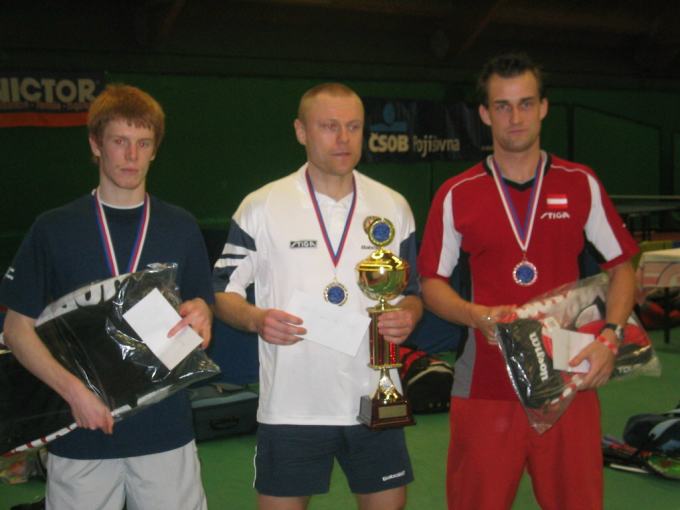 2. Reid (Scot), 1. Eliasson (Swe), 3. Dicker (Aut)
(photo: www.racketlon.at )
Ladies' Elite
Quarterfinals:
Lilian Druve SWE - Simone Seitz AUT +36 (21-15,21-4,21-8)
Eva Kapcsos HUN - Irene Seifert GER +3 (21-8,21-19,10-21,18-19)
Martina Kakosová CZE - Krystyna Szwajkowska POL +15 (22-20,4-21,21-4,21-8)
Linda Jansson SWE - Vera Kottová CZE +20 (21-12,21-13,20-22,7-2)
Semifinals:
Druve - Kapcsos +23 (10-21,21-4,21-4)
Jansson - Kakosová +18 (21-8,21-11,9-21,11-4)
Bronze:
Kakosová - Kapcsos +18 (5-21,20-22,21-1,21-5)
Final:
Jansson - Druve +5 (19-21,6-21,22-20,21-1)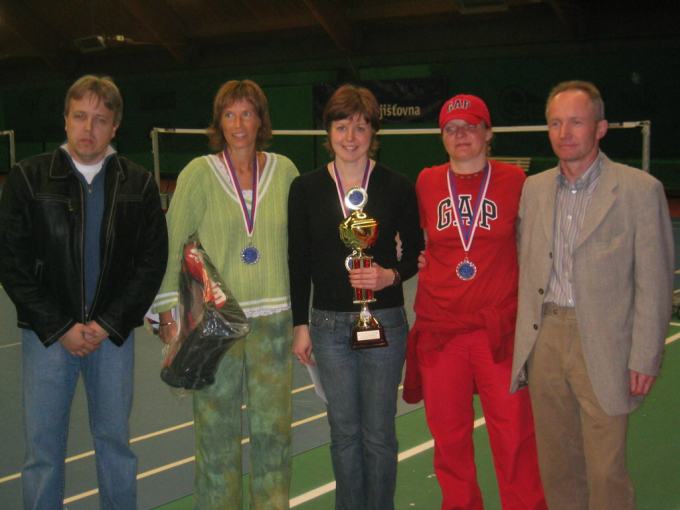 2. Druve (Swe), 1. Jansson (Swe), 3. Kakosová (Cze)
(photo: www.racketlon.at )

Veterans 45+
Quarterfinals:
Ulf Bredberg SWE - Jan Nahodil CZE +35 (18-21,21-4,21-0)
Graham Norton ENG - Peter Líbal AUT +19 (12-21,21-9,21-2,18-21)
Michael Appleton ENG - Erich Knotter AUT +21 (21-13,21-7,19-21,2-1)
David Greatorex ENG - Harald Leopoldseder AUT +19 (23-21,21-10,21-17,9-3)
Semifinals:
Bredberg - Norton +18 (21-11,19-21,18-21,17-4)
Appleton - Greatorex +9 (14-21,21-17,17-21,21-5)
Bronze:
Greatorex - Norton W.O.
Final:
Bredberg - Appleton +26 (21-11,19-21,21-3)
Mens Doubles
Quarterfinals
Michael Dickert,Christoph Krenn AUT - Sami Puhlin,Marko Anttila FIN +15(21-11,19-21,21-11,8-11)
Leszek Borys,Robert Wyszynski POL - Grzegorz Silwestrzak,Norbert Stolicki POL +13(8-21,21-14,21-17,21-6)
John O´Donnel,Jon Foulds ENG - Graham Norton,David Greatorex ENG +18(21-6,12-21,21-12,5-4)
Marcel Weigl AUT,Calum Reid SCO - Olli Zwiers,Rolf Gerry Vogel GER +28(21-13,21-7,21-15)
Semifinals
Dickert,Krenn - Borys,Wyszynski +7(21-17,12-21,21-6,12-15)
Weigl,Reid - O´Donnel,Foulds +18(21-15,21-8,10-21,16-6)
For 3rd prize
Borys,Wyszynski - O´Donnel,Foulds SCR
Final
Weigl,Reid - Dickert,Krenn +5(13-21,19-21,21-10,21-17)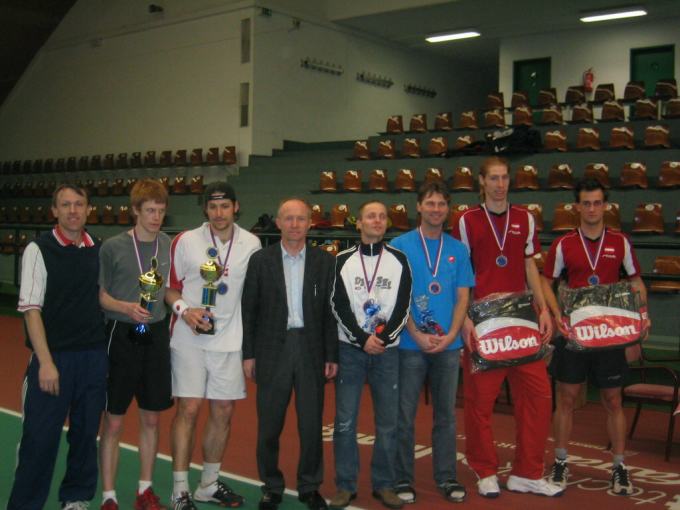 Men's Doubles medalists.
(photo: www.racketlon.at )
Mixed Doubles
Quarterfinals
Joachim Nilsson,Lilian Druve SWE - Johannes Schubert,Sabine Hekele-Strasser AUT +67(21-10,21-3,21-4,21-0)
Jacek Szubert,Krystyna Szwajkowska POL - Michal Blecha,Martina Kakosová CZE +32(21-18,21-0,21-13)
Johan Porsborn,Linda Jansson SWE - Radim Sochor,Vera Kottová CZE +13(21-19,21-13,9-21,21-6)
Volker Sach,Irene Seifert GER - Robert Zemankiewicz,Magda Kaminska POL +31(21-6,19-21,21-3)
Semifinals
Nilsson,Druve - Szubert,Szwajkowska
+28(21-11,21-15,21-9)
Porsborn,Jansson - Sach,Seifert +14(7-21,21-12,21-17,21-6)
For 3rd prize
Szubert,Szwajkowska - Sach,Seifert +4(8-21,21-12,22-20,21-15)
Final
Nilsson,Druve - Porsborn,Jansson +22(21-11,22-20,21-11)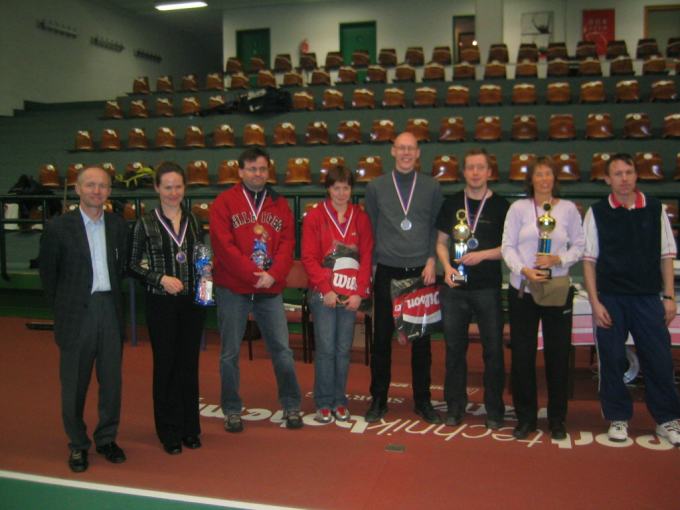 Mixed Doubles medalists.
(photo: www.racketlon.at )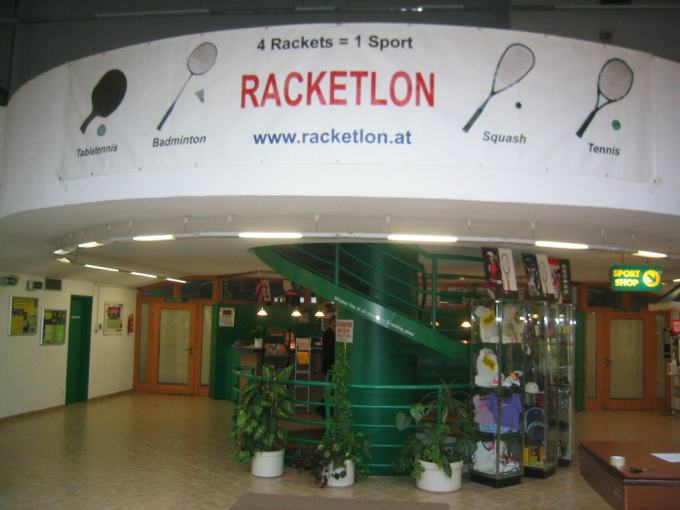 Racketlon.com thanks its dynamic Austrian cousin Racketlon.at for the pictures on this page.
(photo: www.racketlon.at )

_________________________________