Van der Woerdt and Hilpert Dutch Champions
2006-04-23
_________________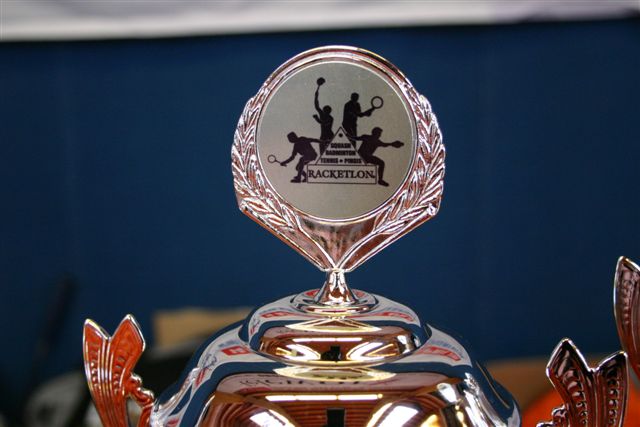 Racketlon reaches Holland.
(photo: Peter van Soolingen)
The sport center in the small town of Zoetermeer in the outskirts of Haag was crowded by celebrities as the first Dutch Racketlon Championships were taking place last Tuesday. And not from racket sports exclusively. In parallel to the Championships a VIP tournament was arranged for the following four people:
Winston Post, TV celebrity (actor in a soap opera), good tennisplayer.
Edward van Cuilenborg, sports reporter for TV
Vanessa Atkinson, WR 1 Squash
Esther Vergeer, WR 1 Wheelchair tennis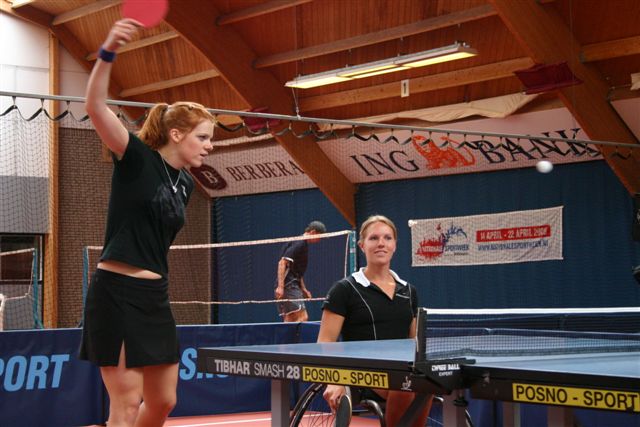 2xWR 1. Vanessa Atkinson and Esther Vergeer team up.
This would be a world class backhand (in a squash context, that is.)
(photo: Peter van Soolingen)
But, eventhough the VIP tournament stole much of the media attention (broadcast on National Television) the main event was, of course, the Championships themselves. Organiser and Dutch representative to the IRF, Marc Veldkamp reports:
______________
Due to unique cooperation between the four Racketsport federations and the Racket4s tounament organisation the best Dutch allround racketplayers were present at the first Dutch National Championships held in the annual Dutch Week of Sport.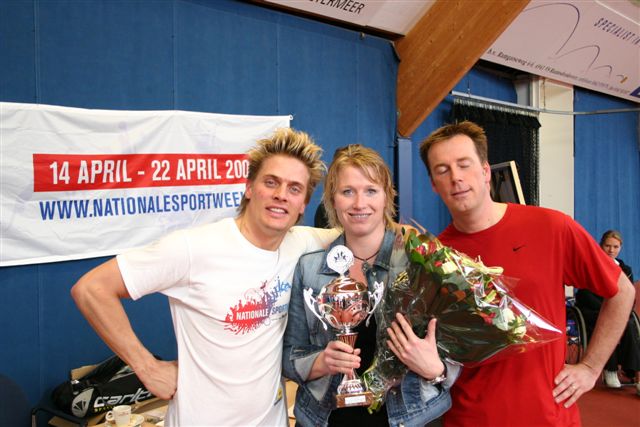 MariŽlle van der Woerdt. Dutch Racketlon Champion.
Flanked by soap actor Winston Post and TV sports journalist Edward van Cuilenborg.
She is planning to take part in the World Championships in June!
(photo: Peter van Soolingen)
MariŽlle van der Woerdt (a national top 20 badminton player) managed to win the title in the presence of strong opponents like the national level Dutch badminton players Joyce Crouse and Anita van Dijk and the squash national team players Milja Dorenbos (Dutch Ranking Squash 5) and Anelize Naude (World Ranking Squash 14). Although Mariellle was the favourite for the title she had a tough final against Milja Dorenbos. She was one point down after squash, but managed to win 11-7 in a tennis thriller to beat Milja only by 3 points. Joyce Crouse became third by beating Anita van Dijk by 3 points (both are National Team players in badminton)

MariŽlle van der Woerdt – Milja Doorenbos +3 (Tabletennis 9-11, Badminton 11-2, Squash 3-11, Tennis 11-7).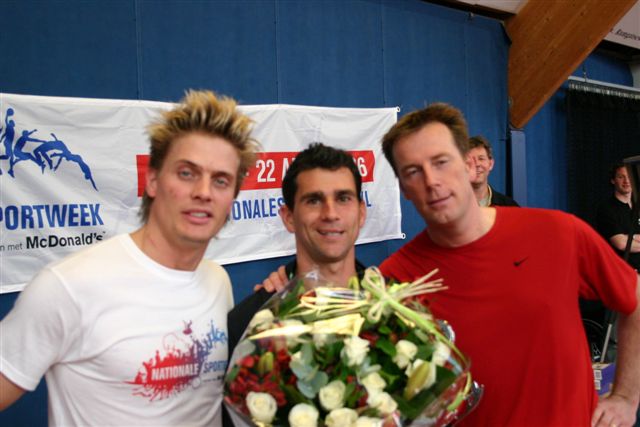 Marcus Hilpert. Dutch Racketlon Champion.
Uncertain at the moment if he will join the Worlds.
(photo: Peter van Soolingen)
The Men's Class was dominated by three (former) professional Tennis players. Marcus Hilpert, Dutch tennis ranking 10 at this moment, turned out to be an excellent badminton player and a very good squash and table tennis player. Except from Bart Beks in the semi final (+8), he was miles ahead of his opponents. Fernon Wibier, also a very strong badminton player became second. Bart Beks won the third place over badminton player Remi van Gent (+12).

Marcus Hilpert - Fernon Wibier +20 (Tableltennis 11-8, Badminton 11-5, Squash 11-2, Tennis12-10)
For full results, see the following pages:
Qualifiers
Play-off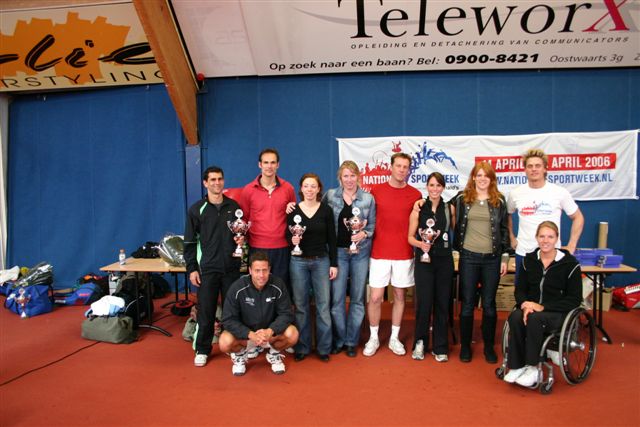 Dutch celebrities. From left to right : Marcus Hilpert (First Dutch Champion), Bart Beks (on knees, 3rd), Fernon Wibier (2nd), Joyce Crouse (3rd), Marielle van der Woerdt (Dutch Champion), Edward van Cuilenborgh (TV Sport Reporter), Milja Dorenbos (2nd), Vanessa Atkinson (Squash WR no1), Winston Post (TV Celebrity), Esther Vergeer (WR1 and Olympic Champion Wheelchair Tennis).
(photo: Peter van Soolingen)
_________________________________