Germany vs. Belgium
2006-12-17
_________________
As the first international Racketlon event ever to take place in the Netherlands ended an hour ago the winners of the Elite classes were the expected first seeds; Elmar Schaub (WR8) from Germany and Marielle Van der Woerdt (also WR8) from the Netherlands, as well as Jacob de Vries (WR4) from Portugal in the Men's Veteran O45.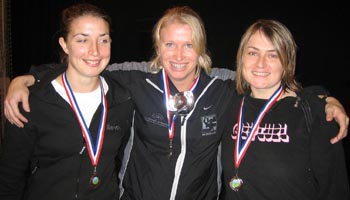 Yet another victory for Marielle Van der Woerdt.
This picture is from her previous one at the English Open in October,
where she beat former World No.1 Katy Buchanan (Scotland) in the final.
(Buchanan to the right and bronze medalist Natalie Lawrence, England, to the left.)
Photo: www.racketlon.co.uk
Upsetting the seedings, however, was Belgium's Peter Duyck (WR25), who reached the final although he had two higher ranked players on his side of the draw - in the shape of Alexander Köpf (WR18) and John O'Donnell (WR9). He, decisively, took care of Köpf himself in the quarter in a match that was decided before tennis +22 (tt:21-8 ba:21-15 sq:21-18 te: -), while Germany's rapidly emerging Oliver Kudicke (WR44!) dispatched O'Donnell +4 (tt:11-21 ba:21-6 sq:4-21 te:21-6) through what must be considered one of the biggest surprises of the tournament (at least as regards the gap in world ranking positions. The potential of Kudicke is not unknown, however, especially not if you ask Rickard Persson, who lost in the first round to him in the 2005 German Open.).
So, in the final it was Elmar Schaub against Peter Duyck, Germany's number 1 against Belgium's number 1. Germany emerged victorious +9 (tt:21-19 ba:21-14 sq:21-17 te:9-13) after very consistent play by Schaub and his first victory in a world ranking event was a fact. (Not to forget, this was also Germany's first victory in a Men's Elite draw!)
Rotterdam wish the Racketlon community welcome back next year for the 2007 World Championships!

Full results can be found on the tournament homepage. Below is a summary from the main events:
______________
Results
Dutch Open, Rotterdam, 15-17 December
World Ranking Event
______________

MEN'S ELITE
Quarterfinals:
Elmar Schaub (Ger) - Paul Twisterling (Ntl) +14 (tt:21-3 ba:8-21 sq:21-19 te:15-7)
Oliver Zwiers (Ger) - Hans Mullamaa (Swe) +2 (12-21 11-21 21-10 21-11)
Peter Duyck (Bel) - Alexander Koepf (Ger) +22 (21-8 21-15 21-18 -)
Oliver Kudicke (Ger) - John O'Donnell (Eng) +4 (11-21 21-6 4-21 21-6)

Semifinals:
Elmar Schaub (Ger) - Oliver Zwiers (Ger) +19 (21-6 21-13 17-21 -)
Peter Duyck (Bel) - Oliver Kudicke (Ger) +8 (11-21 21-6 9-21 21-6)

Bronze:
Oliver Zwiers (Ger) bt Oliver Kudicke (Ger) W.O.

Final:
Elmar Schaub (Ger) - Peter Duyck (Bel) +9 (21-19 21-14 21-17 9-13)

LADIES' ELITE
Semifinals:
Marielle Van der Woerdt (Ntl) - Milja Dorenbos (Ntl) (21-16 21-1 6-21 21-n/a)
Nina Schulte (Ger) - Alanna James (Wal) +29 (21-10 21-2 5-21 21-6)
Bronze:
Milja Dorenbos (Ntl) - Alanna James (Wal) +28 (21-7 22-20 21-9 - )
Final:
Marielle Van der Woerdt (Ntl) - Nina Schulte (Ger) +10 (11-21 21-5 21-5 9-21)
MEN'S VETERAN O45
Quarterfinals:
Jacob de Vries (Por) bt Gerald Haycock (Eng) W.O.
Bogdan Miezynski (Pol) - Focko de Koning (Ntl) +3 (21-4 21-2 1-21 8-21)
Steve Dobbins (Eng) - Marc Veldkamp (Ntl) +6 (21-1 16-21 2-21 21-11)
Graham Norton (Eng) - Hubert Fromlet (Swe) +72 (21-4 21-2 21-1 21-5)
Semifinals:
Jacob de Vries (Por) - Bogdan Miezynski (Pol) +24 (19-21 21-12 21-4 - )
Graham Norton (Eng) - Steve Dobbins (Eng) +14 (4-21 21-8 21-3 8-8)
Final:
Jacob de Vries (Por) - Graham Norton (Eng) +16 (21-23 21-6 14-21 16-6)
/H

_________________________________