How do the Four Sports Compare?
2007-06-09
_________________
Did you know that table tennis - according to the International Olympic Committee - is the most popular sport in the world.
with 40 million competitive players, and "countless millions playing recreationally"?
Did you know that badminton has the longest ancestry of all racket sports with shuttlecocks, or something like them, depicted on Far East pottery a couple of thousands years old?
Or that a hundred-point plan has been created by Badminton England, which aims to make England the most successful badminton nation in Europe by 2010 and the best in the world by 2016? And that it was awarded a grant of almost £8,000,000 last year in order to assist?
Did you know that squash is presently a growing sport in England with 12 to 13 thousand new youngsters between the ages of five and 11 have been recruited to play squash or mini-squash on a regular basis?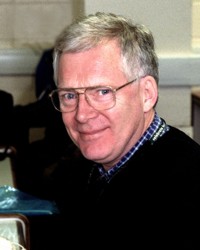 Racket sport writer Richard Eaton.
Ever tried Racketlon?
photo: www.squashplayer.co.uk
These facts are taken from an article by Richard Eaton, published on www.squashplayer.co.uk in which he compares the status of the four Racketlon sports - mainly from an English perspective. Here is the link to the full article!
/H
_________________________________