Stefan Edberg Debut - in Squash!
2006-10-11
_________________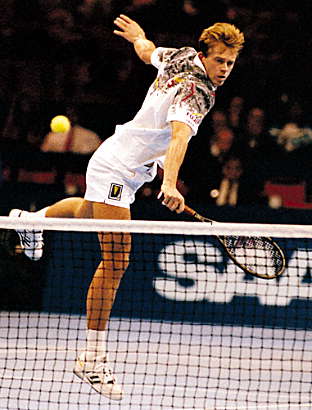 Edberg showing off his famous volley in the Stockholm Open final against Boris Becker 1990.

Sweden's former tennis World Number 1, Stefan Edberg (born 1966), made his debut yesterday in the Swedish squash "Elite Series" - i.e. the top division of the Swedish squash series system. He competed for the team of his home town Växjö.
Edberg won a total of nine Grand Slam tournaments (six in singles and three in doubles) during the period 1985-96. He claimed the World No.1 ranking in August 1990 by winning the Cincinnati Masters and then held it for the rest of that year and for much of 1991 and 1992. His six Grand Slam titles were: Australian Open 1985 and 1987, Wimbledon 1988 and 1990 as well as US Open 1991 and 1992.
A former World No.1, who is currently playing elite division squash... should make a good racketlon player. And, yes, Edberg has tried racketlon. And has not yet lost. His only racketlon appearance so-far (as known to Racketlon.com) was in January 2004 at a local tournament in Växjö, which he won comfortably (see newsitem).
Interestingly, this opportunity for Edberg to play elite division squash arised since fellow team member Ola Carleke came down with a bad cold (Aftonbladet reported). Interestingly, since Carleke is well known in the Racketlon community for achievements such as reaching the semi-final at the 2002 Racketlon World Championships, after having beaten e.g. established players Nicolas Sene (France) and Roland Helle (Sweden). Ola is also the brother of Racketlon Veteran World Champion Pär Carleke (see results from the 2002 WC).
Carleke's cold meant that Edberg was taken in as the number 4 in the Växjö team, that has shown high ambitions lately through drafting some high profile squash players to their team from other parts of Sweden (beside Ola Carleke, e.g former Swedish number 1 Daniel Forslund).
And how did the debut go? Edberg lost against Malmö's Alexander Ovendal by 5-11, 5-11, 2-11 and overall his team, Växjö, lost to visiting Malmö by 1-3.
National television (TV4) covered the event with a short report, where Edberg expressed: "I had fun, but I got a little frustrated when I got tired and my technique didn't work".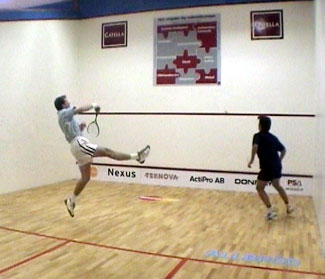 .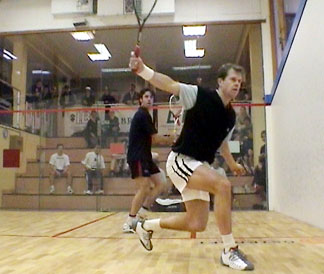 Edberg at squash! These pictures are from a match against Australian professional and former World No.10 Joe Kneipp. The match took place in connection with the 2003 Catella Swedish Open in Squash. Read an interesting report here ("Edberg isn't new to squash. Even during his tennis days he would play as a way to get a good run and add a little variety into his training programme.")
Photo: Dan Kneipp

/H
P.S. The Gothenburg Open management team are naturally taking the necessary measures to make sure that Edberg is aware that the entry deadline for Gothenburg Open is coming up next Sunday! To register within the minute visit the Gothenburg Open Entry Engine!

_________________________________