Reid Conquers Adamsson in Tournament of Surprises
Date: 2005-10-20
_________________
The 2005 English Racketlon Open broke all UK records by attracting about 140 players, whereas no other UK tournament had ever attracted over 100. This is quite a development since the first English Open was played in 2002 - then attracting 21(?) players. The signs are now getting many indicating that UK racketlon is about to really take off; two Scottish World Champions in Vienna 2004, 87 players at Scottish Open in a new site in Edinburgh, 140 players at English Open, an English application filed for the 2007 Racketlon World Championship, more hits from the UK than from any other country on racketlon.com...
Ray Jordan, one of many behind Keith Lesser in the contageously inspired English Open management team, reports below. (Further information can be found on the tournament homepage and full results are available at the Austrian(!) site www.racketlon.at - since Racketlon is a team effort!)
_________________
Calum Reid, winner of the Czech Open earlier this year, played his way into the very top echelon of Elite racketlon players when he defeated much fancied Stefan Adamsson at the English Open in Heston last weekend. The result in London was the reverse of the German Open final six weeks ago and after Stefan's domination in recent months it was not expected that Calum would win, but the young Scot, still only 20, showed that he is now a serious contender for the World Championships in Vienna, regardless of who enters.

Before haircut and stardom. Calum Reid at the 2004 Gothenburg Open.

Another great final
The final itself was another spectacle. Calum won the table tennis 21-16 - not as good as in Germany - and it was thought that a bigger lead was needed to have a chance. However, he got off to a great start in the badminton winning the first four points and maintained that form throughout the set. Stefan's superior badminton ability showed as he took a noticeable lead as the set progressed, but Calum seemed to be moving much better and more quickly than the Swede which enabled him to win a run of points towards the end, giving him 17 and a +1 lead before the squash. Calum's squash performance was sensational as he ran further and faster than ever before and was leading 17-13 before a recovery from Stefan gave him the set 21-17. The physical damage had been done though, and Calum raced away in the tennis to record the best racketlon victory of his career so far. Some consolation for Stefan came in the fact that he will be the new world number one after this tournament. The Gothenburg Open will be the next test for both players as they have to compete with Magnus Eliasson & Roland Helle - that will certainly be a high class tournament (editor's note: Last year's Gothenburg Open champion Roland Helle sadly cancelled the tournament earlier today (20 oct) but all top 5 on the Racketlon World Ranking still remains in the tournament. See the Gothenburg Open Entry List for a real time update.)

Swedes improving
The quarter final line up showed one or two other 'shock' results. In group four, 3 players won 2 matches each with Joachim Nilsson beating John O'Donnell in the decisive match, to send Martin Björkryd through to the last 8, where he faced Johan Nordstrand. Johan had finished runner-up in his group to Doug Struthers, but Doug injured his ankle in his final group match and had to withdraw - he will be fit for Vienna though. Martin defeated Johan in another surprise result to reach the semi-finals where he lost relatively easily to the eventual winner. There were no such surprises in the top half of the draw; Stefan beat Christoph Krenn before the tennis and Mats Källberg beat Marcel Weigl. Mats gave Stefan a run for his money in the first semi-final - Stefan needed to reach 16 in the tennis to secure victory and only did so at 16-16. The former table tennis professional certainly looks to be in great shape after the last two tournaments and has to be considered a threat in Vienna. He finished third in the end.
There were a number of very interesting Elite matches in the groups; Darren Kerins beat Steven Verbruggen 21-7 in badminton but lost the match overall, and also lost on a gummiarm to tennis supremo Andy Hill. Steve Thomson had a very tough draw and lost in his group to Adamsson, Oliver Zwiers & Scottish Open Class 1 runner-up Dan Carpenter who impressed once again with his very strong squash & tennis combination.

Altmann dominates
In the ladies Elite, Silke Altmann won her second tour event, in her third final in a row. In the final pool of group winners she beat both Katy Buchanan and Natalie Lawrence before the tennis, underlining the fact that she has improved considerably in recent months and will be a real threat in Vienna. There were no real upsets in this event, as the three seeds all progressed to the final group stage, although in group 3 Natalie Lawrence had close encounters with Austrian newcomer Tina Greslehner and P Thomson, whose table tennis has improved dramatically in recent months. Tina is a highly ranked squash player in Austria and is Marcel's secret weapon for the team event in Vienna. The final pool in the Ladies Elite was relatively clear cut, with Silke taking victory and Katy then defeating Natalie to claim second spot. Katy still has not been able to train as much as she would like to due to injury, although hopefully she will be fit enough to compete to the best of her ability in Vienna.

Most unfortunate debut?
Laura Whitehouse, competing for the first time had an extremely interesting tournament. By taking part in her first match she had broken the record for the most members of one family to have a racketlon world ranking, after father Richard, brother Tom and mother Susan had already played. However, elation turned to pain just twenty minutes later, as half way through the badminton set against Katy she fell and broke her left arm. At the time, although she pulled out as it was too painful to continue, she didn't realise the full extent of the injury, which only became apparent as the pain increased throughout the evening. Fortunately she was back all smiles on the Sunday morning and will only be out of action for a few weeks.
The ladies B was of a very high standard, with Scottish Open winner Sue Woods losing both matches in her group, to newcomer and squash specialist Fiona Sime, and former Scottish junior badminton international Dawn Anderson, friend of the Munro family. Dawn then came third in the final pool which also contained future Hungarian Open organiser Rita Horvath and eventual winner Sarah Reeves, of England - particularly encouraging, as the number of quality English ladies competing regularly is only 2! (Natalie & Sue)

Strongest tournament for badminton
The Men's Class 1 threw up some very interesting matches and was particularly noticeable for the quality of badminton on display. Top county player Alistair Jones, former Scottish junior internationals Alistair & Andrew Hogg, and Tom Whitehouse were all involved, and all reached the quarter-finals. The most impressive display though, came from former Commonwealth Gold Medallist Anders Nielsen, who defeated Tom Whitehouse in the final. Aside from his badminton, Anders displays decent squash and steady tennis although his table tennis (by his own admission) could certainly be improved! With a small amount of practice he will be ready to move up to Elite - and he is currently receiving squash coaching from Mark Jackson. Tom Whitehouse received one of the awards for most improved player over the weekend, and on this display it was certainly justified - his table tennis has come on leaps and bounds; remember, it's all about the pimples!
Group 1 in the Class 1 was certainly the 'squash group of death', with John Foulds, Tor Stockdale, Ed Johnson & Chris Caves all displaying excellent squash. The deciding factor in the group was Foulds' superior pingis, and he progressed to the last 8 before losing to Fredrik Quistbergh. The two Hogg brothers played each other at the quarter final stage, with Andrew going through by virtue of his superior squash, but the performance of both players caught the eye of Scottish team captain Katy Buchanan who has started to select her squad for Vienna.

The amateur event threw up a few new names, as the final was contested between Simon Lucas & Simon Findel-Hawkins, with Lucas winning by a mere 3 points. Both players display an all-round profile, although Simon F (friends with Alistair 'featherballs' Jones) specialises more in badminton and Simon L in squash. The two losing semi-finalists were Scottish Open runner-up Neil Martin and last year's English Open runner-up Mark Scott. The strength of the amateur event was much higher than in previous years and goes to show how the overall standard of racketlon is improving with each tournament. As in Belgium, a 'Class D' category was introduced to encourage complete beginners to compete, and this was won by 'scratch entrant' Asif Chaudry, who defeated Alex Levy in a close final. (+6).

Whitehouse on fire
The veterans event was once again extremely strong and the same result as last year emerged in the final when Richard Whitehouse beat Graham Norton (needing only one point in the tennis). Richard looked in superb form, particularly in squash where he beat Kevin Lawlor 21-7 and Graham Norton 21-5! In order for him to be able to challenge Pär Carleke in Vienna he needs to work on his table tennis - but after his dominating performance at the last two tournaments he has to have a chance (editor's note: Richard will probably have to come to Gothenburg Open to play Carleke this year since he has, unofficially, announced that he is not going to enter Vienna). The losing semi-finalists were David Greatorex and Tony Munsey. As in Scotland, David was outplayed by Richard, who was too strong in squash and badminton, and Tony was beaten by Graham. Tony is a strong squash player and was introduced to the sport by Calum Munro - it certainly seems as if the Munros are on top of racketlon PR at the moment! Richard did in fact lose in his group to newcomer Michael Appleton - a very strong tennis player with decent badminton, but he was knocked out at the quarter final stage by Tony Munsey. England certainly seem to have some strong vets at the moment and it is surely only a matter of time before sensibility prevails and one veteran player per National Team at the World Championships is a requirement.

The doubles events were once again very popular and with a new group format more games were guaranteed for almost all competitors (sorry P!!). The standard was much higher than in previous events in both the Men's and Mixed doubles. In the Men's, reigning champions Steve Thomson and Calum Munro narrowly missed out on victory once again, when they lost to the new pairing of Marcel Weigl and Calum Reid in a very closely fought final Marcel & Calum had beaten Stu Websdale and Joachim Nilsson in one semi-final, whilst Steve and Calum beat German Open champions Michael Dickert & Christoph Krenn. In the mixed doubles the three group winners Dave Greatorex & Natalie Lawrence, Manuel Repa & Tina Greslehner, and Mika Hasmats & Silke Altmann formed a final pool, which Mika Hasmats and Silke Altmann won relatively easily.

English Open interferes with British no.1 badminton player's training!
There were a couple of surprise visitors to the tournament on the Saturday afternoon. David Lloyd Heston is where British no.1 and IBF no. 26 Aamir Ghaffar regularly trains, and he arrived with his entire kit only to be faced with a hall full of racketlon players! The encouraging news for racketlon though, is that he was very interested in what he saw and could be a potential player for the future, "I've played a bit of table tennis" he claimed. Equally impressive was his friend who was present - Shahid Zaman, Pakistan's number one squash player and World no.16 who was fresh from defeat against Peter Nicol in Manchester at the British Open - a match that Stefan Adamsson had been watching 3 days earlier! In any case, encounters like this can only help to increase the profile of the sport - especially when they see a tournament buzzing with 140 competitors - by far the largest in the UK to date. The UK organisers are on the hunt for a bigger and better venue with the capacity to have even more competitors and possibly apply for the World Championships in two years time, as well as looking at a number of new venues that could be used for a potential UK tour next year. Watch this space!

Thanks to everyone who took part in this years English Open, and I'll see everyone in Vienna,

All the best,
Ray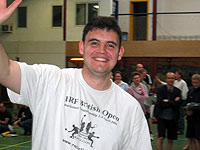 The author. Ray Jordan.
Photo: www.racketlon.co.uk
_________________________________