Lahti Geers Up
2006-05-10
_________________
Finnish Open, a tournament with origins tracing back to 1986 and the very birth of racketlon as representatives of the four individual national federations met and decided to make something together, is taking place during the upcoming week-end.
This year's tournament is the last tour event before the World Championships in Belgium in the beginning of June and has attracted the top two contenders for the Belgian title. Drama is in the air.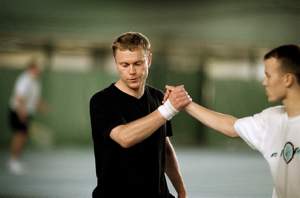 Feel the tension. Magnus Eliasson (presently WR1) and Mikko Kärkkäinen (presently WR2) shake hands after their first encounter in the quarter finals of the 2001 World Open in Gothenburg, the first international racketlon tournament ever played. Kärkkäinen won +6 (tt:21-6, sq:4-21, ba:21-14, te:17-16). It has been tense ever since... (For full results from the 2001 World Open, click here!)
Almost five years later they are still dominating the sport. Their last encounter was the World Championship final in Vienna, last November; Kärkkäinen won again: +11 (tt:21-3, ba:20-22, sq:20-22, te:8-11) indicating good relative improvement in squash over the last 5 years - while Eliasson has improved his badminton.
Co-organiser of the Finnish Open and President of the Finnish Racketlon Federation Martti Vottonen reports:
_________________
An interesting weekend is coming in Lahti. About 100 players have entered the competition, which is more than last year.

In the elite class, Magnus Eliasson who is in top form, is likely to play against Finnish ranking number 2 Pekka Kainulainen in the quarter final. Pekka is firing on all cylinders and he is confident. In the same half of the draw, Mika Hasmats and Tony Kemppinen will meet in the opening round. Will Mika´s brilliant table tennis skills be enough to overcome Tony Kemppinen who is BACK from a break in competition? As we know, Tony is playing excellent badminton and squash. The victor will play against the winner of the Lithenius-O`Donnell game. Lower in the draw, Mikko Kärkkäinen and Rickard Persson will most likely win through to the semifinals. If the final will be between Mikko and Magnus, the stakes will be high. Magnus has never been able to beat Mikko in Lahti and after three weeks, in Belgium, they will probably meet again, first in team competition and then possibly in the open final.

In the ladies' elite class, Lilian Druve is back to defend her title. The other favourite, Susanna Lautala-Näykki, has been practising hard all spring and should be in good form. Her goal is a very good performance before Belgium. A big test for her will be Hanna Miestamo, if they happen to play each other in the semifinal. Hanna has already won a bronze medal in the Finnish championships in squash. Although she has not been training in the other sports, with any luck she will be hard to beat on her home ground.

In the 45-years class Anders Lundström, who reached the semifinal of the first Finnish Championships in 1988, and then winning the two following years. Other favorites are Harri Peltola who has won numerous titles and, of course, number 1 seeded David Greatorex.

All the draws are online on www.racketlon.fi (direct link) The results will
be continually updated through out the course of the competition on the same pages.


/Martti Vottonen
_________________________________