"Joey" Seals his World Championship Title
2007-06-13
_________________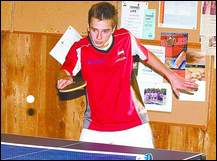 Racketlon pioneer Joey Schubert.
Taking Racketlon to the US!
photo: www.theunion.com
Johannes Schubert, known among his American friends as "Joey" reports that the first ever Racketlon tournament held in the USA was a big sucess. On an initiative taken by Schubert it was held last Sunday, at the Ridge Racquet Club in Grass Valley, Nevada County, with 14 participants.
An article about the event has been published on www.theunion.com, a local newssite in Nevada County, which described Schubert's victory in the tournament as "sealing" his World Championship title. (He became World Champion in the Junior U16 class last year.) Here are som quotes from the same article:
"It was very cool because it got the tennis players involved with the squash players. I think we will do it again. There's been a request for August."
(club owner Nick Bodley )

"It was a chance to meet some people we didn't really know before," third-place winner Dan Castles said. "We play squash, so it was a humbling experience to play sports we usually don't play. It was impressive to see what practicing all four sports gets you."
(third-place winner Dan Castles)
For the full article, see this link.

_________________________________