Sweden, again!
Date: 2005-09-06
_________________
Raymond Jordan, established Racketlon journalist and part of the highly inspired organisation team behind the English Open in London next month reports from an increasingly successful racketlon event with an enormous potential; the German Open.
_________________
Swedes were victorious in both the men's and women's events for the second year running at the German Racketlon Open held in Weiterstadt last weekend. Both Stefan Adamsson & Lilian Druve justified their position as top seeds in a tournament full of surprises, close matches & interesting results.

Closing the gap on Lilian
Lilian defeated Silke Altmann (appearing in her second consecutive tour final) by a mere one point in possibly the most exciting game of the entire weekend, as Silke played some of the best racketlon tennis to date, only losing the final discipline by 3 points. She had won both the table tennis and squash, as expected, although in between Lilian handed out a not unusual badminton thrashing (21-2) to pretty much level things up before the tennis. Lilian held on at the end though, and her years of racketlon experience showed as she kept a steady head at tennis, making very few mistakes and just doing enough to get over the winning line. It was a final that was remarkably similar to the previous year's, in which Lilian recorded a similarly close victory over Katy Buchanan (who this year only took part in the doubles as she is recovering from injury.)
The match also re-enforced Silke's ability to be World Champion in Vienna this year. She will now leapfrog Katy in the rankings to go third and an event which sees the top four ladies in the world, Silke, Lilian, Sarah & Katy will be one worth waiting for.
Not far behind this group are the two losing semi-finalists, Natalie Lawrence (Eng) & Jutta Schaub (Ger). Both Natalie (good friends with Marcel Weigl) and Jutta have been competing internationally for less than a year and it is perhaps this lack of experience that is currently holding them back. There is no doubt that they are both improving though.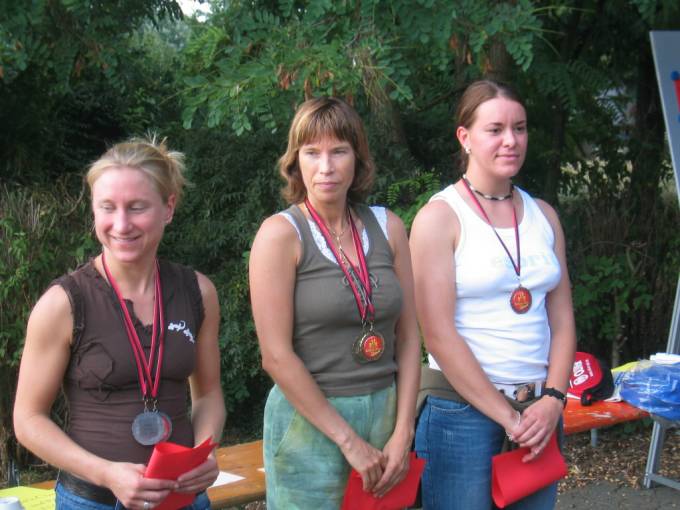 The women's medalists. Silke, Lilian, Jutta. Photo: www.racketlon.at
Youth dominates the men's event
The racketlon youngsters, and in particular Stefan Adamsson were in control of the men's draw in Weiterstadt, with only two of the quarter-finalists (John O'Donnell & Marcel Weigl) over the age of 30, and only John of the semi-finalists over 25. Stefan's opponent in the final was 21 year old Calum Reid (Sco) whose victims included Austrians Christoph Krenn, Michael Dickert (again!) & Robert Libal - will he be allowed entry in Vienna?!! The final was won with relative ease by Stefan, whose performance and all-round game looks more impressive each time. In Belgium he said "my badminton is my weakest sport at the moment", yet in Germany he was very impressive with the 'feather balls', particularly in beating Schaub 21-17, O'Donnell 21-13 & Reid 21-6. It seems that if he feels he has a weakness, he goes away and works hard on it, a great ethic. Calum was happy with his performance in table tennis (21-14), tennis (7-3 at the end) and squash (10-21) against the Swede, although wanted to go on the record as saying "my badminton was gash"! The Scot is 4 years younger than his Swedish counterpart and just as fit, and as his middle two sports improve, the gap with the very best Swedes will narrow. For the moment though, Stefan reigns supreme, and as Magnus takes a short break from the sport, one more tour victory will propel Adamsson to number 1 in the world - could that happen at the English Open in October?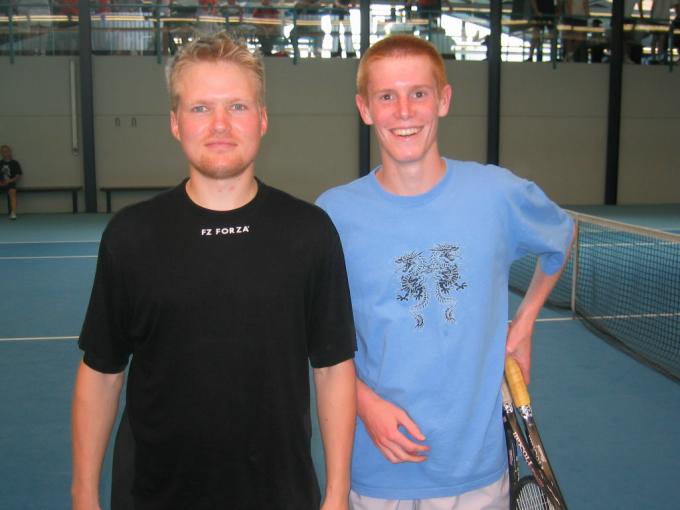 The finalists. Adamsson and Reid. Photo: www.racketlon.at

Shock result
Without a doubt the biggest shock of the tournament was Rickard Persson's defeat in the first round to Oliver Kudicke of Germany. The second division badminton player who looks more like a surfer than racket player has a profile of exceptional badminton and very good tennis and also played last year, although came up against Adamsson in an early round. Rickard was concerned after the first two sports, in which he gave 8 points at table tennis - "too many errors" - and only achieved 2 at badminton (Rickard later put Kudicke at close to Mathias Fagerstrom's standard). "They say he is at least as good as me in tennis", a worried Rickard said before going on the squash court. A 21-7 squash victory for the Swede meant he needed 14 in the final discipline, but Kudicke's very consistent play didn't give Rickard many safe opportunities to attack, and the German won 21-12 to put Rickard out. Consolation for the QPR fan came with victory in Class 1, in which he had to defeat world number 14 Mika Hasmats, also a first round loser! Mika had earlier lost to Christoph Krenn, and although that was a shock result on paper, 'big bird' has improved his game considerably and his victory was not a surprise in some quarters. Krenn & Kudicke then met in the quarter-finals, the Austrian winning to take up his place in the last four, where he lost to Reid before the tennis in a re-run of the junior final at the world championships.
After his superb debut in Prague, many people were interested in the performance of the stylish Elmar Schaub. He once again beat his good friend Holger Stamm (by 6 points), and then came up against Stefan Adamsson in the QF. Stefan was too strong for the German though, and after gaining 19 points in the table tennis, the eventual winner wrapped up the game at 5-4 in the tennis (+18). The fact that the victory was more than 15 points also means the author won a small wager of 2 euro with elite runner-up Reid. You can take it out of your prize money, Calum.
The other two quarter-finals saw O'Donnell beat Weigl (although he surprisingly lost the table tennis to the Austrian for the second time in succession), and Reid beat Michael Dickert. 'Michi' is another player who is still improving, and must be cursing his luck at having to play his friend and nemesis Calum for the third time in the last ten months; against anyone else bar Stefan Michael may have progressed further.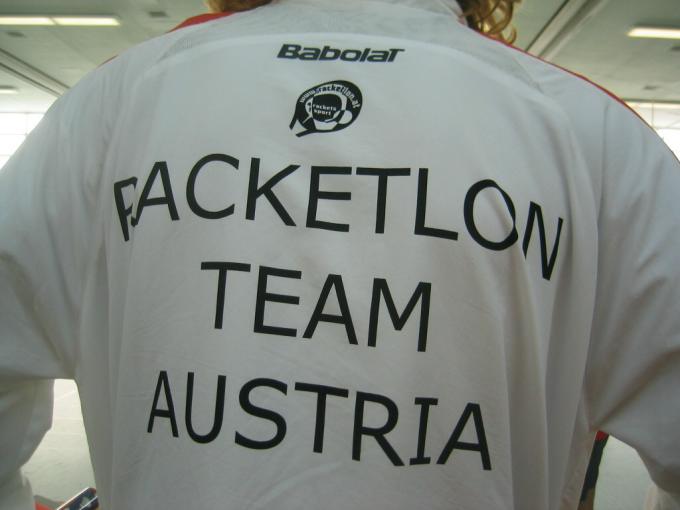 Austria is leaving an increasingly impresive mark on the international racketlon scene.
This back belongs to Christoph Krenn, who were one of three(!) Austrians in the men's open quarterfinals.
Photo: www.racketlon.at

Greatorex moving up the rankings
England's Dave Greatorex won a very close veteran's event in which all four semi-finalists were in contention, beating last year's winner Frank Schnägelberger by 4 points. The key to Dave's success this time round was a strong tennis performance in both his semi-final (against Scotland's Kevin Lawlor) and the final, which nicely backed up his strong badminton - table tennis combination. The winner of the event in Belgium Bogdan Miezynski, could only reach the quarter-finals where he lost to Austria's Erich Knotter, who in turn lost to Schnägelberger.
Greatorex, who trains regularly with top England players Natalie Lawrence and Graham Norton, will be one of those attempting to dislodge the Swedish veteran's dominance of the World Championships in recent years later in Vienna. However, we have been reliably informed that reigning champion and elite standard player Pär Carleke will be present, so Dave may well be one of those in the hunt for a silver medal! Previous world number 2 Kevin Lawlor will also be competing at the Scottish & English events coming up, so expect to see a rise in the rankings for the Dunfermline-supporting squash ace.

Doubles events once again very popular
Both the mens and mixed doubles events were well supported and thoroughly enjoyed. Doubles events on the friday evening seem to be a very good way of getting everyone together before the singles begins and seem to kick-start the tournament in the right way, and it was no exception in Germany. From the start Michael Dickert & Christoph Krenn were the strong favourites in the men's event and they proved this by beating the Finnish badminton experts Lithenius & Antilla comfortably in the final, after a slightly closer semi-final against Websdale & Jordan. Alexander Köpf & Kristian Achenbach lost to the Finns in a close second semi-final, and then went on to take third place after beating the English pair. The mixed doubles event saw some strong pairs take the stage, and there was an early upset when number one seeds Buchanan & Reid (Sco) lost to Druve & Porsborn (Swe), the eventual winners, in the second round by a solitary point. The Swedish pair took the final by fourteen points, defeating Mika Hasmats & Silke Altmann in the final. Natalie Lawrence & Darren Kerins beat the Germans Volker Sach & Irene Seifert to take third place.
A large men's amateurs entry saw the temporary representative of the Czech Federation (who were incidentally admitted to the IRF over the weekend) Radim Sochor take the honours, with a defeat over last year's amateur winner, Willi Zampedri. As last year, there were a large number of German entrants who progressed in this event - 11 of the last 16 players were from the home nation.

As with last year, having the playing area, eating & drinking area, and sleeping area all in such close proximity can be quite dangerous(!); one player was known to collide with a sleeping competitor whilst lunging for a shot in 'speedminton', and also as per last year one or two certain Germans couldn't resist the temptation to play table tennis (especially lobbing & smashing) into the early hours. Once again the tournament was well organised, and the food and drink provided by the team was excellent, in quality, choice & price. It has been heard that the German organisational team may struggle to come together for next year's tournament, so we hope someone is willing to take on the role of tournament director to ensure we can all have fun in Weiterstadt again. So we can say thanks once again to the organising team headed by Irene Seifert & Volker Sach, and we hope to see as many of you as possible at the forthcoming tournaments in the UK, the Scottish & English Opens.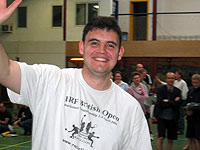 The author. Ray Jordan.
Photo: www.racketlon.co.uk
_________________________

Results from Germany in Summary, the open classes (For full results, see the tournament homepage at www.racketlon.de ):
MEN'S ELITE

Quarterfinals:
Stefan Adamsson (Swe) - Elmar Schaub (Ger) +18 (tt:19-21, ba:21-17, sq:21-6, te:5-4)
John O'Donnell (Eng) - Marcel Weigl (Aut) +18 (19-21, 21-16, 21-3, 1-4)
Calum Reid (Sco) - Michael Dickert (Aut) +5 (14-21, 20-22, 21-12, 21-16)
Christoph Krenn (Aut) - Oliver Kudicke (Ger) +9 (21-15, 7-21, 21-14, 21-11)

Semifinals:
Adamsson - O'Donnell +18 (21-18, 21-13, 17-21, 15-4)
Reid - Krenn +26 (21-11, 21-19, 21-7, - )

Match for 3rd prize:
O'Donnell - Krenn +24 (21-8, 17-21, 21-6, - )

Final:
Adamsson - Reid +15 (14-21, 21-6, 21-10, 3-7)


WOMEN'S ELITE:

Semifinals:
Lilian Druve (Swe) - Nathalie Lawrence (Eng) +44 (21-7, 21-1, 21-11, - )
Silke Altmann (Ger) - Jutta Schaub (Ger) +16 (21-12, 17-21, 21-8, 9-11)

Match for 3rd prize:
Schaub - Lawrence +14 (21-13, 21-15, 19-21, 10-8)

Final:
Druve - Altmann +1 (14-21, 21-2, 7-21, 21-18)


MEN'S VETERAN:

Quarterfinals:
Erich Knotter (Aut) - Bogdan Miezynsky (Pol) +7 (11-21, 8-21, 21-1, 21-11)
Frank Schnägelberger (Ger) - Bernd Hanheifer (Ger) W.O.
Kevin Lawlor (Sco) - Peter Libal (Aut) +28 (19-21, 21-9, 21-3, - )
David Greatorex (Eng) - Leopold Ille (Aut) +33 (21-6, 21-9, 21-15, - )

Semifinals:
Schnägelberger - Knotter +12 (21-9, 21-15, 17-21, 8-10)
Greatorex - Lawlor +4 (21-13, 21-16, 1-21, 21-10)

Match for 3rd prize:
Lawlor - Knotter +26 (21-10, 21-19, 21-8, - )

Final:
Greatorex - Schnägelberger +4 (14-21, 21-4, 12-21, 21-18)
_________________________________