World Champions Dominate in Weiterstadt
Date: 2004-08-30
_________________
The organisers of German Open, with Irene Seifert in the lead, turned the first German racketlon competition into a major racketlon milestone and arguably pulled through something that we have never before seen; Although without experience from running any previous multi-racket tournaments they managed to attract over 150(!) players from 12(!) different nations (almost half(!) of the participants were not from Germany), making this the second biggest tour event ever played and one of the most international ones. And they managed to run the whole thing smoothly in true racketlon spirit!

Einfach Fantastisch!
English Racketlon journalist Ray Jordan reports from the event:
_________________
Current World Champions Magnus Eliasson and Lilian Druve, of Sweden, won the men's and ladies' titles and the first ever German Racketlon Open held in Weiterstadt this weekend. Over 150 players took part in the 3 day event, which also included a team event for the first time outside of the World Championships.

Magnus was once again victorious without genuinely being threatened, although this time he was forced to play the tennis on one occasion, against Steven Verbruggen in the quarter final - Stefan Adamsson was only(!) 17 points down after three sports in the final but conceded without playing the tennis. Heinz Nowicki (Germany) and Stefan Larsson (Sweden) at the semi-final stage were the World Number 1's other opponents, and both were despatched with relative ease. The men's draw had to be re-shuffled due to two of the seeds, Mats Källberg (work commitments) and Rickard Persson (illness) being unable to come, and this resulted in a bottom half semi-final clash between John O'Donnell and Stefan Adamsson. Stefan had beaten Germany's number 1 Holger Stamm, back from injury, in the quarter-final and O'Donnell had taken care of the young Scot, Calum Reid.

O'Donnell and Adamsson was without doubt the match of the tournament, resulting in a thrilling gummiarm win for the young Swede after a gruelling contest. John was 3 up after narrow table tennis and badminton victories, but after Stefan surprisingly took the first squash set 11-10 it looked to be too much for the British number 1 to pull back. But he responded very well, taking the second squash set 11-1 and then gaining 7 in the first tennis set with possibly the best racketlon tennis he has played. Stefan had to keep John to 3 at most and he did so, playing a much more positive game than in the first set. With the points tied, John gave Stefan the serve and then returned the ball long, missing the opportunity of playing in his first Tour Event final since Canada.

The ladies' event was equally enthralling, particularly as nobody could predict the winner! Aside from the top two Katy Buchanan and Lilian Druve, Silke Altmann and Irene Seifert (world 7 & 6) were in attendance, as well as strong newcomer Dagmar Knorr-Held. Dagmarr in fact qualified for the semi-finals ahead of compatriot Irene Seifert, although she fell to world number 1 Katy at that stage, but not before impressing with a strong badminton/squash combination. The position of lady player for the German team in Vienna will be a hotly contested one by the looks of things! Lilian beat Silke in the other semi-final, with a (not uncommon!) heavy badminton victory proving decisive. The final was a difficult one to call, as Katy and Lilian have not played each other for some time. Katy got off to a good start +2 after table tennis (regular coaching and practice with sparring partner Calum Reid in evidence here), and then managed to win the squash by two more than Lilian won the badminton leaving her up +4 into the tennis. After Lilian won the first set 11-10 it was still in the balance, but then Katy's tiredness and Lilian's very impressive consistency came into play and the World Champion won 11-3 and with it the ladies' title.

The men's Class 1 event was very strong on paper; a lot of the German newcomers proved to be of a good standard too. The final was contested between Volker Sach and Sami Lithenius of Finland with the co-organiser coming out on top after a close contest. The standard demonstrated here was arguably as good (if not better!) than some Elite games, particularly in light of Volker's impressive performance against Stefan Adamsson in the team event on Friday. This victory was also a good reflection of the fitness of the 41 year old, with 5 matches required to win the event, as well as his two matches on the Friday night in the team event.

The men's amateurs was won by Willi Zampedri who beat Felix Roos in an all German final – another example of the strength of the locals as experienced rackathlete Marko Antilla of Finland was pushed into third place.

More home domination took place in the Veterans event, where Frank Schnägelberger beat fellow countryman Konrad Reuther in a very close (+2!) final. A measure of the strength here – world number 10 Vet Kevin Lawlor didn't even qualify from his group! The Ladies Amateurs was played on a 'round robin' basis with Susanne Melcher (Germany) coming out on top.....

The team competition was an extra event staged on the Friday evening (complete with flags and national anthems!). Unsurprisingly Sweden won, even affording the luxury of resting a certain Magnus Eliasson in their semi-final with Germany! Germany had edged out Austria to reach the last four. In the other half Poland shocked Belgium – although perhaps Belgium got what they deserved by 'resting' two of their better players for the encounter; indeed, team captain Gert Peersman was still inconsolable on the trip back to Gent on Sunday evening! The phrase (spoken by an un-named Belgian) 'it's only Poland' will live with them forever! The best match though had to be the England – Scotland encounter.

This is the third time the two nations have met, and the third time Scotland have won, however this time it was very close, coming down to 1 point!!! (Remarkable considering 4 'half' matches are played). 'English' lady Joanne Hutton stepped in and coped very well, beating Katy at table tennis and gaining points at tennis and badminton to reduce the margin of victory. JOD and 'Clum' played a pre-cursor to their quarter-final match, with John playing well to win. Chris Noakes deserves a special mention for only losing to Calum Munro by 1 point – he was particularly pleased with the tennis (You can read more about Chris at http://www.racketlon.co.uk/ChrisNoakes/fanpage.htm). It eventually came down to the tennis between Nick ('Dean') Macey and Kevin Lawlor with Scotland being 10 ahead – an 11-1 victory to Nick for a gummiarm.. and at 10-1 he served a double fault. Exciting stuff indeed! Scotland went on to beat Poland comfortably in the semi-final, a match which saw musician and philanthropist Simon Ellis make his international debut. In the top half, the mighty Swedes saw off the home challenge, although only by a margin of +13 – the World Champions may have under-estimated the German's strength in depth but were still too powerful. Good performances by Volker Sach and mattias Rischer were noteworthy here. The final between Scotland and Sweden was never in doubt, with a +34 victory for Sweden, at the same time Germany took third place, beating Poland.

In the plate events, Marcel Weigl won the Elite (Calum Munro knocked him out of the first round proper), beating Joakim Sandberg. Alexander Köpf won the Class 1 plate with a victory over Christoph Krenn.

It was an extremely well run tournament with a very efficient team of people led by Irene and Volker making sure that everything was taken care of (shuttle service, free accommodation, very cheap food and drink and I would say the best T-Shirts on the tour so far!). The buffet on Saturday Evening was especially impressive – there was still some available for breakfast the next morning! An evening of partying and entertainment seemed to be in store for most – although there was a small faction who appeared to want to use the time to practice their table tennis and badminton! In fact one or two players were kitted out for any sporting eventuality!

The free accommodation, as in Belgium, was another great innovation that I'm sure encouraged more participants – although it was hard to sleep with one or two of the Austrians entertaining us with their antics until 6 in the morning! Feather shuttles were available for all matches which again was something that was very good to see. The only things that one or two people were disappointed with was the badminton and squash facilities. The squash courts became very damp come Saturday evening which seriously affected some of the matches around the mens quarter final stage and made it impossible to boast well, and the lines on the badminton courts caused some confusion amongst some players as they were not very clearly marked. That aside, every player that I spoke to agreed it was an excellently run tournament and I am sure we shall all be back in Weiterstadt for 2005!

See you all in London in 6 weeks.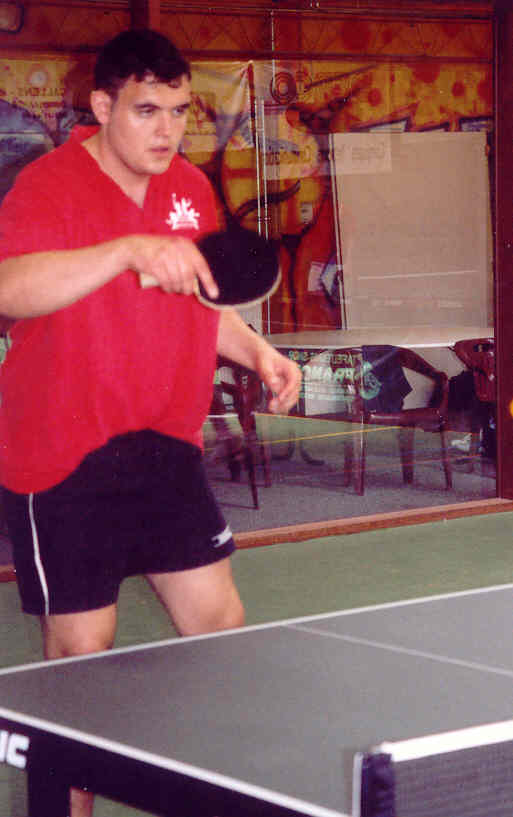 English Racketlon journalist (and table tennis specialist), Ray Jordan
_________________

Results, in excerpt, from German Open 2004 (full results are available from the German Open tournament homepage):

Men's Elite
Quarter finals
Magnus Eliasson (Swe) – Steven Verbruggen +23 (tt:6-11,9-11 ba:8-11,10-11 sq:11-0,11-3 te:11-0,4-0d)
Stefan Larsson (Swe) -Calum Munroe (Sco) +13 (tt:8-11,9-11 ba:10-11,11-9 sq:11-3,11-1 te:5-6d)
John O'Donnell (Eng) – Calum Reid +19 (tt:9-11,10-11 ba:11-9,11-6 sq:11-3,11-2 te:2-4d)
Stefan Adamsson (Swe) – Holger Stamm (Ger) +20 (tt:11-7,11-7 ba:8-11,11-9 sq:11-5,11-4 given up)

Semifinals
M.Eliasson – S.Larsson +26 (tt:11-9,11-4 ba:11-9,11-4 sq:11-10,11-4d)
S Adamsson – J.D'Donnell +1 (tt:10-11,9-11 ba:10-11,11-10 sq:11-10,1-11 te:11-7,11-3 gummiarm 1-0)

Final:
M.Eliasson – S.Adamsson +17 (tt:11-9,11-5 ba:6-11,11-5 sq:11-5,11-9 given up)

Ladies' Elite:
Semi finals
Katy Buchanan (Sco) – Dagmar Knorr-Held (Ger) +18 (tt:11-4,11-6 ba:9-11,7-11 sq:11-4,11-9 te:8-5d)
Lilian Druve (Swe) – Silke Altman (Ger) +20 (tt:11-10,11-10 ba:11-1,11-1 sq:8-11,9-11 te:7-4d)

Final:
L.Druve – K.Buchanan +3 (tt:10-11,10-11 ba:11-5,11-2 sq:5-11,0-11 te:11-10,11-5)

Men's Veteran +45
Semi finals:
Frank Schnägelberger (Ger) – Christian Nase (Ger) +46 (tt:4-11,11-7 ba:11-3,11-2 sq:11-3,11-1 te:11-2,11-6)
Konrad Reuther (Ger) – Leopold Ille (Aut) +47 (tt:11-6,11-4 ba:11-1,11-1 sq:11-5,11-2d)

Final
F.Schnägelberger – K.Reuther +2

_________________________________