Breaking Through. The Wall.
2006-11-20
_________________
Revision history:
2006-11-05: First version.
2006-11-20: Added pictures and some complementary text.
_________________
The sixth Gothenburg Open became a tournament of surprises! In the Men's Elite for sure! But also in the Ladies'. And, to many, even in the Veteran's class(!) See report below.
_________________

An unseeded champion!
Many people have seen the potential but it has never quite been fulfilled. Until now! Today, at the Gothenburg Open, in competition with World No.3, World No.4, World No.5 and several other top international racketletes, Christian Wall (not among the 8 players that were seeded in the Men's Elite draw!) showed the world that he is a winner. A breakthrough cannot get much cleaner!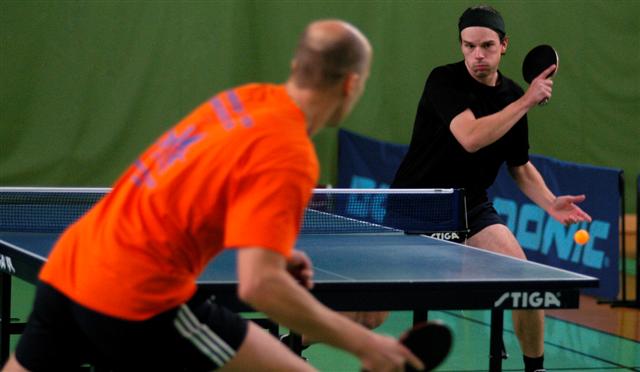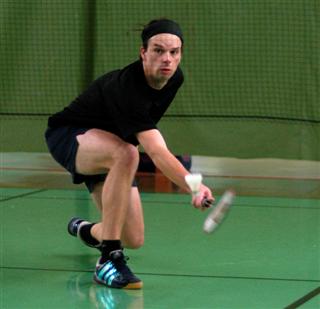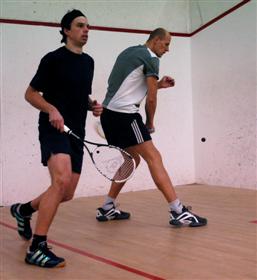 Surprise of the year. Christian Wall, Västerås. Beating Rickard Persson in the final +8 (tt:4-21 ba:21-17 sq: 21-17 te:21-4)
Photo: BMM

He beat second seed, and former (during a few weeks about a year ago) World No.1 Stefan Adamsson in the semfinal +1 (13-21, 21-8, 7-21, 21-11), in a remarkable display of coolness - considering that he was down(!) 7-9 in the tennis in a situation, where Adamsson only needed 13 points to win the match. Six straight points later and 7-9 had been turned into 13-9. Two more series of straight points turned 13-10 into 18-10 and 18-11 into 21-11. And it was clear to the audience that Wall, seemingly, does not understand the concept of the Gummiarm (Swedish for "rubber arm"), a psycho-somatic phenomenon, well known on the racketlon circuit, that normally inexorably causes unforced tennis errors in situations like this.

The final, against Rickard Persson (who, in the semifinal, beat Staffan Kanen, who in turn beat first seed Calum Reid in the quarters) offered another example of Wall's ability to come back from seemingly hopeless situations; Not many people were betting on him after a loss of 4-21(!) in table tennis and 9-13 down in the badminton, meaning a negative difference, at that point, of 21 points. But an excellent end-game, finished by 4 straight points, gave him the badminton set with 21-17 and after squash (again 21-17) he was only 9 points down before tennis. Bad news for Persson given that Wall is a former professional tennis player. Wall decisively finished the match with yet another series of straight points (15! of them this time) turning Persson's good start (6-4) into 21-4.

Although there have often been rumors circling around of untested players with potential to beat the best ranked racketletes in the world it is a fact that it does not happen often that an unseeded player takes the victory in the Men's Elite class. Canada's Richard Thomson came close once, Elmar Schaub has been another "surprise star", but from the top of my head it has, in fact, only happened once(!) before - also in Gothenburg, at the first Racketlon World Champs in 2001 - and the name of the unseeded player then was Mikko Kärkkäinen, beating another unseeded player from Finland, Toni Kemppinen, in the final.

And that is not the only reason why this year's Gothenburg Open can be described as a tournament of surprises. Even in the early rounds there were quite a few upsets (many of them going Sweden's way). Calum Reid (seeded 1) lost in the quarterfinals to Staffan Kanen (unseeded). Oliver Zwiers (7-8) encountered the same fate (Kanen) already in the first round. Mika Hasmats (5-6) lost to Germany's Alexander Köpf (unseeded) in the second round. Austria's Marcel Weigl (3-4) lost to Christian Wall (unseeded) in the quarterfinals, who beat Joachim Nilsson (5-6) in the previous round. In fact, there was only one single quarter final that went entirely according to plan (Adamsson against Håkansson as seen below) and the semfinals became an entirely Swedish affair

Men's Elite Quarter Finals:
Staffan Kanen (SWE, -) bt Calum Reid (SCOT, 1) +9 (tt:21-10, ba:14-21, sq:6-21, te:21-2)
Rickard Persson (SWE, 3-4) bt Alexander Köpf (GER, -) +18 (21-10, 21-16, 21-18, 9-10)
Christian Wall (SWE, -) bt Marcel Weigl (AUT, 3-4) +14 (21-17, 18-21, 21-15, 15-8)
Stefan Adamsson (SWE, 2) bt Henrik Håkansson (SWE, 7-8) +26 (15-21, 21-9, 21-1,-)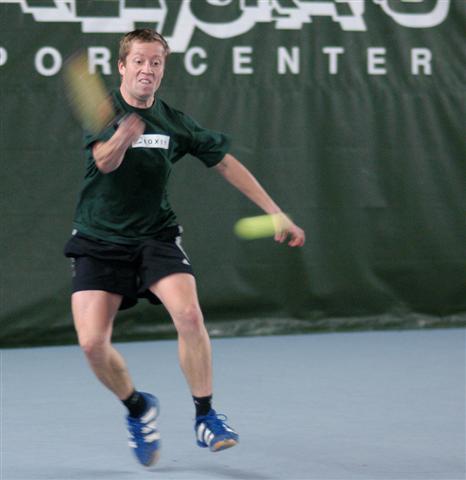 Joachim Nilsson - in action! Another dark horse waiting for a breakthrough? Lost by only -2(!) to the winner, Wall, after a lead of +14 before tennis (tt:21-6 ba:8-21 sq:21-9 te:5-21)
Photo: BMM


Who said the queen was dead? Long live the queen!

The ladies' event contained nothing less than all the top 3 on the racketlon world ranking (1. Linda Jansson, the World Champion; 2. Susanna Lautala-Näykki, Finland's recent Scottish Open champion; and 3. Lilian Druve, Gothenburg's three times world champion 2002, 2003 and 2005). And in addition a recent Olympic badminton quarterfinalist in racketlon first timer Johanna Persson. (Her sister, Swedish badminton champion Sara Persson had to drop out from the tournament since she won "too many" rounds in the badminton Danish Open played simultaneously, which meant she did not make it in time.)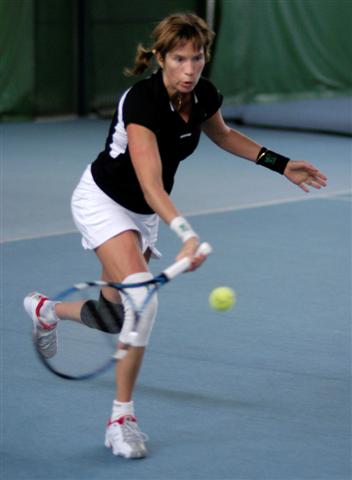 The Queen.
Photo: BMM

And it was Druve, who came out the winner. This time surprising to many since she has not performed up to her usual standard during her most recent tournament appearances and has, in fact, stayed away from playing more or less completely since the Worlds in June. "I only practiced six times before this tournament" she said, herself surprised by the result. Her only set loss on her way to the final came in the first round against Johanna Persson, and was not unexpected; 2-21 in badminton...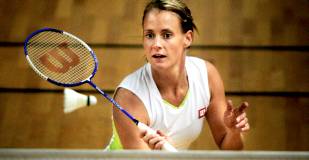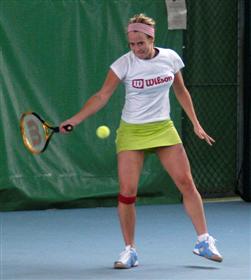 Olympic badminton quarterfinalist Johanna Persson (Gothenburg). In Racketlon!
Won the badminton 21-2 against former badminton national team member Lilian Druve.
Full score: -16 (6-21, 21-2, 8-21, 6-13)
Photo: Stefan Berg and BMM, respectively

The semifinal against Finland's Susanna Lautala-Näykki became a surprisingly easy affair with a straight series of 3 solid set victories 21-13, 21-15, 21-11. +24 and no tennis against the World No.2!

One of the biggest enthusiasts of the Racketlon World, the President of the Gothenburg Racketlon Club, Niclas Larsson, reports from the final:

"Linda Jansson, the World-Champion, was expected to win this class. Noone really believed that Lilian Druve would have a chance. Rumours said that the former World-Champion, Lilian Druve, had given up Racketlon. I, personally, thought she had given up months ago. But how wrong I was. I was the referee in the final between Jansson and Druve. What a game it was. In the table-tennis they both looked extremely focused. Jansson hits the ball a bit harder than Druve in most sports but perhaps Druve is a bit more solid. In the table-tennis Druve was the one who made the least mistakes. This is why she won the table-tennis with so much, 21-13.
In the badminton, it looked like Druve was going to destroy Jansson totally, she was up 14-2, but then Jansson really started playing well and Druve started to miss a few easy shots. The final score was 21-10 for Druve. Druve was now 19 points up before squash. Was this a good score for Druve? In the break I asked Annelie, Lilian sister, what she thought of the score; "This is a really, really good start for Lilian if she keeps on playing like this and is even in squash she will have a good chance of winning the game":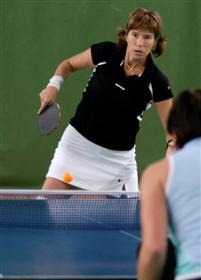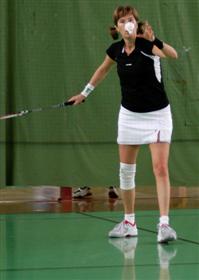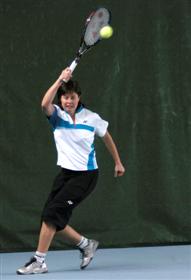 Lilian Druve - Linda Jansson +8 (21-13, 21-10, 16-21, 8-14)
Photo: BMM
The squash game started up a bit slow, both players seemed a bit nervous. After a while, however, Jansson started hitting the ball very hard, it didn't seem like Druve would have a chance. But she kept on getting most of the balls back and the score was even after half the game. During the start of the second half of the game Jansson played really really well. She was in the lead with many points and it looked tough for Druve. But at the end however, Druve came back strongly with a bit of help of the audience and her coach. The final score was 21-16 for Linda Jansson. Druve needed 8 points in tennis to win the game. It looked like a very unpredictable game, considering Jansson is a professional tennis player.
The tennis never really got exciting, Druve was just too good today, the final score was 14-8 for Jansson and Lilian has now again proven that she is the best in the world. What a remarkable player this is. We hope she keeps on playing like this in the World-Championships in Holland next year. With the help of her new boyfriend/coach (?) she could reach all the way. Congratulations Lilian Druve, you are truly amazing."
(Read Larsson's full article from the tournament here.)
Druve is now considering a comeback on the racketlon circuit and is aiming to take part in Swedish Open 12-14 January (see their homepage) and possibly even the inaugural Dutch Open in Rotterdam 15-17 December (Who isn't curious about the first ever Dutch international racketlon event? See their Entry Engine fill up here).
World Champion Linda Jansson, on the other hand, should not be dispatched easily! In a radio interview held a few weeks before the tournament she announced that she will now gear up the practicing and "train the other sports much more". That's bad news for the competition! Listen to the full 10 minute radio interview (in Swedish) through this link (scroll down to "Halvtid 10 Oktober").


Newcomer challenged the World No.1

It can be argued that the Veterans' class has a charm of its own in one particular regard; Like in no other class new players can suddenly turn up and challenge the very best. This happens when former elite players become of age. Imagine, for example, the instability it would bring to the Veterans' World Ranking if Magnus Eliasson suddenly would start to enter in the year when he turns 45 (January 2013 is only six years away...).

That is exactly why the Veterans' class attracted special interest this year. Peter Bittár (best described as "the Magnus Eliasson of the Nineties", by virtue of his 6 Swedish Championships) has just become old enough and this was the first time he had entered an international Veterans' event. After his superior victory at the Swedish Veterans Championship in May (+32 (21-5, 21-4, 14-21, 21-15) against Claes Hellgren in the final) curiosity was running high about what he could achieve against Ulf Bredberg, the World No.1, whom he never played.

According to plan, he advanced easily to the final beating Gothenburg's Lars Blomstergren (Gothenburg) +17 in the quarters and Olle Benéus (Gothenburg's multiple times Swedish Champion) +27(!) in the semifinal. Then, as expected, the big fish waited and interest was rising high among the audience as the opponents approached the table tennis table; the Swedish Champion against the Swedish World No.1. Gothenburg against Stockholm.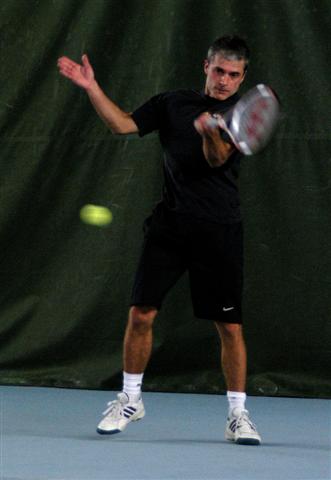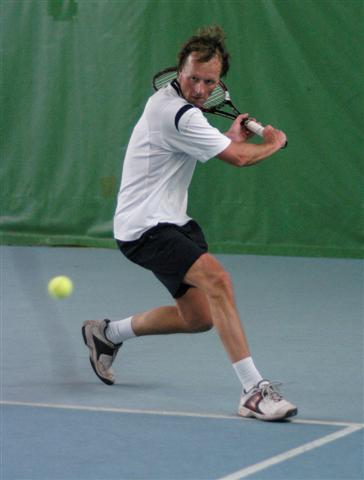 Peter Bittár (Swedish Champion) - Ulf Bredberg (World No.1) -7 (tt: 21-8 ba:12-21 sq:21-18 te:7-21)
Photo: BMM

Bittár's best sport is table tennis, which gave him a good start; 21-8 and a stable(?) 13 point lead before badminton. The badminton appeared to be a more even affair and it was still looking generally promising for him until 9-12. At that stage, however, the World No.1 pulled himself together and marched away to 12-21 and Bittár's lead had shrunk to just 4 points before squash. And when Bredberg quickly went ahead to 2-7 in squash he was also in the lead totally for the first time. That's when Bittár started showing some of the fighting spirit that made him legendary back in the Nineties. He started stretching out a little extra at every point and turned 3-9 into 12-9 through seemingly sheer will power, then perhaps lost a little pace and the squash ended 21-18. Perhaps Bittár reckoned that a +7 lead before tennis would be enough to secure the match - but not so! He soon found out that tennis is Bredberg's best discipline and a very stable performance containing e.g. a world class top spin lob gave Bredberg the set 7-21 and therefore the match by a margin of 7 points.

Bittár's runner-up performance propelled him from nowhere to position no.20 on the Veterans' World Ranking. But something tells me that this does not make him particularly happy . Watch out for a revenge face-down at the Swedish Open in January! Bittár has not been seen much on the racketlon courts during the last couple of years after he was de-throned by Magnus Eliasson. This might just be a wake-up call to start practicing again! Will the top 3 on the World Rankings be Bittár, Bredberg and Carleke within the year 2007? Probably. The more interesting question perhaps; What will be the order between them? And where is Carleke hiding at the moment?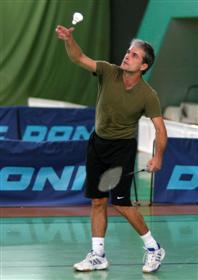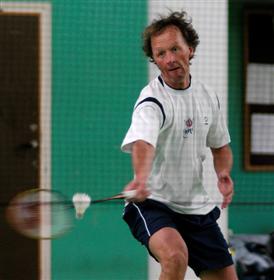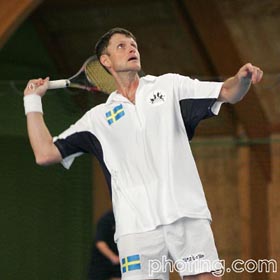 Bittár, Bredberg, Carleke. The world's top 3 racketlon veterans. Probably.
Photo: BMM, BMM and photing.com


The end of an era?
After having launched racketlon internationally by organising the sport's first international tournament 2001 and the three first world championships 2001-2003 and after another three straight years as a tournament on the FIR Racketlon World Tour (see full history) Gothenburg Open has, next year, for the first time, not been awarded World Tour status by the FIR. Next year's FIR Racketlon World Tour will contain exactly the same tournaments as this year's tour with one exception; Gothenburg Open removed and replaced with a nine week gap in the calendar. Meaning that the tour will contain 11 events rather than the agreed maximum of 12. This is the consequence of a Council decision to only allow one tour event per country (Sweden has agreed internally that Stockholm will get this opportunity next year).
Needless to say this is not the most popular of decisions among the Gothenburg Open Management Team. We do recognize that Gothenburg Open is not the biggest and most ambitious of all tournaments anymore but we are not small and the standard at our tournament has always been far above average on the tour. And just a quick look at our history should explain why some of us feel that the game of Racketlon has about as much to gain from kicking out Gothenburg Open as the game of Tennis would have from closing down Wimbledon. Gothenburg Open has, de facto, been the prime engine of international racketlon development and around the tournament has grown a local racketlon community that now ranks among the strongest and most dynamic in the world (see below). Doesn't the FIR consider it good for racketlon to cherish and support this engine rather than the opposite?
On the other hand, we are good democrats and we do understand the requirement of limiting the number of tour events to one per country. That is by no means an unreasonable idea for a sport that wants to spread geographically. But maybe next year the FIR Council could show some sensitivity to the history of our sport and think up something more imaginative such as perhaps offering a second tour event to the country with the most top ranked racketlon players? (Out of the top 20 on the Men's World Ranking about 50% are Swedish.) This would increase the average standard of the World Tour events and improve the quality of the World Ranking(!) - and most people would agree that it is generally sound with a good balance between the whereabouts of the best racketlon players and the location of the tour events.
Nevertheless, the people behind the Gothenburg Open are grateful for having had the opportunity to serve as the international launchpad for the game of racketlon and we now take pride from watching one new country after the other emerging on the international racketlon scene. Even if it means relative steps backwards from the limelight for Gothenburg. Keep growing racketlon! And Gothenburg Open is (probably) back next year as a Challenger Event. (Still a world ranking event - but only half as many ranking points on offer.)
The end of an era? In a way, maybe. But we feel quite confident that this is not the end for racketlon in Gothenburg. This is not even the beginning of the end. Although it does seem to be the end of the beginning!
Welcome back next year, everyone!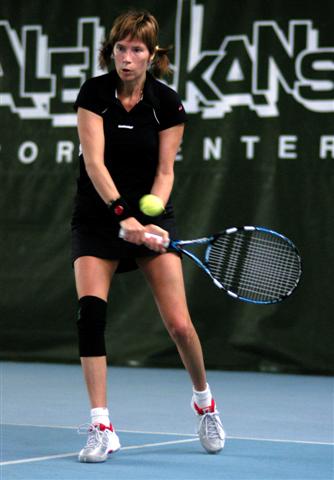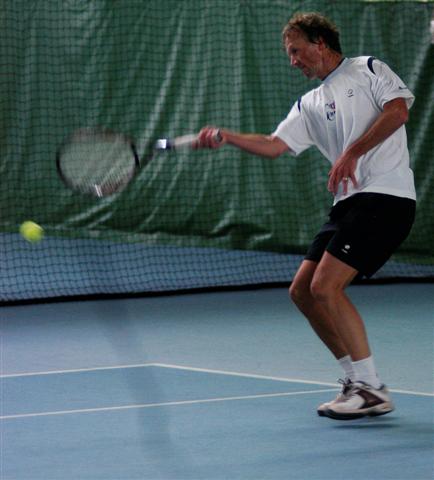 Gothenburg Racketlon Talent 1: World Class.
Lilian Druve. World Champion 2002, 2003 and 2005. Winner of Gothenburg Open 2002, 2003 and 2006. World No.1 during most of the 5 year long history of international racketlon (that started with the 2001 Gothenburg Racketlon World Open).
Ulf Bredberg. Veteran World Champion 2005. Present Number 1 on the World Ranking. Winner of Gothenburg Open 2004, 2005 and 2006.
Photo: BMM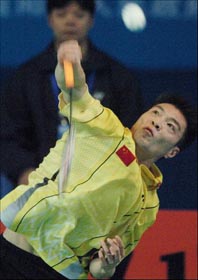 Gothenburg Racketlon Talent 2: Gothenburg's two biggest hopes in the Men's Elite class; Staffan Kanen and Kristian Karttunen. ....and Hong Chen (China), No. 4 on the badminton World Ranking. Kanen (a bronze medalist at the 2002 Racketlon World Champs) beat top seed Calum Reid (SCOT, WR3) in the quarter finals and finished 4 in this year's tournament. Karttunen beat England's James Greenhead in the first round but then lost to Rickard Persson (former WR 3) in the second round. Hong Chen did not take part in Gothenburg (and probably, sadly, never even tried racketlon...) but there is a link; A few days before Gothenburg Open he beat Karttunen 21-13, 21-17 in the Badminton Denmark Open. Karttunen complained about the heavy offensive qualities of his end point opponent but is generally very pleased with his performance in the tournament considering that he won the qualification and the first round in the main tournament against Magnus Sahlberg (Sweden's top name at present on the badminton World Ranking.) This brought him to No.266 on the badminton World Ranking meaning that there are, at present, only five Swedish names before him. (See the full list on the homepage of the International Badminton Federation).
Photo: BMM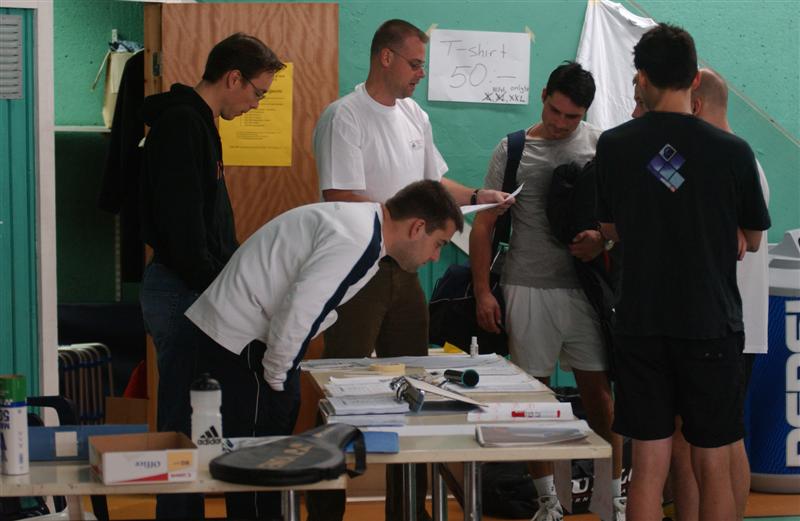 Gothenburg Racketlon Talent 3: The tournament desk. Showing three crucial members of the Gothenburg Open Management Team. From the left: Stefan Engström, during all six years the impeccably reliable treasurer; Patrik Andreasson (bending down overlooking the microphone), during all six years a loyal member of the Management Team and always ready to labour at the tournament desk; Håkan Granberg (standing up behind Patrik, addressing the crowd), during all six years the stable Tournament General, the undisputed leader of the team that created the tournament that launched racketlon internationally. During all six years the team has also contained Olle Benéus (Tournament Doctor etc.) and Hans Mullamaa (Marketing Officer) and during recent years it has grown to include Niclas Larsson, Ulf Bredberg and Björn Hagelqvist.
Photo: BMM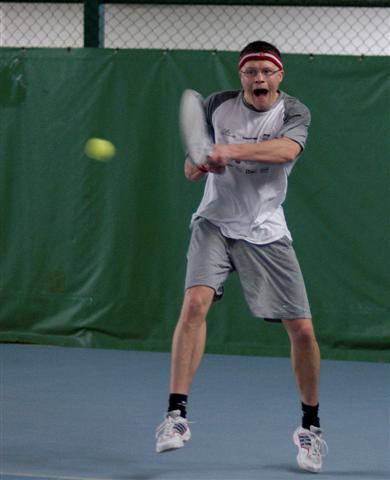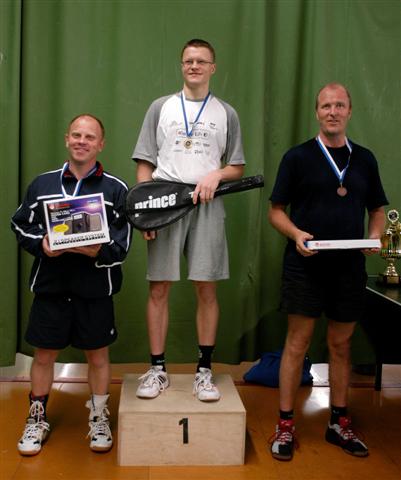 Gothenburg Racketlon Talent 4: The winner of the Class 1, Jukka Salminen. Noone could be more worthy of this victory than Jukka, one of the hardest and most systematically training of all racketletes. Nicknamed "Duracell" this super athlete never loses a point without having first tried his utmost often bordering on the impossible (if in doubt, take a closer look at his fighting face above!). Salminen is also the creator of the "Gothenburg Racketlon Ladder" that provides a weekly scheduled match for each of its participants while his good friend Niclas Larsson ("Duracell 2" and the President of the Gothenburg Racketlon Club) is responsible for the monthly "Gothenburg Top X" tournaments that have been running in the Alelyckan Sport Centre since January 2002 offering their participants 3-4 straight matches on a Sunday morning, linked to the Gothenburg Racketlon Ranking List, that contains 125 names at present. Larsson is also running the Gothenburg Racketlon Homepage. Salminen and Larsson are great symbols for all this activity that goes on behind the stars and the limelight.
Photo: BMM
For more Gothenburg complacency, turn to Niclas Larsson's local tournament report on the Gothenburg Racketlon Homepage; 14 medals for the Gothenburg Racketlon Club
/H
Results in summary
(Complete results are available in this excel file)

MEN'S ELITE


2. Rickard Persson, 1. Christian Wall, 3. Stefan Adamsson
Photo: BMM

Quarterfinals:
Staffan Kanen (Swe) - Calum Reid (Sco) +9 (tt:21-10, ba:14-21, sq:6-21, te:21-2)
Rickard Persson (Swe) - Alexander Köpf (Ger) +18 (21-10, 21-16, 21-18, 9-10)
Christian Wall (Swe) - Marcel Weigl (Aut) +14 (21-17, 18-21, 21-15, 15-8)
Stefan Adamsson (Swe) - Henrik Håkansson (Swe) +26 (15-21, 21-9, 21-1,-)

Semifinals:
Rickard Persson (Swe) - Staffan Kanen (Swe) +22 (21-17, 21-16, 21-8,-)
Christian Wall (Swe) - Stefan Adamsson (Swe) +1 (13-21, 21-8, 7-21, 21-11)

Match for 3rd prize:
Stefan Adamsson (Swe) - Staffan Kanen (Swe) +25 (21-15, 21-17, 21-6,-)

Final:
Christian Wall (Swe) - Rickard Persson (Swe) +8 (4-21, 21-17, 21-17, 21-4)


LADIES' ELITE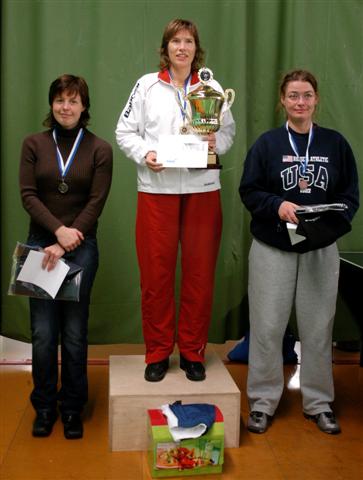 2. Linda Jansson, 1. Lilian Druve, 3. Susanna Lautala-Näykki
Photo: BMM

Semifinals:
Linda Jansson (Swe) - Jutta Schaub (Ger) +18 (21-6, 9-21, 21-13, 11-21)
Lilian Druve (Swe) - Susanna Lautala-Näykki (Fin) +24 (21-13, 21-15, 21-11,-)

Match for 3rd prize:
Susanna Lautala-Näykki (Fin) - Jutta Schaub (Ger) +4 (21-10, 10-21, 21-14, 15-18)

Final:
Lilian Druve (Swe) - Lina Jansson (Swe) +8 (21-13, 21-10, 16-21, 8-14)


MEN'S VETERAN O45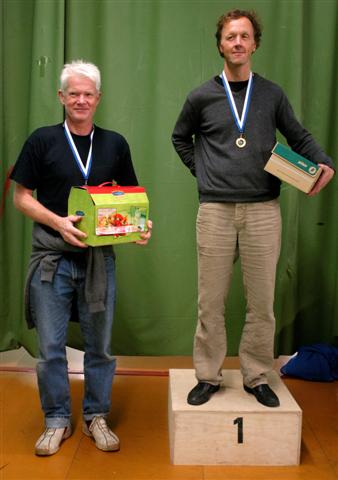 3. Olle Benéus, 1. Ulf Bredberg
Photo: BMM

Semifinals:
Ulf Bredberg (Swe) - Claes Hellgren (Swe) +10 (19-21, 21-6, 14-21, 21-17
Peter Bittár (Swe) - Olle Benéus (Swe) +7 (21-4, 21-9, 4-21, 21-16)

Match for 3rd prize:
Olle Benéus (Swe) - Claes Hellgren (Swe) +18 (21-11, 19-21, 21-16, 21-16)

Final:
Ulf Bredberg (Swe) - Peter Bittár (Swe) +7 (8-21, 21-12, 18-21, 21-7)


MEN'S JUNIOR U21
Winner: Alexander Ebata (Swe)


2. Johan Hagelqvist, 1. Alexander Ebata
Photo: BMM

MEN'S DOUBLES
Winner: Christian Wall/Henrik Håkansson (Swe)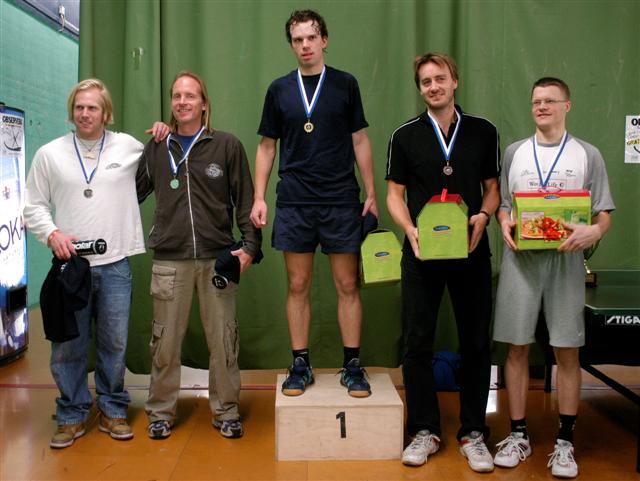 2. Alexander Köpf / Oliver Zwiers, 1. Christian Wall (missing: Henrik Håkansson), 3. Niclas Larsson / Jukka Salminen
Photo: BMM

MIXED DOUBLES
Winner: Jutta Schaub/Oliver Kudicke (Ger)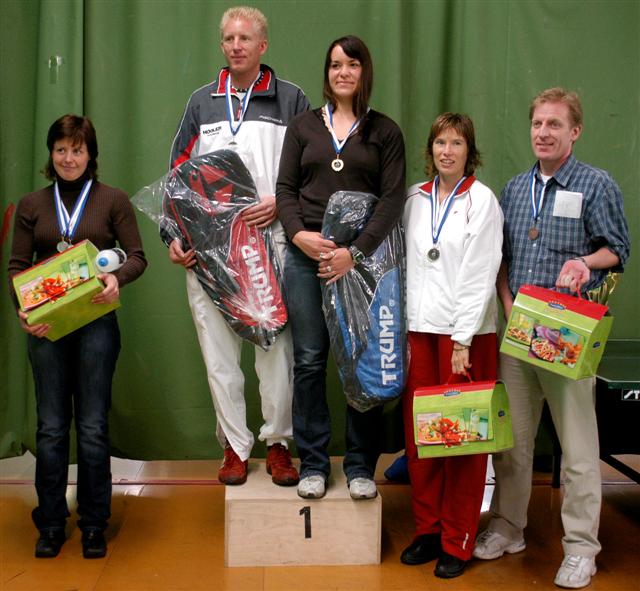 2. Linda Jansson (missing: Joachim Nilsson), 1. Jutta Schaub / Oliver Kudicke, 3. Lilian Druve / Hans Mullamaa
Photo: BMM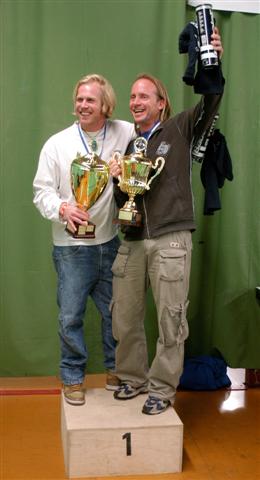 Only kidding! Alexander Köpf and Oliver Zwiers did not win any gold this time.
Welcome to try again next year guys!
Photo: BMM
_________________________________