TT Invasion!
2007-10-27
_________________
The draws for the seventh Gothenburg Open, to be held next weekend (2-4 Nov), are now available on-line. (See tournament homepage!) Although the tournament has temporarily stepped down from tour status this year to become a Challenger event with only half the number of ranking points available, it has attracted 118 entries, which is slightly above the predefined limit of 115. That actually means a record as regards entries from Sweden, which seems to confirm that Racketlon is still a growing sport - even in this relatively mature Racketlon country. In this context a special mention has to go to Niclas Larsson, the president of the Gothenburg Racketlon Club, who constantly maintains extreme levels of enthusiasm as the organiser of the "Gothenburg Top X" tournaments every month. The growth of Racketlon in Gothenburg is his second name.

Earlier versions of the Gothenburg Open have seen various "themes"; Last year, for example, the tournament attracted some of Sweden's very best badminton players in Johanna Persson (an Olympic quarterfinalists from Athens 2004) and Kristian Karttunen (currently 174 on the badminton world ranking - and rising). A few year's earlier the tournament was honoured by a wave of excellent tennis players (most notably, former world top 10 player Magnus Gustafsson and doubles world champion Jan Apell, both local Gothenburg talents). This year the turn has come for table tennis. Racketlon.com has asked Daniel Majetic, a new member of the tournament management team this year, to provide some details. Here is his personal report - a list, in order of estimated strength:

___________________________________

1) Mats Källberg (Class A)
Needs little introduction for people familiar with Racketlon. 5-3 in matches in the Swedish Super One Division (top position within the team). 13-9 in the Elite Division last year including a victory against Wang Jianfeng, currently number 78 on the ITTF world ranking.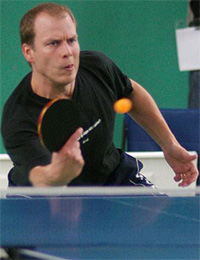 Mats Källberg. In the lead of a table tennis invasion of Gothenburg.
(photo: BMM)

2) Jamie Lindqvist (Class C)
Seems to play in division 3 this year and has not lost a single set yet after 4 team matches (implying that he has not lost a single set during 9-12 singles matches). One of these matches was against Mika Hasmats; 11-8, 11-4, 11-2. Played in the Super One division last year; 12-16 in the team's top position.

3) David Gustafsson (Class B)
Plays in Division 1 and has, so-far got 3-0 in matches. Last year he played in the Super One division and got 12-14 in the team's second position. Will be fun playing him. Hope to get more than 10...

4) Martin Björkryd (Class A)
Plays in Division 3 this year (same team as Lindqvist) and has 9-1 in match quota. The only loss came against noone less than Mika Hasmats. Played in the Super One division last year (10-13 in the team's second position)

5) Lasse Rosengren (Class C)
Played in Division 1 last year - but this year I do not know where he plays. I am a bit uncertain about his capacity. Might be behind Ziegler but probably not.

6) Kristoffer Ziegler (Class A)
Division 1 (2-5).

7) Mika Hasmats (Class A)
Division 3 (8-3).

8) Fredrik Westlund (Class B)
Division 2.

9) Daniel Majetic (Class B)
Division 3 (4-6; bad start. I normally play better than that :)

NOTE:
The Swedish division system contains two divisions above the "Division 1"; The "Elite Division" is the highest. Then follows the "Super One Division".
___________________________________


But this "tt invasion" should not really draw focus away from the struggle for the medals in the Men's A Class. Here are the predicted quarterfinals according to the world ranking:

(1) John O'Donnell (ENG WR3) - Hans Mullamaa (SWE WR30)
(2) Mats Källberg (SWE WR26) - Alexander Köpf (GER WR11)
(3) Christian Wall (SWE WR12) - Henrik Håkansson (SWE WR13)
(4) Anders Rickan (SWE WR28) - Rickard Persson (SWE WR8)

However:
(1) Mikael Jonsson, a vintage Swedish Racketlon player of good all-round capacity, is normally a hard nut to crack for Mullamaa. They might face each other in the second round - if Estonia's Toomas Vallikivi does not suprise against Jonsson in the first round. The other very uncertain condition being that Mullamaa beats Mathias Pusa Persson, whom he never faced before.
(2) Veteran top player Ulf Bredberg (who has chosen to take part in the A and B classes rather than in the Veterans' class) will - provided that he survives the first round against Martin Björkryd - be looking to make it hard for Köpf in the second round.
(4) Jukka Salminen, one of Gothenburg's strongest players at the moment with a recent victory over Henrik Håkansson on his record, will not give in easily against reliable performer Anders Rickan in the second round (provided that Salminen survives the first round against Mika Hasmats).

Welcome to the seventh Gothenburg Racketlon Open - and the home of International Racketlon!

/H

_________________________________