Tournament of Newcomers!
2006-06-19
_________________
The first year of the British & Irish Racketlon Tour rolls on. Tour coordinator Keith Lesser (keith.lesser @ racketlon.com) reports from the latest stop in Eastleigh.
_________________
Hampshire Open - June 18th

Held at Fleming Park Leisure Centre, Eastleigh, The Hampshire Open represented many positive aspects for Racketlon in the UK for the present and the future. A new venue identified with helpful staff and easy access to the M3 motorway, 30 players commenced battle. The 3rd Stop on the 2006 British & Irish Racketlon Tour saw the presence of such household names as Mark Jackson and Ray Jordan and these two men were the clear favourites for the Class A Category.

Morgan steals the headlines!

However, it was a newcomer, Steffan Morgan who took the plaudits with wins over 4th seed Selwyn Walmsley, number one seed Mark Jackson and in the final 3rd seed Keith Lesser. Morgan's racketlon display was breathtaking and his squash results of 21-1, 21-3, 21-3 go some way to show his ability. Also, a useful table tennis player in his teenage years and former tennis tournament competitor as a junior, we have not seen the last of this strong young talent. For the more experienced rackathletes, I will make a comparison to the profile of Dave Lazarus, but remember Morgan is young and supremely fit!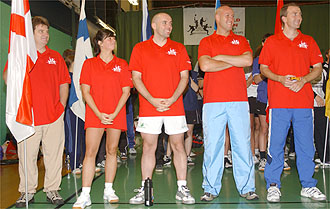 A new Dave Lazarus? Lazarus here seen second from the right in a classic picture of the English Team at the Gothenburg World Championships in 2003.
(photo: www.digitalfoto.nu )

Gummi, Gummi, Gummi!

When a racketlon match is a draw at the end of the tennis like in the Men's Class A 2nd semi final, the gummi-arm concept comes to fruition. This rule involves a toss at the end of the match to decide who serves followed by one sudden death tennis point to decide the winner. With one extra twist, the server gets no second serve! Ray Jordan and Keith Lesser had a topsy turvy battle resulting in Ray's first ever victory over Lesser in table tennis. Lesser v Jordan 19-21, 21-18, 21-19. 18-21. Jordan serves, Lesser backhand slice returns, Jordan approaches the net, but his approach is out, ELATION from one end of court, Lesser goes through to play Morgan!!!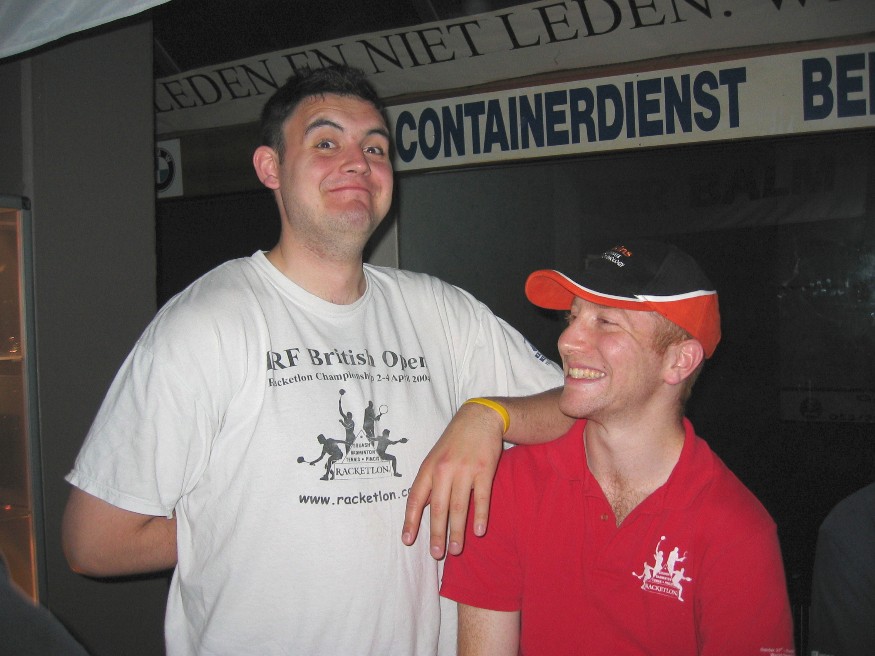 Gummi-arm! Two of the front-runners of English Racketlon; IRF Council member Ray Jordan and British Tour Coordinator Keith Lesser faced eachother in the single point gummiarm tiebreak.

Local Badminton Specialists shine through in Class B

Neil Postlethwaite defeated Martyn Isherwood in the Class B final and both are set to step up to Class A at Eastbourne. Both with good all round ability and excellent badminton, these two represent future danger in upcoming competitons. 3rd place went to charismatic Veteran Nick Webb, who is showing good improvements in badminton and squash. Webb defeated fellow vet Malcom Burr by a mere +5. Burr in turn had the profile to beat tennis specialist Rob Conroy, another strong newcomer with a squash/tennis combination.

Reeves dominates!

The match everyone now wants to see in Ladies Racketlon is Sarah Reeves v Natalie Lawrence, both unbeaten in recent domestic competition and Reeves has emerged since her English Open Class B victory last October. With strong badminton, noone really had a chance. Lorna See showed again, against the right profile she can cause a shock and is a clear contender for the first Ladies Veterans Championship in Birmingham in October! Our hearts go to Achilles victim Dominique Ford, get better soon Dom!!

Here are some selected results and full placings:

Steffan Morgan beat Keith Lesser +14 (tt:9-21, ba:21-14, sq:21-3, te:9-8)
Steffan Morgan beat Mark Jackson +21 (21-12, 7-21, 21-3, 9-1 +21)
Keith Lesser beat Ray Jordan +1 (19-21, 21-18, 21-19. 18-21, 1-0)
Steffan Morgan beat Selwyn Walmsley +18 (9-21, 17-21, 21-1, 21-7)

Men's Class A

1st - Steffan Morgan
2nd - Keith Lesser
3rd - Ray Jordan
4th - Mark Jackson
5th - Selwyn Walmsley
6th - James Whelen
7th - Russell Smart
8th - Simon Hughes

Men's Class B

1st - Neil Postlethwaite
2nd - Martyn Isherwood
3rd - Nick Webb
4th - Malcom Burr
5th - Rob Conroy
6th - Marc Burman
7th - Chris Phillips
8th - Stuart Williams
9th - Ed Qualtrough

Men's Class C

1st - Ben Love
2nd - Julian Walton
3rd - Jonathan Healey
4th - Daniel Gillett
5th - Alan Cornish
6th - Geoff Jordan
7th - Ian Packford
8th - Charles Eaton

Ladies' Class A

1st - Sarah Reeves
2nd - Lorna See
3rd - Minori Lewis
4th - Diana Gillen-Buchert
5th - Dominique Ford


_________________________________