University Team Championships in Hong Kong
2007-04-17
_________________
Chi Ming CHAN, the Chairman of the Racketlon Federation of Hong Kong, China reports below about recent and future Racketlon activities in Hong Kong. Most notably the inaugural Team Championships held on the 15th of April.
_________________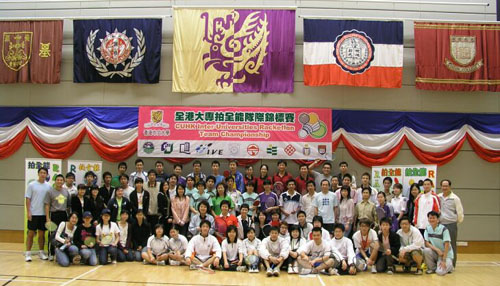 Participants at the inaugural Inter-Universities Racketlon Team Championship in Hong Kong
photo: CM Chang

(A) Recent Racketlon Activities

Racketlon Federation of Hong Kong, China (RFHK) recently assisted Physical Education Unit of The Chinese University of Hong Kong to organize (i) The 2nd CUHK Racketlon Open Championships on 1st April 2007and (ii) The CUHK Inter-Universities Racketlon Team Championship on 15th April 2007 with great success at the University Sports Centre.

(i) The 2nd CUHK Racketlon Open Championships

The Racketlon Open has become an annual remarkable sports event in the CUHK campus. The number of participants has increased from last year's 36 to 50 (18 staff (16 men, 2 women), 32 students (24 boys, 6 girls)). The Chairman of RFHK, Mr CM CHAN (WR 911) successfully defended his championship title quite easily (+26) in the Staff Men's group in the final against the same opponent as last year, Mr Kwok Tai HO (WR 61 in the 45+). However, last year's ladies group champion Miss Suet HON (WR110), the Runner up of Ladies' Class C in Belgium World Racketlon Championships, was unfortunately defeated (-9) by a student, Miss Wai Sze MAK from the Sports and Physical Education Department who is also an ex-member of the University Table Tennis team. The 1st runner up of last year in the Student Men's group, Mr Hon Leong TANG, finally got the champion trophy this year. Winners of the CUHK Championships (staff and students) formed the CUHK Racketlon Team for the Inter-Universities Team event two weeks later. With the experience from last year, the 2nd CUHK Open was smoothly run. Photos of the event have been posted here.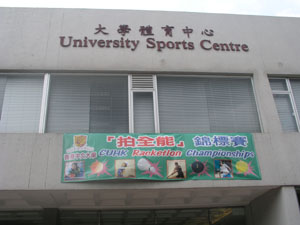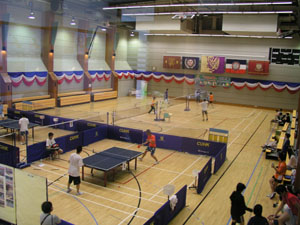 Racketlon at the Sport Centre of the Chinese University of Hong Kong
photo: CM Chang

(ii) First Racketlon Team Championship in Asia - CUHK Inter-Universities Racketlon Team Championship

The PEU, CUHK was the host of the event and successfully attracted 4 from the 10 invited higher institutions in Hong Kong to take part including: The Hong Kong Polytechnic University, City University of Hong Kong, The Hong Kong Institute of Education and Hong Kong Institute of Vocational Education. With the exception of City U, that was represented by only one team of 6 players, the other 4 institutions (including CUHK) registered 2 teams of 6 players (total 9 teams, 54 players). Teams were drawn into Group A of 5 teams and Group B of 4 teams for a round robin first round where each team sent 2 men and 1 lady to compete for the team. First ranked in each group entered the final for the championship match and second ranked in the group went for the 2nd Runner up prize. The CUHK Team 1 (led by CM Chan) defeated City U in the final The CUHK Team 2 led by Kwok Tai HO went through the challenge of a rubberarm decision point against HKIVE Team 2 and claimed 2nd Runner up. All invited participants enjoyed their first Racketlon match very much on that sunny day and indicated to the Tournament Person In-Charge, Mr CM Chan, that they had great interest for local and overseas Racketlon Singles tournaments. Participants were busy traveling around match venues at the University Sports Centre and shared their tactics (and rackets) with teammates. Invited teams appreciated very much for CUHK great effort in promoting this new exciting sport for them. The Tournament Committee formed by CM CHAN, Kwok Tai HO, Wai Kit Cheung and Yuen Ming TONG took the advantage of what they observed from the organization of Austria and Belgium World Racketlon Championships in 2005 and 2006 respectively successfully brought to all participants an enjoyable Racketlon first experience. Happy moments of all participants were captured and posted here.

(B) Future Racketlon Activities in Hong Kong, China

(i) Launching of Racketlon Hong Kong Closed Championships

RFHK will try her best effort to launch a Racketlon Closed Championships in Hong Kong this year or next year with the support of PEU, CUHK for the provision of her excellent match venues at the University Sports Centre.

(ii) Participation in Finnish Open 2007

RFHK Chairman (CM CHAN), Vice-Chairman (Wai Kit CHEUNG), ex-World Racketlon Championships HK Team members, Miss Suet HON and Mr Henry, King Cheong WU will enter for the Finnish Open 2007. Some CUHK veteran staff and CUHK Open student winners and participants of CUHK Inter-U have shown their interest to join. Our CUHK students are trying very hard to gather sponsorships for their participation. RFHK are working hard to assist and facilitate all potential participants.

(iii) Launching of RFHK official website

RFHK will try her best to complete the construction of her official website (www.racketlon.hk) during this summer.


Reported by:
Mr Chi Ming CHAN
Chairman
Racketlon Federation of Hong Kong, China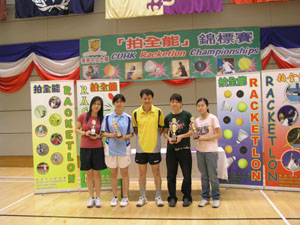 Chairman Chan (middle) together with some of the prize winners
of the 2nd CUHK Racketlon Open Championships
photo: CM Chang

_________________________________