Austrian Muscle!
2007-03-01
_________________
This time it was Austria's turn! Three Austrian players caused upsets in three of the Men's Elite quarterfinals. And they must have been working hard on the mental side of their game since all three victories were very close; two of them by one single point(!)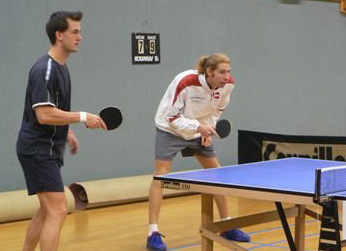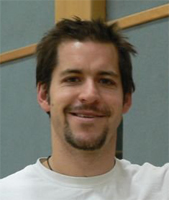 Dickert, Krenn and Weigl. Three Austrians upset the seedings;
Michael Dickert [WR10] - Rickard Persson [SWE WR8] +1 (tt:18-21 ba:17-21 sq:19-21 te:21-12 G:1-0)
Marcel Weigl [WR11] - John O'Donnell [ENG WR9] +1 (tt:9-21 ba:21-11 sq:7-21 te:21-4)
Christoph Krenn [WR13] - Elmar Schaub [GER WR5] +6 (tt:6-21 ba:21-17 sq:21-14 te:21-11)
Photo: www.racketlon.at
Another remarkable development were to be found among the Czechs; Martina Kakosova [WR5] won the Women's Elite Class, beating Finland's Susanna Lautala-Näykki [WR3] in the final, and Radim Sochor [WR67!] came very close of becoming the real surprise of the tournament. These are his results in the first two rounds:
Sochor - Oliver Zwiers [GER WR19] +22 (tt:21-2 ba:21-19 sq:20-22 te:3-0)
Sochor - Michael Dickert [AUT WR10] -2!! (tt:21-13 ba:18-21 sq:9-21 te:20-15)
In addition, playing together with each other, Kakosova and Sochor won the Mixed Doubles.
Getting ready for the Czech Open coming up in a few weeks (see the latest entry list)?
Much celebrated first time tournament director Eva Kapcsos reports below from the Hungarian Racketlon Open held over the weekend. (Full results from the tournament can be found through the homepage of the Hungarian Racketlon Federation; www.racketlon.hu (click here for direct access).
_________________
2nd Hungarian Open, Budapest

The second international Racketlon event in 2007 was organised in Budapest (moved from Pécs in 2006 to the Hungarian capital). There were 127 participants from 17 different countries.

The winners of the Elite classes were Calum Reid (WR2) from Scotland and Martina Kakosova (WR6) from the Czech Republic.

The tournament was really successful for Austrian players, who had no less than 3 unexpected (according to seedings) semifinalists in Men's Class A; Dickert, Weigl and Krenn. In the quarterfinals Christoph Krenn beat Elmar Schaub (+6), Marcel Weigl beat John O'Donnell (+1!), Michael Dickert beat Rickard Persson (+1!) In the semifinals Krenn beat Weigl (+6), and Reid beat Dickert (+11). The Reid - Krenn final was decided before tennis (+33).

The Women's final contained the two highest seeds but the winner was not the expected; Martina Kakosova – Susanna Lautala-Näykki (FIN) final (+7), and Jutta Schaub (GER) – Rita Horváth (HUN) for the 3rd place (+31).

Péter Sákovics (HUN) took the senior victory just as in the Austrian Open 2006, which was his first international tournament. The opponent in the final was the same player as in Vienna, Michael Karácsonyi from Austria. Sákovics – Karácsonyi (+7). Jacob de Vries (POR) won the bronze against Erich Knotter (AUS) (+ 23).

In the U21 category there were 4 players, who played in a group. It was won by Estonia's Ken-Kristjan Toomjőe (born in 1993(!) meaning that he will be eligible for the U21 class for another 8(!) years). 2nd place Ádám Németh (HUN). 3rd place Lukas Trojan (AUS), 4th place, the younger brother of Ken-Kristian, Andre-Kristopher Toomjőe (EST).

Men B final: Petr Vesely (CZE) – István Németh (HUN) (+22). Match for the 3rd place: Marcel Kravec (CZE) - Jan Port (CZE) (+10).

Men C final: Stanislav Kurimai (SVK) - Ales Knotek (CZE) (+6). 3rd place: Patric Kalous (RSA) and Lukas Trojan (AUS).

Martina Kakosova is a double winner, as she won also the Mixed Double's class with Radim Sochor. The final Sochor/Kakasova – Rohács/Tróznai (HUN) (+13). Match for the 3rd place: Irene Seifert (GER) /Johan Porsborn (SWE) - Éva Kapcsos (HUN) / Robert Libal (AUS) (+5).
Men's Doubles final: Michael Dickert/Christoph Krenn (AUS) - Alexander Köpf/Oliver Zwiers (GER) (+19), 3rd place: Marcel Weigl (AUS)/ Oliver Kudicke (GER). 4th place: Levente Nándori /Iván Vitsek (HUN).

/EK
_________________________________