Montreal Attracts Champions!
2007-04-25
_________________
With another five days left to entry deadline on Monday the Entry Engine of the first Racketlon tournament in Montreal, Canada, the next FIR world ranking event coming up on 5-6 May, is showing a healthy 54 entries. And among them are several prominent names, especially from table tennis. How about the following spectacular list:

Table Tennis:
Horatio Pintea, Olympian and top 80 in the world in the nineties, many times Canadian men's champion
Ghislaine Abran, Quebec junior doubles champion 1979
Christian Foisy, Canadian junior champion in team event 1992
Stéphane Léveillé, Quebec junior doubles champion 1983
Marie-Claude Lamy, Bronze medal, International Youth Cup Belgium 1997
Philippe Bergeron, Canadian men's team champion and Quebec U-21 champion 1995
Karl Paulin, Canadian cadet champion 1993
Jean-Philippe Gagnon, Canadian junior champion 1997
Sylvie Léveillé, Quebec junior champion 1977,78,79,80,81

Tennis:
Chantal Racicot, Canadian champion O-35 in the Nineties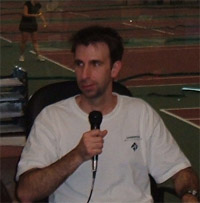 Tournament director Rodrigues Bédard.
Attracting Champions!
Photo: David Liu

The tournament, which will (as known to Racketlon.com) become the first ever Racketlon tournament in a French-speaking area is also (given a long array of players that never before took part in a world ranking event) destined to make Canada the third biggest Racketlon country in the world in terms of the number of players on the world ranking - surpassed by Sweden and Belgium only. (See nationality count.)

To register for the tournament through a one minute on-line operation, please pay a visit to its Entry Engine!
ENTRY DEADLINE: MONDAY 30 APRIL
/H
_________________________________