Racketlon Reaches the Canadian Capital
2006-08-30
_________________
With currently 129 players on the Racketlon World Ranking (see nationality count) Canada already compares with Finland's 137! Who would have thought that three years ago, when the first Canadian tournament was still just a possibility for the future? And with a World Ranking event coming up on Victoria Island near Vancouver on the west coast (see the Tournament Homepage of the Pacific Rim Open) and another ambitious tournament being planned for Montreal this spring the future for Canadian Racketlon looks brighter than ever. Especially so, since a Canadian Tour has now been set up (see homepage) by contagiously inspired enthusiast Jamie Herman. The below report is from the breakthrough first tournament in Ottawa held last weekend.
_________________
There were tons of heated action to be seen in the 2006 RA Ottawa Open, the second stop on the Canadian tour. The tournament began at 11am and ran all afternoon and into the night, leaving everyone tired but satisfied. Twenty competitors, including some from Toronto and Montreal, came to this incredible event in Ottawa. Veterans of the Toronto Canadian Open were there to set the standard, but many of the new inductees to Racketlon were up to the challenge. Competition was fierce, and in the end the experience of Horatio Pintea, the number one seed, propelled him above the rest.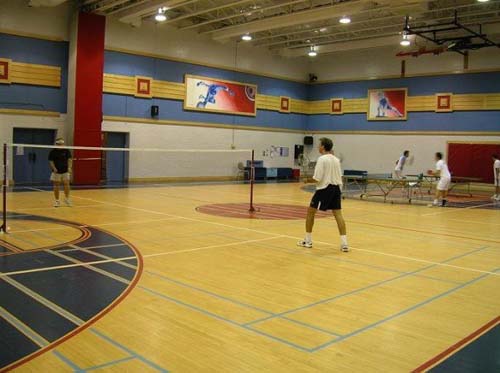 Racketlon at the RA Sport Centre in Ottawa.
photo: canadatour-racketlon.tripod.com
The first semi-final was between Albert Wong (Ottawa - Canadian Open 2005 Amateur Champion and Canadian Open 2006 Class 1 Finalist) and Rod Bédard (Montreal). Rod quickly took advantage of his incredible table tennis skills by beating Albert 21-3, but Albert got his revenge in badminton, 21-8. Both fought hard in squash and Rod came out with the win, 21-10. Going into the tennis Rod was up by 16, making his loss of 21-12 an overall win of +7, advancing him to the finals.

On the other side was Horatio Pintea (Ottawa; Canadian Open Elite Competitor) and Alexis Charpentier (Montreal). Horatio's former Olympic table tennis skills were evident as he dispatched of Alexis 21-1. In badminton, Horatio surprised the crowd by upsetting the former top junior player 21-10. This demonstrates Horatio's dedication to the Racketlon ideal, as he has worked hard to improve his badminton and squash skills throughout the summer. Alexis had his chances, defeating Horatio in squash 21-16, and in tennis 21-7, but it was not enough as Horatio ended up on top at +12.

The final was an exciting match up as both Horatio and Rod are table tennis specialists. In the end Horatio was able to win comfortably with scores of 21-9 in table tennis, 21-12 in badminton, and 21-20 in squash, making the tennis match unnecessary.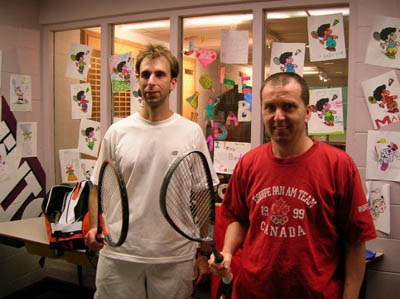 The finalists; Rod Bedard (Montreal) and Horatio Pintea (Ottawa)
Pintea, who is originally from Romania lived and played table tennis in Sweden in the Eighties.
photo: canadatour-racketlon.tripod.com

Throughout the tournament no one could get enough points on Horatio to make the tennis meaningful, and he considers it to be his second strongest sport! Horatio is striving to raise the level of his weaker sports so he can begin to compete internationally. However, a major milestone on that road will be to defeat Canada's current top player Richard Thomson.

Rod, having fought hard and learned some lessons, will now concentrate on organizing a Racketlon event in Montreal. There is no doubt he will find some great local players to compete. Watch out Mikko and Magnus – the Canadians are coming! Special thanks go to Steven Mikovich for organizing such a great tournament. We hope that next year's event will be even bigger. Other thanks go out to the tournament sponsors, Black Knight, The Table Tennis Pioneers, The RA Centre and The West Ottawa Tennis Club for their support. And most importantly, thanks to all the competitors that came out and made this tournament a success! For full results and details on this, and other events on the Canadian Racketlon Tour, please visit:
canadatour-racketlon.tripod.com.


- Jamie Herman (Canadian Racketlon Tour Coordinator) & Steven Mikovich (Event Organizer)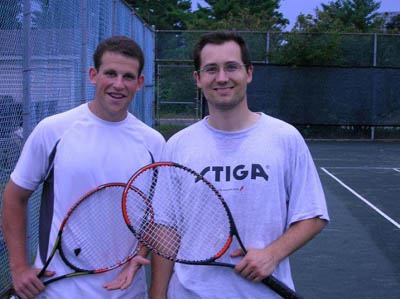 The authors of this article. Jamie Herman (left) and Steven Mikovich.
photo: canadatour-racketlon.tripod.com
_________________________________