Swedish Open Coming Up
2006-01-11
_________________
The draws for the upcoming Swedish Open are available on the Tournament Homepage. Also, be sure not to miss the excellent results reporting. It is almost in real time! (You find it in the same place; i.e. under "Draws" on the tournament homepage.)
_________________
The first racketlon tour event for 2006 is getting closer!!

In Stockholm 13-15 January The Swedish Open takes place. The entry deadline has expired and we have over 160 entries from 12 different countries! It is a strong starting field with many racketlon players among the top in their classes.

Men's Elite - The Contenders

Scottish star Caulm Reid is coming. The Swedes have to watch out with Austrian tennis specialist Christoph Krenn, who beat Mats Källberg in the Worlds! The top Swedish players' Magnus Eliasson, Roland Helle, Stefan
Adamsson and Rickard Persson will defend the Swedish colours.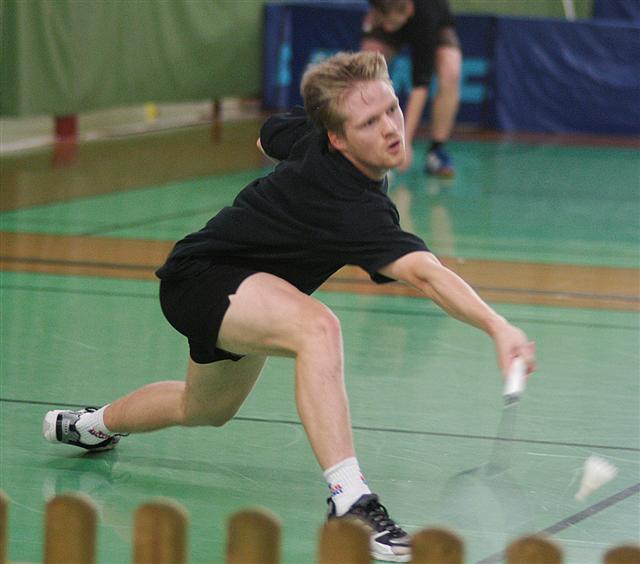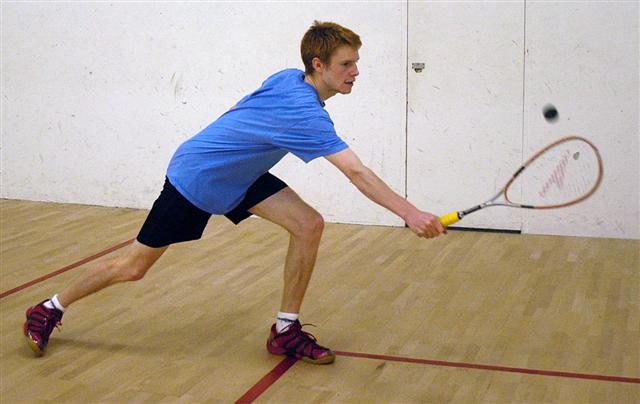 Stefan Adamsson (Sweden) and Calum Reid (Scotland). Both looking for revenge after the Worlds?
(Adamsson did not take part. Reid lost in the early rounds.) (Photo: www.digitalfoto.nu )

The Openers to Watch

Match 42 on the Superstitious Friday 13th 1840 - Tasty 1st Round matches include Websdale v Weigl. This is a grudge match considering Marcel's (Austria Number 3) interference in Stuart's (England Number 3) gummi loss
to Peter Duyck in the quarter finals of the world team championships held last November in Vienna. This was through mid point commentary over the microphone. Websdale is likely to show the Austrian who is boss in badminton and squash (although Weigl has the stamina to pose a threat). A target of 10 points in tennis should see Websdale (a former Under 19 Squash International) with a chance. Weigl sensationally has stated on www.racketlon.at he is ready to defeat world number one Magnus Eliasson in the quarter finals. Clearly IRF President Weigl has enjoyed himself too much over the xmas period and forgot when he was destroyed in the semi-finals of the Scottish Open 2004 (before the tennis).

Match 45 on Friday 13th 1900 - Achenbach v Håkansson is another to watch and with the return of Henrik who has not competed in an international event since Västerås in August, the conquerer of Ray Jordan in the World Championships team event (Germany v England) has to watch his back. Kristian will win the badminton for sure and has to contest the other three sports to the best of his ability to ensure victory.

Match 45 on Friday 13th 2040 - Fagerström v Nillsson is the tastiest of the lot and I predict 15-21, 21-5, 15-21, 17-21 GUMMI GUMMI GUMMI........the spectators will choose the winner. This match is too close to call! Charlton Athletic v The Teddy Bear - Who will hold the most passion to most likely face Christian Wall in the next round. Fagerström defeated Wall again in Västerås and Christian will look for revenge. Joachim, incidently, should he win through, will look to avenge his -1 loss from the Scottish Open.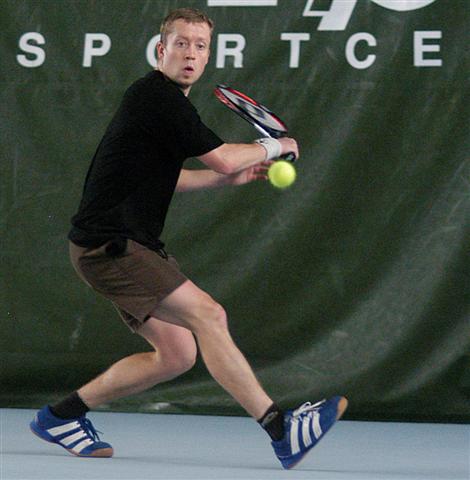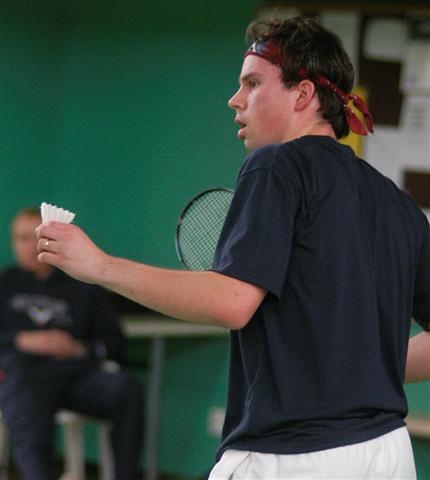 Nilsson vs. Wall in the second round? Not to be missed. (Photo: www.digitalfoto.nu )

Ladies Elite

The Ladies Elite class also looks strong. Three times world champion Lilian Druve is the Swedish favourite. We look forward to se Lilian take on Silke Altman from Germany who beat Lilian in the Gothenburg Open (she lost to Lilian in the German Open) last year. World Championship runner up Susanna Lautala-Näykki will challenge again, defeating Silke sensationally by a point in the match of the tournament. Experienced rackathletes Irene Seifert or Natalie Lawrence can show the world if they are ready. Natalie, certainly from her exploits at Barnet Table Tennis Club should show the Swedes gripping forehand topspin technique, whipping forward off the bounce.

Veterans

In the Men's Veterans event 22 players will fight for the victory. Runner up in the Worlds and former top Swedish squash player Peter Landberg will be hard to beat. David Greatorex is the number one seed and can he take strides to take back his world number one position? Lawlor also makes the trip and the tricky Scottish squash player could be part of a Scottish sweep in Stockholm.

Class B

Gothenburg Open Bronze medallist Andreas Carlsberg is seeded 3-4 and will pose a strong challenge. The Finns Vahtola, Antilla and Salminen will hunt for their country. Johan Porsborn, still looking to impress after his Västerås victory will look for his first tour title. Niska is a solid allrounder and will be one to watch. One last word from Fredrik Björk and Fredrik Quistbergh (a newspaper star from The English Open) could be the fate of Class B. Björk a regular finisher in the quarter finals and Quistbergh (English Open Class B semi finalist) and the conquerer of England's squash supremo Jonathan Foulds will look to go one better.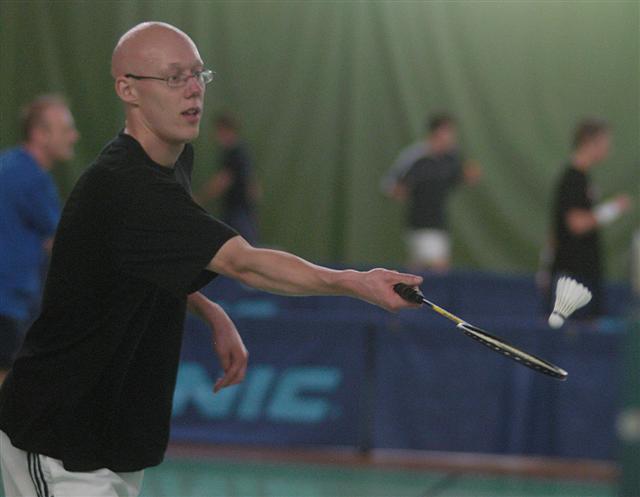 Porsborn.(Photo: www.digitalfoto.nu )

Big Social Side!

The boat is very famous from last year. The meal on Saturday night as a quote from a player "Loads of great food and (one) free drink". You can get hot meals at the sports hall - meatballs, pasta, etc quite cheap. Beer is not cheap, expect to pay London prices something like £3/4.3 EUROS a pint. This guarantees to be in condition for the finals.

The extremely helpful Lennart Eklundh and Enskede Rackehall welcome all racket lovers to the Swedish Open 2006!

/KL

_________________________________