The FIR Launches Racketlon.net
2007-03-29
_________________
Earlier this week Racketlon enthusiasts all over the world got a new English speaking website to add to their favorites; www.racketlon.net! As of immediately this new site will also serve as the official homepage of the International Racketlon Federation (FIR) while this site (Racketlon.com) will continue to promote Racketlon independently.


The FIR. New logo. New ranking system. New website.
The arrival of Racketlon.net follows a decision by the FIR Council to launch an "in-house" homepage, i.e. a homepage owned by the federation. This has never been the case with Racketlon.com, which is a privately owned enterprise that was started in 2001 with the immediate aim to promote the first international Racketlon event (the Gothenburg Racketlon World Open in November 2001). When the Federation was founded in September 2002 it started to serve, free of charge, as their official homepage, an arrangement that has continued until now. It has been an honour for Racketlon.com to serve as the homepage of the FIR and it is a pleasure to now welcome its successor in this role.
The driving force behind the launch of Racketlon.net has been FIR President Marcel Weigl and at his side, in close cooperation, has been Austrian firm pixel.at. Readers familiar with "Racketlon.at International", the English speaking side of the homepage of the Austrian Racketlon Federation will probably recognize some of the features from there since it has mainly been developed and driven by the same people. In a way, Racketlon.net can be seen to replace Racketlon.at International in the sense that the latter will now allegedly not be updated any longer.


FIR President Weigl. Launching Racketlon.net.
(photo: Racketlon.at)
Racketlon.net is the latest in an expanding series of emerging Racketlon websites that have joined Racketlon.com in its mission to launch Racketlon internationally since its start almost six years ago. In chronological (estimated "best guess" starting dates) order here is an effort to list the more prominent arrivals (apologies for any unintentional omissions!):
2003, jul: www.racketlon.be
2003, aug: www.racketlon.co.uk
2003, aug: www.racketlon.at
2004, feb: www.racketlon.ca (later changed to www.canadianracketlon.ca )
2004, apr: www.racketlon.de
2005, feb: www.czechracketlon.cz
2005, oct: www.racketlon.fi
2006, jan: www.racketlon.hu
2006, apr: www.racketlon.nl
2006, may: www.malaysiaracketlon.com
2006, jun: www.racketlon.ee
2006, aug: canadatour-racketlon.tripod.com
2006, dec: www.racketlon-germany.de
... and now:
2007, mar: www.racketlon.net
And beside these "flagships" there are a rapidly increasing number of smaller sites that also promote Racketlon to various degrees. In fact, one of the most impressive measures of Racketlon growth is the increase in the number of web pages that mention the word "Racketlon". When Racketlon.com was started in June 2001 they were four and all Swedish; The Racketlon pages of Enskede Rackethall (www.enskederackethall.se) and the Karlskrona Racketlon Virtuoso tournament (presently residing on www.racketvirtuosen.com), a 1997 article in Swedish local newspaper Östgötacorrespondenten about Swedish Racketlon Champion Susanna Karlsson and the tournament homepage of the "Scandinavian Racketlon Open" (a tournament that was never held). Today, less than six years later the number of hits on Google is no longer 4 but 195,000(!) (For a real time update of that number, click here.)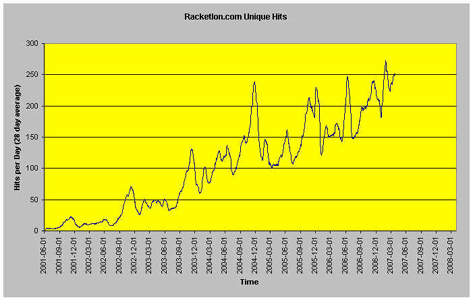 One perspective on Racketlon growth over the last six years. The number of daily hits on Racketlon.com (on average over the last 28 days). In parallell the number of web pages mentioning the word "Racketlon" has grown from 4 to 195,000(!)
Racketlon.com wishes to take this opportunity to thank all organisers, players and other friends all over the world that have made this development possible. So-far! The launch is by no means over! Driven by an expanding team of enthusiasts that enjoy working together Racketlon.com will relentlessly continue to promote the game of Racketlon world-wide in cooperation with the FIR and anyone else who wants to do good things for Racketlon.
/H
...or to add some detail to my signature for a change:


Hans Mullamaa
-founder (2001), owner and head of Racketlon.com
-founder (2002) of the International Racketlon Federation and its first President (2002-2005)
-initiator (2003) of the Racketlon World Tour and its coordinator during the first four years (2003-2006)
-since 2005 one of nine members in the FIR Council governing the FIR between General Meetings

_________________________________