The Best Ever Final?
Date: 2005-09-28
_________________
Is racketlon on the verge of a true take-off in the UK? 87 players took part at Scottish Open last weekend, making it the biggest tournament ever on UK soil. Raymond Jordan, part of the organisation team behind the imminent English Open that is set to break this record with a margin, reports from Edinburgh.
_________________

Mats Källberg and Calum Reid contested possibly the best men's final in a tour event so far at the Scottish Racketlon Open held last weekend in Edinburgh. Mats, going into the tennis +3, eventually reached the 19 points that he required for victory, despite a sequence of 10 points in a row that saw Calum move from 7-13 down to 17-13 up. They both edged forward from that score, and at 20-18 to Calum, just as the young Scot needed a further point to take the match to a gummiarm decider, Mats touched home the winning volley from right over the net to record his first ever tour win. This incredibly close final follows others this year, most notably Lilian v Silke 3 weeks ago in Germany and Calum v Rickard at the Czech Open and shows the excitement factor is higher than ever as the winner of each tournament becomes increasingly difficult to predict.

Mats Källberg, Sweden. Winner of the Men's Elite Class.

Open Draw
The Men's draw in Edinburgh was always going to be very open with the four seeds Mats, Calum, Rickard Persson and John O'Donnell mixing in with hopefuls such as Christian Wall & Michael Dickert. Michael beat John in the groups in the only surprise result of the Elite event, which meant there were four table tennis specialists in the semi-finals (as there should be!) Both matches were very close at the last fourth stage but neither Rickard (losing for the ninth time in a row to Mats) nor Michael (losing for the fourth time in 10 months to Calum) could manage a victory. Rickard started amazingly well in the first two sports against fellow Swede Källberg in the first semi-final, getting 14 in table tennis and winning badminton for the first time. However, after a surprisingly weak squash performance (winning only 21-15) his confidence dropped and Mats won the tennis set relatively easily (21-12) to book his place in the final. Rickard looked despondent after that defeat, "I have lost some motivation. I will play in Vienna this year but after that maybe only travel to the interesting destinations and the World Championships." In the other semi-final Michael came close once again to troubling Calum but could not win the first two sports heavily enough and suffered a squash defeat that was too large to recover from. His three group victories will propel him to the top ten in the world though - "My victory over John was the most impressive one since I beat Marcel", the 24-year-old is going from strength to strength.

The final itself was an excellent match from start to finish. Calum began by playing very well in the table tennis - 10 points against ex professional Källberg is always a good score - by attacking more than he had done in previous matches. Mats' defence is of course very good, but Calum is very consistent and accurate on the pingis table and had a large number of opportunities to score points, many of which he took. The badminton also went the way of the Swede though it was tight to start with, and they moved into squash with Mats 20 points in front. At this stage Calum's typical determined character manifested itself in the form of a squash hammering; 21-4 to the Scot who retrieved some incredible balls. Onto the tennis and with a difference of three points it could have gone either way. Both players began fairly slowly, with Calum in particular making unforced errors and the score moved on to 13-7 to Mats where it exploded into life. Calum won 10 points in a row with an array of fantastic passing shots, generating huge cheers and applause from the partisan crowd. At that point cramp set in for both players, with the Swede stretching his calf muscles out whilst holding onto the net post, and the Scot lying on the baseline swearing under his breath. They both recovered however, only for Källberg to snatch victory on his fourth match point with a touch volley that Calum failed to return. "A fantastic victory for me" Mats said, with a large grin just before the prize ceremony.

Best ever racketlon point?
With the score at 19-18 in the tennis to Calum (match point down) the two finalists played out possibly the best ever point racketlon has seen, especially considering the match situation. After a long baseline rally Calum played a drop shot that Mats was just able to reach. He came in and played a gentle forehand down the line, seemingly out of reach of Reid, who acrobatically played a full length diving volley 'Becker-style' back across court, which caused Mats himself to dive full length towards the ball - unfortunately for him he missed it and both players were down on the ground for a few seconds as their efforts were appreciated by the large number of spectators.

As per usual the men's event produced some cracking games; Steve Thomson beat Calum Munro in the clash of the two friends with identical profiles. President Mullamaa achieved 17 in badminton against Mathias Fagerström - the most points the badminton guru has ever given away with the feather balls. In the same group Mathias then went on to lose 4 points in a row in the tennis set against eventual winner Källberg, including two match points at 20-18 up (they were level before the tennis). You sense that Mathias is getting ever closer to his first tour event final with each tournament. Christian Wall, some people's outside bet for the tournament, came unstuck against Calum in his first match before winning his remaining two games - although one very close against Joachim Nilsson (+1). Joachim tested Calum in their match, and it was clear to see why he has been performing so well recently, he has improved noticeably in all four sports.

Mcfadyen wins again
The ladies' event was a little more predictable than the men's, and although Sarah Mcfadyen hadn't played a tournament since Vienna her class showed through as she beat all that were put before her to record her sixth tour victory and her fifth final win in a row. The final was contested between Sarah and world number one Lilian Druve, who has been training hard in recent months and shown considerable improvement in both table tennis and squash, so there was every reason to expect a closer match than we had seen before between these two. Sarah however, got off to the perfect start by winning the table tennis 22-20, a very pleasing result for her considering how little she has played recently. The first discipline proved to be the key, as the other three sports went true to form with badminton and squash cancelling each other out and Sarah easing home relatively comfortably in the tennis to the delight of the home crowd. Sarah did admit she had lost a little motivation for racketlon recently, but hopefully the positive experience of this tournament, both organising and competing, will bring some of the desire back for her.

McFadyen is back.
An unfortunate groin injury deprived Katy Buchanan the chance to challenge Sarah at the semi-final stage with 'P' Thomson taking her place as group winner after defeating former Scotland table tennis junior Hannah Milne in a very close match. P performed very well once again and it is clear to see that court time with Austria's number 1 man has improved her tennis and 'pingis' recently. She will be in London and looking to better her performance of this weekend. Both Sarah and Lilian eased through their groups with relative ease, but group 4 was always going to be the interesting one. England no. 1 Natalie Lawrence, Germany no. 2 Irene Seifert and the dangerous yet unseeded Linda Jansson (Sweden) were pitched together in the 'group of death', with tennis expert Jansson coming out on top and Natalie finishing second. Linda didn't get the chance to test world no. 1 Lilian in the semi-final as it was over before the tennis - Druve's experience and all-round consistency were just too much for Linda to handle.
It is unlikely that Sarah will be able to compete in Vienna due to increased work commitments following her promotion, so it will be down to Katy to mount the main challenge from the UK (as long as she stays injury free), along with Natalie. It was extremely encouraging to see a large number of Scottish ladies entered - the number of female 'home nation' entrants also looks good for London, perhaps now there will be a bigger acceleration of interest amongst British women.

The veterans was another very open affair, although it ended on rather a disappointing note with Kevin Lawlor reaching the final and then having to rush off to a prior engagement, leaving Richard Whitehouse with no opponent in the final. Before the tournament, all four seeds would have fancied their chances and indeed they all progressed to the semi-finals where Graham Norton faced Kevin and Richard played Dave Greatorex. Kevin got off to a great start beating Graham 21-8 in table tennis and then securing an advantage before the squash. In the end he took that comfortably although there is no doubt that he ought to have conceded the match during the tennis in order to let 'taxi Norton' progress to the final to play the IRF statute proof-reader from Stoke. Richard had a comfortable victory in his semi-final; after getting 14 points in table tennis against 'Moosehunter' he beat him at badminton to take a lead going into the squash - Richard's strongest and Dave's weakest discipline. Richard won that comfortably, although it has to be noted that superior fitness in the badminton and squash seemed to be a vital part in Whitehouse's victory.
Fitness is undoubtedly an extremely important part of racketlon and the stamina of the vets is of a very high standard. Richard Whitehouse at 53 would be able to out-run a large number of his twenty-something counterparts, but the most impressive fitness levels must be those of Alan Cornish. Alan, who lives and trains near racketlon legend Chris Noakes, will be 65 this year and annually competes in the London Marathon - last year achieving a time of 3 hours 20 minutes! He had a tough group in Scotland, losing to both Richard Whitehouse and Chris Davison, and then losing to Colin Ross by one point in an extremely tight match, Alan snatching the table tennis and squash with Colin (friends with Munro & Thomson) dishing out a hammering in the badminton.

Stuart Websdale won his second Class 1 title in Scotland, following his victory in Belgium. He had an easy time of it in the groups with two walkovers - quite fortunate seeing as he suffered a recurrence of his ankle injury - before beating Ray Jordan in the semi-finals and racketlon newcomer Dan Carpenter in the final. Ray couldn't perform well enough to mirror the result the last time they played (gummiarm in Coventry) despite Stuart's injury. The other semi-final was another very close match; Dan, a real 'two sports' player with excellent tennis and very good squash came through the Class 1 group of death and then beat Mark Jackson in the last four. Although Mark dished out a badminton hammering, Dan won the other three sports (including 21-5 at tennis) to progress. Stuart knew he had to avoid playing the tennis against Dan to stand a chance in the final, especially as his ankle was still hurting, and fortunately for him he did so, with table tennis and squash victories sandwiching a badminton thrashing. Dan, a very fit and relatively young player (still in his twenties), will certainly become a threat in the Elite with some table tennis and badminton practice - he displays a natural touch in both but more table & court time is required.

Two Scots, Iain Martin and Neil Martin, contested the men's amateur final, which resulted in victory for Iain Martin, very good wins in both table tennis and badminton were the key to his final victory. Neil had a very close semi-final with Niall Munro, they beat each other comfortably in badminton and squash, but Neil managed to sneak the advantage in the other two sports to take him through to the semi-final. Niall Munro then beat Iain Caddell to take third place. In the ladies amateur, Sue Woods followed up her gummiarm final defeat in the Class B in Belgium by taking victory here, beating Clare Woodward in the final. Sue will now look to perhaps move into the ladies Elite - certainly her enthusiasm warrants it as she participated in Scotland whilst husband Ray was travelling back from Canada - they will however be reunited in the doubles event in London!

Overall this was a fantastic tournament, superbly run by the 'four musketeers' Neil Russell, Simon Ellis, Sarah Mcfadyen & Katy Buchanan. By their own admissions they were extremely nervous before the start but it all ran smoothly with only one hiccup on the Saturday night with the buffet (and that was Next Generation's fault!). Hopefully they will retain their enthusiasm to run the event next year - as champion Källberg put it in a touching speech - "I will definitely be back". Edinburgh of course has its advantages, it is arguably the second most attractive city on tour (after Prague), has very good transport connections and a great nightlife to boot. Both Hans Mullamaa and Michael Dickert arranged to stay for an extra couple of nights in order to see all that the Scottish capital has to offer. Many thanks go also to 'P' & Frania for organising the pub-crawl (and well done to Niall Munro for sticking to Cola), and also putting up with an English rabble all weekend! The success of the Scottish Open can perhaps best be measured by the amount of players who decided over the weekend to enter the English Open in two and a half weeks time, many newcomers who were so impressed by the event in Edinburgh that they want to play again. We hope to see as many of you at the English Open (see tournament homepage) as possible, there has been a very large entry so far and it promises to be another racketlon spectacle. On behalf of the Scottish organisational team, thanks to everyone who participated in Scotland and here's to Edinburgh 2006!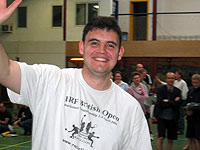 The author. Ray Jordan.
Photo: www.racketlon.co.uk
_________________________

Elite results from Edinburgh in summary (for full results, see the tournament homepage at http://www.racketlon.co.uk/ScottishOpen2005/Home.htm ):
MEN'S ELITE

Semi finals:
Mats Kallberg beat Rickard Persson +4 21-14 15-21 15-21 21-12

Calum Reid beat Michael Dickert +17 20-22 19-21 21-11 16-5

Final:
Kallberg beat Reid +2 21-10 21-12 4-21 19-20

3/4 playoff:
Dickert beat Persson w/o

WOMEN'S ELITE
Semi finals:
Lilian Druve beat Linda Jansson +28 21-15 21-3 21-17

Sarah McFadyen beat Pernille Thomson +33 21-12 21-6 21-12

Final
McFadyen beat Druve +15 22-20 9-21 21-8 21-9

3/4 playoff
Jansson beat Thomson +25 21-11 21-8 23-21

_________________________________