Results in summary
(see tournament homepage for full results):

Edinburgh, 2008-09-26--28
Scottish Open
- tournament no.10 on the Racketlon World Tour


MEN'S ELITE
Quarterfinals:
Gert Peersman (BEL WR16) - Keith Lesser (ENG WR135) +21 (tt:17-21 ba:21-18 sq:21-10 te:21-10)
Jon Foulds (ENG WR53) - Michael Heldsdörfer (GER WR55) +52 (21-3 21-9 21-7 21-13)
Jermaine Manners (ENG WR73) - Lloyd Pettiford (ENG WR86) +22 (17-21 21-0 18-13 ret.)
Ray Jordan (ENG WR28) - Bill Fleming (SCO 105) +45
(21-3 21-11 21-4 -)
Semifinals:
Peersman-Foulds +2 (21-8 10-21 9-21 21-9)
Manners-Jordan +15 (7-21 21-2 21-11 7-7)
Bronze:
Foulds-Jordan +4 (7-21 21-14 21-12 21-19)
Final:
Manners-Peersman +12 (11-21 21-5 12-21 21-6)

LADIES' ELITE
Semifinals:
Natalie Lawrence (ENG WR7 ) - Mhairi Brown (SCO WR108) +23 (tt:21-16 ba:21-12 sq:21-7 te:5-10)
Jenna Cockburn (SCO WR-) - Fiona Sime (ENG WR67) +36 (21-9 21-3 15-21 21-9)
Bronze:
Brown-Sime +33 (22-24 21-8 21-18 21-2)
Final:
Lawrence-Cockburn +31 (21-14 21-14 21-4 -)

__________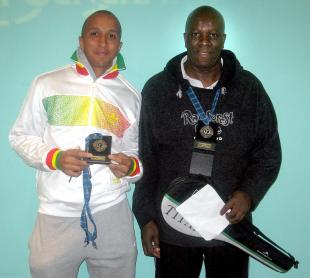 Jermaine Manners and his father Wingrove Manners. Winners of the Men's Elite and Veterans respectively. Read more about them in a "Telegraph & Argus" article.
photo: www.thetelegraphandargus.co.uk
All finalists in summary:
Ladies' A: Nat Lawrence beat Jenna Cockburn
Ladies' B: Jacquie Edwards beat Clare Woodward.
Men's A:Jermaine Manners beat Gert Peersman
Men's B: Phil Reid bt Richard MacBride
Men's C: Ronnie Easton bt Mark Picken
Vets': Wingrove Manners beat Ken Maxwell
Is Knocking Up Using an iPod
Good Manners?
- by Lloyd Pettiford
Of course the imminent collapse of global capitalism and the inevitable famine, despair and violence which will sweep the world may have put a dampener on both people's financial 'wiggle room' and their enthusiasm for Racketlon…but really this tournament ought to be prioritised. It's the only one I've entered every year since I started Racketlon and not just because of its relative geographical proximity. It's a really lovely setting (both the club over-looking the bay and the city of Edinburgh itself) and I cannot understand why there were not more people playing. I sincerely hope that next year when the fat cat capitalists have been put up against the wall, and the anarcho-syndicalists have sorted out the world (and all associated issues like ranking systems) the organisers will agree to a Scottish Open 2009 and that you will all make it part of your holiday plans!

So, the organisers should be thanked first and foremost. There is clearly a lot of effort gone into this tournament and much of it from people unable to play either due to injury or just because it is too difficult to play and organise. The venue is one of the few I know with its own Racketlon club and clearly every effort had been made to get locals involved including a majority of the 18 women (that's 18 times as many women who played in Finland for instance, although that is intended as a compliment to the Scottish Open not a criticism of Poku Salo (very nice man)). In fact, I spoke to one woman, who wishes to be named but can't be because I can't remember her name, who says she was simply forced by Sarah McFadyen to enter…well if forcing is what it takes to get people involved in Racketlon then I am quite prepared to give in to the Stalinist side of my loony leftie persona.


Lloyd Pettiford.
The Racketlon Intellectual.
All this enthusiasm for the tournament cannot hide a personal sporting disaster right up there with other sporting disasters like losing to Costa Rica in a World Cup. Having spent 8 weeks missing 3 tournaments I made the start line here and then fell over - rather heavily and literally - playing squash, and had to withdraw. At least I lost to the winner (a fine player and congratulations) and thought the community at large might be interested in news of the Racketlon rising star Jermaine Manners.
First, anyone who trails me at TT at half way and makes me feel I should have won (even semi-injured) has much to do. The point, however, is that he is improving and took a creditable 11 points off Peersman in the final. Also, even if you cruelly described his TT as 'exceptionally weak', he's still going to be winning most matches after badminton, at least until he gets to the super-elite. Badminton may, of course, be my weakest sport in which my tactic would normally be endless scurrying, but even though physical conditioning prior to the tournament prevented 100% effort I doubt I'd have improved on my 21-0, having previously never got less than 2, even against Ray 'Ming' Simpson and that mardy Belgian bloke who's a bit flash and hopefully doesn't understand the word 'mardy' (no, not you Gert).
If you're looking for good news, his squash isn't exceptional. But again, not only is he working at it but he is very fit. Magnus proves you can be manufactured and unimpressive in style terms, but if you have the fitness it can count for a lot. So although I was leading 8-2 and felt that in a more meaningful match I could have won quite handsomely (unlike Ray Jordan who would find this difficult for a variety of reasons) I have to say I expect Jermaine to work on his game and become a dogged defender who saps the will of his opponents through being able to survive more punishing rallies.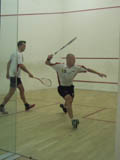 Magnus Eliasson
Photo: Scottish Open

And his tennis is good too. Not that I know from experience of course, because, as I said, shortly after leading the squash at half way I slipped, fell dramatically and limped out of the tournament. So anyway look out for JM; a good player and nice chap. That said, one final thing is that he knocks up with an iPod; as a traditionalist I found this a little rude (typical of the younger generation!) but it is certainly an effective way, I would have thought, to negate some of the gamesmanship used by some racketletes! Finally, if you are a mardy Belgian or otherwise object to Hans offering me a platform for my inane ramblings please start a thread on the racketlon chat demanding that Hans never again allow it. In fact go and post something anyway…maybe about my PS.
Wales #1



Josef Stalin.
Photo: BMM

PS: This personal disaster of a tournament was actually my most successful tournament ever if you are talking about ranking points! Make of this what you will!