Helle Swedish Champion!
2007-06-04
_________________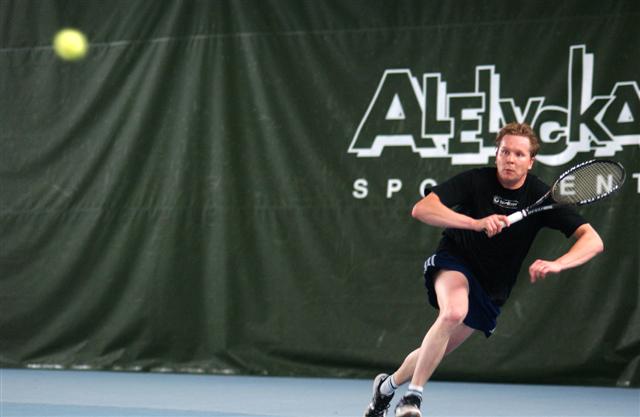 The 2007 Swedish Champion, Roland Helle. With his eye on the ball.
(This picture is from Gothenburg Open 2004, which was also won by Helle.)
photo: BMM

For the first time, Roland Helle (ranked 5 on the Swedish ranking before the tournament) captured the Men's Elite title as the annual Swedish Championships were decided yesterday in Enskede Rackethall, Stockholm. He beat table tennis virtuoso Mats Källberg (SR8) in the final by +9 (tt:6-21 ba:21-19 sq:21-6 te:21-14) in a match that looked decided at an early stage when Helle took the lead by 14-5 in badminton. At that point, however, Källberg brought out some of the magic touch that helped him outmanoeuvre the World No.1 (Eliasson) in the semifinal; He took 9 straight points, went from 14-5 to 14-14 and the match was very open again!

An almost equal (21-19) final result in badminton, meant an almost equal score before tennis (21-6 for Helle in the squash expectedly equalled out the 6-21 from the table tennis) and when Källberg moved from 4-4 to 4-7 in the tennis it looked as if he was going to be very hard to beat. In just a few minutes, however, the match turned again. This time it was Helle's turn to show off a long series of straight points; he went from 4-7 to 12-7 and got a gap that he managed to maintain and expand further into 20-12 and eight match points. Not even Källberg could recover from that and the end result became 21-14 and an overall +9 victory for a very popular first time Swedish Champion.

Although he was only ranked number 5 in Sweden before the tournament and never won the Swedish Champs earlier Helle's victory is not entirely surprising since his capacity is well documented e.g. through his runner-up achievement in the 2004 World Championships. So, what has to be considered the big sensation of these Championships occurred in the semifinals where Källberg, as mentioned, caused a major upset of the seedings by beating big favorite, world no.1 Magnus Eliasson. It was also a match that contained a fair amount of drama but first and foremost some brilliant play by Källberg. He started off by turning a 0-1 score into a crushing 21-3 victory in table tennis thanks mainly to his familiar heavy top spin forehand loops from half distance. And when he followed this up with excellent touch and cat-like moves in the badminton turning 7-9 and 12-12 into 17-12 and finally 21-17 it was as if he got to the fighting spirit of Eliasson, who, at one or two astonishing moments, even started to look defeatist(!) to some in the audience. (No usual sight!)

But surely, the world no.1, the Racketlete who had not lost a single match for over a year and won all three Super World Tour events, would restore order in the squash? Yes, that was what everyone expected, especially since Källberg, in previous matches against Eliasson, has been known to "give" away the squash 0-21 or 1-21 in order to save energy for the tennis. This time he went in with a different attitude though and was heard saying "a few points in squash now and I might have a chance". It looked familiar in the beginning, though, as Eliasson marched off to a lead by 14-2 and then 17-4. At that stage, however, Källberg pulled off a series of excellent winners, mainly in the front court and 4 straight points turned 17-4 into 17-8 and finally 21-9. Again, Eliasson displayed signs of defeatism, seemingly not happy with his own performance and when the squash was over he told Källberg that he interrupted the match(!) giving it up before tennis. A surprising decision, no doubt, since a -10 score before tennis should not have been impossible to recover. After all, Eliasson beat Calum Reid 11-2 in the tennnis of the Belgian Open final just a week earlier. (Källberg and Reid have sometimes played a very even tennis game in the past.) Later, Eliasson also chose to give away the bronze match...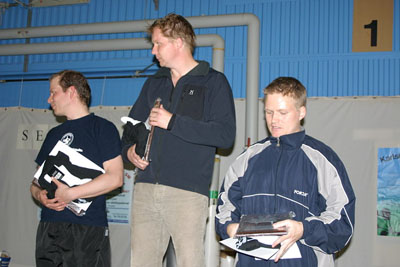 1. Roland Helle 2. Stefan Adamsson 3. Mats Källberg
photo: www.enskederackethall.se

The semifinal upset put an end to a series of seven straight Swedish Championship finals for Eliasson spanning from his first victory in 2000 until last year - out of which he has won all but the one in 2003, when Adamsson captured the title.
From the rest of the Men's Elite event it has to be mentioned that it was very close to a major sensation in the quarterfinal between Gothenburg's Niclas Larsson and former world no.1 Stefan Adamsson. After exceedingly inspired efforts in all of the three first sets Larsson went into the tennis with a 5 point lead and at 20-15 in the tennis he was just a few centimeters away from securing a gummiarm tiebreak (and two match points!) when he chose to let Adamsson's lob pass him instead of smashing. The lob hit the line and Adamsson had won the match by one single point.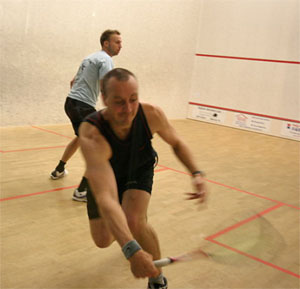 Inspired efforts. Niclas Larsson, here in his first round match against Pär Mattsson.
photo: www.enskederackethall.se
To be fair, it has to be said, though, that Adamsson's preparations for the tournament were less than ideal, given the fact that he just returned from a several months long stay in Chicago for studies with few - if any - opportunities to practice his Racketlon skills. (He did, in fact, not even enter the tournament until just before it started, replacing second seed Christian Wall who had to cancel due to an injury that occured Thursday night.)
Jansson in a class of her own

The Ladies' categories attracted nine players this year and the Elite was won in superior style by Swedish no.1 Linda Jansson. Runner-up was Ulrika Björck, who has been improving at an alarming rate lately and has taken up competitive squash. Her excellent badminton is even good enough to cancel out Jansson's tennis, which means that the final between them was decided in the remaining two sports. Jansson won both; tt: 21-15 and sq: 21-12, which gave her a clear total of +16 in the end but since there is plenty of room for improvement for both players in these two sports there is also a clear opportunity for Björck to catch up. After Lilian Druve announced her retirement in the beginning of this year Björck has sailed up as the next Swedish hope and a clear candidate for the Swedish national team. (She has, in fact, already been asked.)
Bittár is back.

In the veteran's class Peter Bittár took the title for a consecutive second time, beating Gothenburg's Johan Linse in the final +16. In the absence of another Gothenburg profile, who is world ranked no.1; Ulf Bredberg. This time Bittár came prepared, after practising sessions with both Eliasson and John O'Donnell, a top English Racketlete, who resides in Stockholm since the beginning of the year. And he looked strong enough to have been able to give even the World No.1 a good match had he attended.

The U16 final, lastly, was a pure Gothenburg show-down between training partners Isak Johansson and Hugo Hellman. Johansson came out victorious this time and both players are young enough to look forward to another two years (and, potentially, three more world championships) in the U16 class.

For complete results turn to the "Results" section of the tournament homepage (later-on results are expected to be moved to the Racketlon page of Enskede Rackethall). Below follow a summary including all Swedish Champions 2007.

/H


Enskede Rackethall, Stockholm, 1-3 June 2007
Swedish Racketlon Championships
Results in Summary

MEN'S ELITE
Quarterfinals:
Magnus Eliasson (SR1)-Anders Rickan (SR12) +31 (tt:21-18 ba:21-9 sq:21-5 te:-)
Mats Källberg (SR8)-Henrik Håkansson (SR6) +22 (21-5, 21-14, 21-16, 5-11)
Roland Helle (SR5)-Örjan Lundberg (SR9) +22 (21-10, 15-21, 21-4, -)
Stefan Adamsson (SR3)-Niclas Larsson (SR10) +1 (16-21, 11-21, 21-11, 21-15)
Semifinals:
Källberg-Eliasson +10 (21-3, 21-17, 9-21, given up)
Helle-Adamsson +14 (24-22, 21-17, 21-18, 13-8)
Bronze:
Adamsson-Eliasson W.O.
Final:
Helle-Källberg +9 (6-21, 21-19, 21-6, 21-14)

LADIES' ELITE
Final:
Linda Jansson (SR1) - Ulrika Björck (SR3) +16 (21-15, 4-21, 21-12, 21-3)
_____

MEN'S VETERAN O45
Quarterfinals:
Peter Bittár (SR2)-Peter Landberg (SR7) +6 (21-15, 21-7, 7-21, given up)
Gunnar Nilsson (SR6) - Christer Edfeldt (SR28) +29 (21-8, 19-3, given up)
Johan Linse (SR5)- Peter Flärdh (SR-) +53 (21-3, 21-3, 21-4, -)
Lars Wallblom (SR21) - Stefan Andersson (SR-) +22 (21-10, 13-21, 21-2, -)
Semifinals:
Bittár - Nilsson +20 (21-13, 17-21, 21-5, 2-2)
Linse - Wallblom +21 (22-20, 21-10, 21-13, 1-1)
Bronze:
Nilsson - Wallblom +12 (21-17, 21-13, 20-22, 11-9)
Final:
Bittár - Linse +16 (21-10, 21-10, 17-21, 4-6)

MEN'S JUNIOR U16
Final:
Isak Johansson (SR3) - Hugo Hellman (SR4) +19 (15-21, 21-5, 21-12, 3-3)
_________________________________