Kärkkäinen reaches new racketlon high!
Date: 2005-12-04
_________________

Racketlon reached a new high last weekend at the 5th World Championships held for the second time in Vienna, Austria, under the jurisdiction of new IRF President Marcel Weigl. The standard was far stronger this year than has ever been seen before at a racketlon tournament, in all the major classes, and one man in particular gave a racketlon demonstration that was simply superb. Mikko Kärkkäinen, 25, from Finland, produced probably the best level of racketlon ever seen in the final against reigning and three times world champion Magnus Eliasson (Sweden). These two players have won all five men's World Championship titles between them and are without doubt the two strongest players in racketlon history, therefore it was fitting that the final should be contested (for the first time!) between the two.

Some real time reporting from Keith Lesser indicates the level of excitement created at these World Championships:

Is Magnus Eliasson beatable? Well if I tell you I am sitting with a laptop watching the men's semi-final between Richard Thomson of Canada and King Magno himself, the crowd will tell you maybe, just maybe he can be taken down. What will happen in the badminton you will find out later? What did Calum Reid do? Did Doug Struthers fulfill his dream? Källberg, Helle, Persson, Kärkkäinen, Schaub?!? Wow it is 3-3 (this report is in real time), 4-3 to Thomson what a rally, amazing.

When we talk about the three main events, which are men's elite, ladies' elite and men's over 45´s Veterans class, we are talking about some serious rackathletes. The ladies draw probably had the most predictable unfolding with the unfortunate back injury to 2004 world champion Sarah Mcfadyen. The title would be taken most probably by Lilian Druve or Silke Altman. With Silke defeating Druve for the first time in Gothenburg, we may be looking at our first ever German world racketlon champion.

Richard Whitehouse is the number one seed in the Vets, Bredberg is warm after Gothenburg. Landberg looks dangerous also, can Greatorex compete in his... Magnus is screaming. Certainly, Thomson is ready. He practices 15-20 hours a week and is very, very fit. wow, lets see what happens. I can honestly say this is likely to be the best ever racketlon match in the history of this young, magical sport.
The final contained all the elements you would expect to see from these two players - the ice-cool temperament, superb speed and fantastic technique from Kärkkäinen, and the great fighting spirit, fitness and never say die attitude of Eliasson. Mikko got off to a superb start in table tennis, winning 21-3; he didn't miss one forehand loop and seems to have the perfect table tennis game for racketlon - this was a performance and score that many stronger table tennis players would love to produce at such a vital stage of a tournament! It really determined the rhythm of the rest of the match. When the two met here last year, Magnus achieved 16 points and went on to win but this time it wasn't enough. Onto the badminton and Mikko once again started superbly, racing into a 15-6 lead, displaying amazing speed around the court and lovely deception at the net. At 19-11 to the Finn half the crowd ran to the squash court to get the best possible seat - a big mistake as Magnus fought back in typical fashion and claimed the set 22-20 with a superb recovery. A roar as he won the final point indicated that this final wasn't over just yet - a comfortable squash victory and it would be very interesting all of a sudden. The majority of people however, hadn't reckoned on such an improvement in Mikko's squash. There were glimpses of it in a 22-20(!) win over England's hope Doug Struthers at the quarter-final stage, and after an excellent display by Mikko, who has perfected the backhand kill drive, he came off the squash court needing only 8 in the tennis (22-20 in the squash to Magnus). In typical Magnus fashion he threatened to cause an upset when he went 9-3 up - Magnus' attitude and fight in the last three disciplines showed just what a great player he really is. Mikko, however, won a succession of points and soon got the eight he required, to a rapturous round of applause and a warm handshake from the de-throned Swede. A truly fantastic final.



Mikko Kärkkäinen, Finland. World Champion 2001 and 2005.
(Photo: www.digitalfoto.nu )
The men's Elite draw as a whole was stronger than ever before. With only Stefan Adamsson missing (due to injury), it was the strongest line-up to date. Calum Reid and Mats Källberg have won 3 tour events this year between them, yet they both bowed out in the last 16, Calum losing to Doug in the 'Battle of Britain' after a superb second round win over Pekka Kainulainen that went the full distance. Mats lost to the ever-improving Austrian giant Christoph Krenn, after a disastrous badminton set (21-8 to Krenn!) which decided the match in the end. Interestingly enough, only one of the quarter-finals went to the tennis - Magnus destroyed Roland Helle (21-3 in squash!), Richard Thomson was too strong for 'Krensky', and Kärkkäinen was 22 points ahead of Struthers after amazingly winning the squash. Only Rickard Persson needed two points in the tennis against Michael Dickert to finish the game off and reach the semi-finals, although by his own admission he was out of his depth in his semi-final clash with Mikko, despite winning a set (table tennis) for the first time ever against the Finn - "These three are in a league of their own", Rickard spoke of Magnus, Mikko and Richard, and one would find it hard to disagree.

Interestingly enough, German Elmar Schaub played the closest game with Kärkkäinen over the weekend in the last 16. Mikko needed to reach 16 points to win in the tennis, having lost both the table tennis and badminton by narrow margins (and winning squash against novice Schaub), and at one stage he was 10-2 down, but he clawed it back to claim the match. The day before he had wiped the floor with Elmar +27 (11-6, 11-4, 11-1, 11-6) in the team event and perhaps thought it would be easier than it turned out. The top two Belgians Peter Duyck and especially Adolphe Diez-Fernandez impressed in the main draw, with the latter losing in a tight encounter against Mathias Fagerström, whose steady tennis won through in the end. John O'Donnell's lack of fitness showed in an easy defeat to Richard Thomson - the first year that JOD hasn't reached the last eight of a World Championships.
Lilian Druve is once again World Champion!

There has never been a World Championship Ladie's final without Sweden's Lilian Druve! Ever since the first racketlon World Championships took place in Gothenburg 2001 she has reached the final. This time she took her third victory; she performed very well throughout to defeat fellow countrywoman Linda Jansson in the semi-finals and then Susanna Lautala-Näykki in the final. A few weeks ago Lilian had lost (for the first time) to Silke Altmann, Germany's number 1, but Susanna played extremely well in the semi-final to surprisingly knock her out; A 21-9 victory in badminton was paticularly impressive. Although Silke came back towards the end of the tennis set, Susanna's consistent ground strokes and Silke's tiredness in the end proved decisive and the Finn took her place in the final by a mere one point! The first semi-final (an all-Swedish affair) was also close; a not uncommon 21-2 victory for Lilian in badminton proving to be too much after table tennis and squash had cancelled each other out. An extra few points in squash and 'pingis' for Linda would have been very interesting as she is a superb tennis player and capable of keeping the majority of lady players to a very low score.

The final itself was a repeat of the 2002 contest held in Gothenburg. Back then Lilian swept the floor with Susanna +29! (tt 21-11, sq 21-9, ba 21-17, te 21-18), but this time it was much closer. The table tennis was typically 'racketlon table tennis', both players pushing and keeping the ball safe until an opportunity came to attack - Susanna won 21-16 after some long and cautious rallies. The badminton as usual resulted in a win for Lilian but Susanna achieved 8 points in her second strongest sport. Unfortunately for Finland she couldn't win the squash which would certainly have made her favourite to clinch the match with her superior tennis, and Lilian reached her 10 points without too much trouble to be crowned World Champion for a record third time +12 (tt 16-21, ba 21-18, sq 21-17, te 10-9).

Seven different nationalities were present of the eight quarter-finalists (2 from Sweden) which really underlines the fact that the women's game is becoming more diverse - there are a lot of good racketlon players out there from unknown countries. This was demonstrated by Kati Kraaving of Estonia reaching the quarter-finals where she lost to Lilian - although not before winning the badminton! She is certainly one to keep an eye on for the future. Natalie Lawrence (England), Tina Greslehner (Austria) and Krystyna Szwajkowska (Poland) all lost in the quarter-finals, although none with a greater margin than 15 points.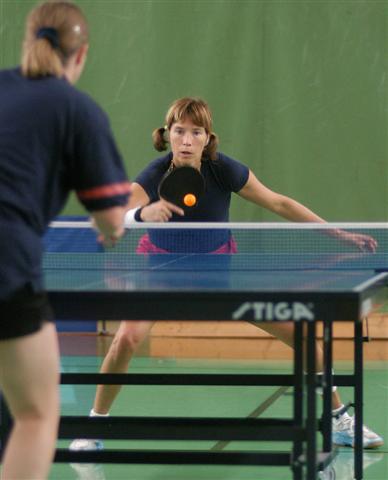 Lilian Druve, Sweden. World Champion 2002, 2003 and 2005.
(Photo: www.digitalfoto.nu )
Finland looking good again

Finland had its best World Championships since the inaugural event in 2001, not only did Mikko take the men's gold and Susanna the women's silver, they also finished third in the team event and Tommi Laine won a silver in the Class 1. With the origins of racketlon being in Finland, they have the background to produce quality Rackathletes and have a number of other lady players who could compete with the best if only they played. Katja Aminoff, the World Champion in 2001 was due to participate but was injured at the last minute (this resulted in Marcel having to find a Finnish girl who was available to play on the Thursday in Vienna) - no doubt Katja would have competed for another medal. Marti Vottonen, the new President of the Finnish Racketlon Federation and IRF Council Member gives superb support and did well in putting together the strongest Finnish side for four years, and I am sure they will travel to Belgium in June with an even better chance of de-throning Sweden.

More from Keith Lesser:

The Team Event/Battle of the Sexes - 24th November

Sweden win again, however what was particularly interesting was the emergence of Austria gaining the silver. With Finland taking the bronze, we did indeed witness some enthralling racketlon.- However, with Sweden possessing a good chunk of the world´s top ten they would struggle to lose to a rest of the world team.

The quarter final between Belgium and England saw the 2006 world championship hosts come out on top by a mere point. Peter Duyck's gummiarm victory over Stuart Websdale was no doubt the most dramatic moment in world team competition history. Verbruggen impressed against O´Donnell and the man with the microphone (Steven is also a talented commentator) won the match for his nation.

Oh my goodness, the crowd has erupted, Eliasson is about to kill someone, what a dubious line call, what a match. Thomson feels it, he feels it, he is in the zone. Eliasson gets 2 points on the trot. I digress, well now we move from Thursday 24th to Friday 25th where the main singles competition commences.

Oh wait, the battle of the sexes exhibition competition. This is where Austria's best ladies took on racketlon´s best. However, the tennis discipline saw no ladies competing, Austria's best male tennis player was instead present. This report would not be complete however without mentioning Austria's best tennis player Jürgen Melzer, who has done a great deal to promote the sport. He has been exceptional in demonstrating a media interest and we are very grateful to the friend of Tournament Director Marcel Weigl. The recent conqueror of Tim Henman took on the best tennis player in racketlon, Christoph Krenn. Krenn's serves were immense gaining an unbelievable 14 points, fantastic. Melzer eventually lost to Austrian number one Michael Dickert in the main draw.
Ulf too strong for rivals

Ulf Bredberg is the new veterans World Champion; although only seeded three before the event behind two Englishmen (Richard Whitehouse and Dave Greatorex) he is a very strong all-round player and wasn't pushed to the limit in any games - it helps him greatly knowing his best sport comes last and he is nearly always up by then in any case! He defeated two English competitors on his way to the Gold medal, Michael Appleton and then Richard Whitehouse, neither of whom could get near him. The final was a good match, where he defeated 'Mr Racketlon' Peter Landberg (who invented the name "Racketlon" back in the early Nineties and launched the sport in Sweden), finishing at 11-2 in the tennis (they were level beforehand), and it shows that the only man capable of stopping Bredberg is Pär Carleke, who sadly couldn't make it this time - but is said to be aiming for a come-back in the next World Championships (to be held in Belgium in only six months time).

Harri Peltola made his annual appearance at the World Championships, but this time only finished third after losing to Landberg in the semi-finals. Once again it is an indication of how racketlon has progressed in the past 5 years when you consider Harri was undefeated World Champion for the first two years of his veteran career! The opponents are getting stronger (and younger!) each year.

The super veterans (for those aged 55 and over) was a new innovation for this year and received a good entry - another example of racketlon's progress. Fittingly, the two finalists were Austrian, with Erich Hensel beating Walter Hertler by a mere 5 points in the final. The other 'Mr Racketlon' present at these championships, Lennart Eklundh (who partnered up with Peter Landberg at an early stage and is now the Swedish representative in the IRF), finished third. In both veterans events the levels of fitness were superb, especially for those who competed in both events!
More and more juniors!

There was another healthy junior entry in both the under 21s and under 16s. The UK can lay claim to both titles; Calum Reid of Scotland successfully defended his title, not once having to play the tennis (unsurprisingly). As he doesn't turn 21 until January, he will still be eligible to play next year in Belgium - can anyone produce a youngster to rival him at this stage? Calum is by far the best in his age group - Mikko and Stefan Adamsson are 5 years older than him and he has already beaten Stefan once - as the wee Scot continues playing it will be interesting to see how his rate of improvement goes from here.

An unknown entrant, Ashley Waitling of England captured the under 16 title by one point in a match that saw a fantastic tennis encounter - unfortunately the men's final was on at the same time though! He defeated last year's winner Roy Krawcewicz and hopefully the boy from Suffolk will continue playing so as to provide support to the ever-ageing O'Donnell and Struthers in the coming years!

Bulgaria claimed a gold medal at this year's World Championships, as Stiliyan Stankov beat Tommi Laine of Finland in the Men's Open event, with Leszek Borys of Poland finishing third. Finland claimed yet another medal when Ismo Ronkko won gold in the amateur section, and Iva Hrabina of Hungary won their first World Championship medal by taking gold in the women's amateur, defeating Gabi Winkler of Austria.
Keith sums up:
The Standard is Set - Can the Rest of the World Follow?

Some people came to play and only got 2 matches for their entry fee. Maybe this was a slight weakness. Music was played almost constantly during the games, maybe this was a weakness. Music has no place in professional sport, this is not a rock concert. Marcel perhaps may want to consider this for next year. Stuart Websdale was irate at loud commentary during a tennis rally on his match saying he needed one further point for victory in the team event. This was idiotic, but no-one is perfect. Apart from this the tournament was strong. I look at the free Powerade and water, the banners, the posters, the media coverage, Melzer, the centre - a 5 court monster of a racketlon complex,. Let me continue for the strengths. The conditions, the organisation, the printed results tables, the volume of staff and the number of referees, the hospitality including a meal and entry to a nightclub on Saturday evening. With 382 entries from 30 countries ranging from Estonia to Thailand to Canada to Holland. We have just witnessed progress in world racketlon, for that I commend the Austrian team on an exceptional job. Can Belgium follow next year? Do they have the contacts and the team? I look at Gert Peersman as next year's Director of the World Championships and I am confident. The Belgium Open always sets unprecedented levels to follow and the World Championships will be no different. The Tour will be finalised quite soon and Rackathletes around the world will be planning their next adventures around their busy diaries. Domestic tours in Belgium, Sweden, Austria and with Finland and The United Kingdom following in racketlon development, was are in good shape.
/RJ
_________________
For full results and more pictures from the World Championships, see www.racketlon.at.
_________________

_________________________________