Sweden's Racketlon Revenge
Date: 2003-11-15
_________________
Revision history:
2003-11-02: first version
2003-11-15: added a more substantial report from the event including pictures
_________________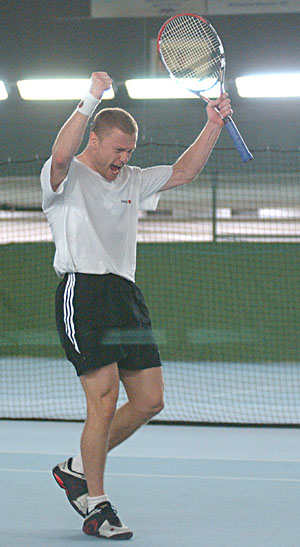 Magnus Eliasson, Sweden. Racketlon World Champion 2003.
As the third Racketlon World Championships were played in Gothenburg last weekend Sweden took a thorough revenge through winning all four titles (Men, Ladies, Men Veterans and Team). Although no less than around 60 players from 10 other countries tried their luck in fierce competition. This is a dramatic change compared to only two years ago when Finland dominated in a similair way taking all three titles available at that stage (Men, Ladies, Veterans). See newsitem from Gothenburg Racketlon World Open 2001.
The Ivan Lendl of Racketlon

The most prestigious of the titles, the Men's World Champion title, went - not unexpectedly - to Magnus Eliasson. He has almost totally dominated the Racketlon Tour this year and has been the No.1 on the World Ranking ever since he won last year's World Championship (see newsitem from 2002). 35-year-old former ice hockey professional Eliasson has taken the uncompromising attitude of a professional athlete into the relatively immature game of Racketlon and in just a few years (Eliasson took up Racketlon in the year of 1999(!)) achieved World domination.
In a front-page article in one of Sweden's leading newspapers (Göteborgsposten) published the day after this year's victory Eliasson was compared to Ivan Lendl, one of the World's dominant tennis players at the end of the Eighties. In many ways, it seems, a relevant comparison;
Lendl is said to have trained 6-8 hours a day. Eliasson is not far behind in that respect. He claims he trains more now than during his hockey career.
Lendl, named by some as "the first true tennis professional", left very little to chance. Not the slightest detail escaped his attention. One example of this is that he allegedly switched to a new racquet after every eighth game in order to always have exactly the same string tension. Everyone who knows Eliasson can verify that his mind works in a similar way. Very little can disturb his meticulous preparations for a tournament or a match and the rubber of his table tennis bat is freshly glued for that millimetre special touch before every match.
Another aspect of Lendl's professional attitude was that victory was paramount to everything else. He did not often go for the spectacular, eyepopping shots for the love of the game. Nor does Eliasson. He hardly ever takes any big risks. Relying on his superior physique he has nothing to loose from playing safe shots waiting for his opponents to make an unforced error. For him, this has proved a very effective tactic in Racketlon, taking him to set victories against far better looking players as regards the techinique. But it might not be the best tactic for winning the sympathy of a select audience. Especially if you are the superior World No.1 that many would like to see beaten some time... But although the audience might not always want Eliasson to win, they do like to watch him fight, uncompromisingly, for victory. His will to win is spectacular in itself.
Everyone, who followed Lendl's career had to be impressed by his almost radiant ability to focus on the next point and to screen out everything else. There is no doubt in anyone's mind that Eliasson has the same talent. The question is if this is not the single most important among the set of qualities that makes him the world number one. A student of psychology Eliasson has indeed spent careful analysis on this side to the game.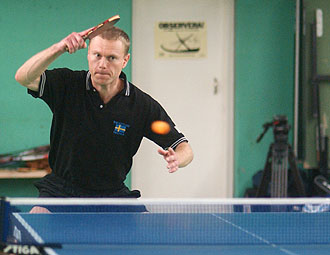 .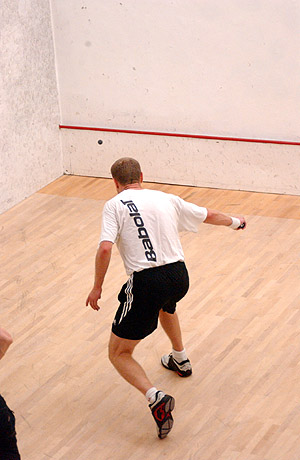 Eliasson. Focus on every point.
Lendl was the Tennis World No.1 four times during 1985-87 and 1989. At present Eliasson looks close to achieving something similar in Racketlon.
But, admittedly, there are also clear differences. Perhaps the most striking one is that Eliasson is far louder than Lendl used to be. At times when he is not doing so well, even if it is just during a point or two, his voice will fill almost any sport centre. "YOU ARE NOT FOCUSSED, MAGNUS! YOU ARE NOT HERE AND NOW! YOU ARE SO F-ING MISERABLE!" he will typically point out to himself in a manner that sometimes reveals his field of study. And there have even been times when players at adjacent courts have complained about the disturbance caused.

So: "A Loud Lendl". That's one way to describe Magnus Eliasson, the World Champion, the World No.1 and the winner of the IRF Racketlon World Tour 2003. Racketlon.com congratulates Magnus on his titles!

What about the competition? What happened to that dream final between Eliasson and Kärkkäinen that everybody was waiting for? Well, World No.2 Kärkkäinen, the man who has beaten Eliasson 4 times and never lost, got knocked out already in the quarter final to another Swede, Stefan Adamsson. Although unexpected this was not a big surprise since Adamsson has made great progress over the last year. In the Swedish championships held in May he actually beat Eliasson himself in the final. But this time, in the World Championship final, Eliasson proved too strong and moved on to a very safe victory by +17! points (21-17, 21-8, 17-21, 9-5!) after winning the table tennis for the first time against Adamsson.

In the Ladies' class, that looked very interesting and open from start with challengers like Finland's energetic and hard training Hanna Miestamo as well as German multi-racket dominant Silke Altmann or former Swedish Champion Susanna Karlsson, the defending World Champion Lilian Druve came out on top again, although competition is certainly increasing in this class. Germany's Altmann did prove a very strong newcomer and beat both Sweden's World No.7 Anneli Druve (the twin sister of Lilian) and Scotland's World No.3 Katy Buchanan before she lost the semi final by 9 points to Lilian Druve in a very tight game that was absolutely even before the tennis; 13-21, 15-21, 21-7, 21-12 (Druve's scores first). A reliable tennis performance throughout the tournament saved Druve from a sensational loss to a German newcomer.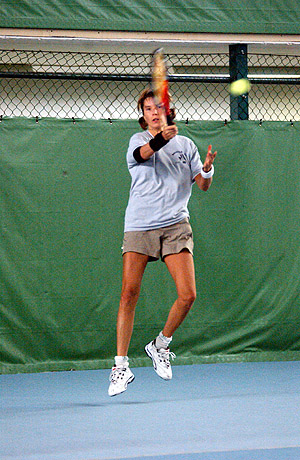 Second time World Champion Lilian Druve.
Good Tennis throughout the weekend.
The Veterans' class contained Sweden's most sought-for revenge since there has never before been a Swedish World Champion in it. At both previous occasions the winner has been one and the same: Harri Peltola from Finland, still without a single loss in an international tournament before tournament start. But this year it was clear from the very beginning that he was not going to get away with the title easily. The veteran field of participants looked more impressive than at any other time with participants from 5 countries and some really interesting names, some of them just turned 45; Staffan Myrdal, the recent winner of his first veteran Swedish Championships. Scotland's Kevin Lawlor, the superior winner of the veteran class in Scottish Open in August. England's Graham Norton, the winner of English Open four weeks before the World Championships. And, last but not least (especially if considering his size; he is about 2m tall), the player who many were holding the favourite; Pär Carleke, a former Swedish top national squash player (ranked No. 14 on the Swedish ranking at his best) and a winner of the (Men's Elite Class) Racketlon Swedish Championships in the mid Nineties. Only just reached the age of 45 some hold Carleke capable of still reaching the semi-finals in the Men's Elite Class of a World Championship.

This is how Sweden took on the rest of the World in this Veteran World Championship: Former long-standing Veteran Swedish Champion Olle Benéus beat the best Englishman, Graham Norton, in the quarter final. Staffan Myrdal took care of the best Scot, also in the quarter final, before knocking out Peltola himself in the semi-final albeit with the tight margin of 2 points (17-21, 21-14, 17-21, 21-18) in a match that was close in basically all sports. And Pär Carleke had no troube whatsoever in meeting the high expectations and marched his way to the title by a very firm series of figures: +70!, +37!, +31! and finally +21! All his matches were decided before tennis and the most he gave away in squash was 5 points. "I entered to get the title while it is still easy", Carleke said after the match, "In the future it will not be so easy to become a Racketlon World Champion".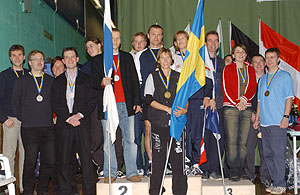 TEAM WORLD CHAMPIONS: SWEDEN
The team event finally, offered very few surprises. Sweden marched off to an expected easy victory given that some of Finland's best players (most notably Toni Kemppinen and Ari-Matti Koskinen) did not attend. Unfortunately, that dream team match between a Swedish and a Finnish team manned with the best possible players have not yet been realized. Given that Finland has some of the top racketlon players in the world in Toni Kemppinen (World Open runner-up and Finnish Champion in 2001), Mikko Kärkkäinen and Hanna Miestamo it could be a real thriller. Kärkkäinen's team encounter with Magnus Eliasson indicated, yet again, that Finland would not be easily beaten. He beat Eliasson for the fourth consecutive time by the clear margin of +9 points (11-4, 4-11, 11-7, 11-6) and has simply not lost yet to the World No.1(!)
The Non-Scandinavians Closing In

But the major impression from this year's World Championships is perhaps, in fact, not Swedish or Scandinavian superiority but rather that Racketlon is no longer an exclusively Scandinavian sport. Nothing illustrates this more clearly than the English National team and their match against Sweden in the semi-final of the team event. Although England, admittedly, did take a huge (-32) beating on the ladies' side at least two out of three games on the men's side were quite close. Eliasson had a tough match against England's No.1, former squash professional John O'Donnell, who, after winning squash by 11-1, shockingly had a 5 point lead before the last set, which is a lot before a tennis set that will end at 11 - as was the case for all sets in this year's team event. In a manner characteristic to Eliasson, however, he did, in the end, get out of the trouble by winning the tennis by 11-3, thereby setting the total score to +3 (11-8, 1-11, 12-10, 11-3).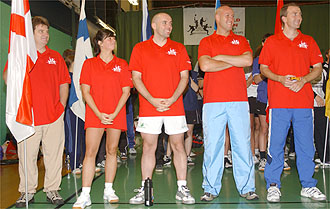 The English Team. Stuart Foster, Tracy Dove, John O'Donnell,
David Lazarus and Douglas Struthers.
But the real Surprise Anglais was racketlon new-comer Douglas Struthers, who managed to put significant pressure on Roland Helle, one of the very top Swedish players, who would later finish No.3 in the individual event. In the end the total landed at +4 for Helle (11-2, 6-11, 11-8, 8-11) but, given that a badminton victory was not that far away for Struthers a sensation was very close. Later, in the individual event, Struthers got an early, second round, opportunity to challenge the World No.1 and even that turned out to be a tight affair, ending with an unusually small Eliasson victory by +12! points (21-11, 14-21, 21-17, 15-10!). For a racketlon beginner that is a surprisingly small loss - and at 17-17 in the badminton set it looked as if Struthers really had something in the making. This was Struther's first Racketlon tour event but it seems certain that the Racketlon World will see a lot more of this "Double Blue" (in Tennis and Badminton) former Cambridge student. Comfirmed sources claim that he is indeed considering taking part already in the next tour event - Swedish Open in Stockholm in the beginning of January. (For more information on Swedish Open, look under EVENTS on the Racketlon.com startpage. Applications are already streaming in on-line at the Swedish Open Homepage.)

And the English are not alone. A quick look at the World ranking generated after the event reveals no less than seven different nationalities among the top 25. This is a remarkable change compared to the first Racketlon World Ranking published little more than a year ago that contained only Scandinavians (Swedes and Finns exclusively). The Scandinavians have now been joined by players from England, France, Austria, Scotland and Germany and colourful individuals like John O'Donnell, Nicolas Sene, Marcel Weigl, Steve Thomson and Holger Stamm are all pushing hard towards the top.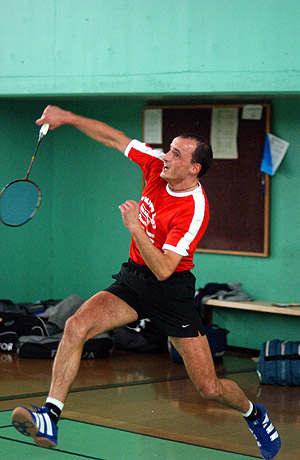 .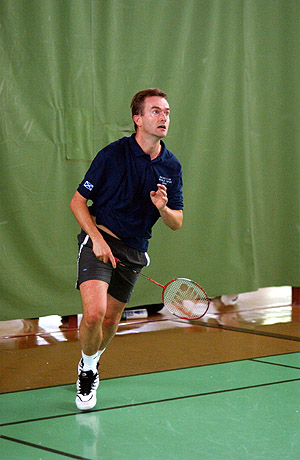 Holger Stamm. The German hope. And his rapidly improving Scottish counterpart: Steve Thomson.
And if the full ranking, now containing over 500 names (everyone that has so-far taken part in an international event), is studied the same trend gets clearer. Almost 40% of the players are now non-Scandinavians (as against 20% of the top 25). Racketlon has now reached players of 18 nationalities (compared to only 3 as recently as two years ago, when racketlon was only played in Sweden, Finland and Austria). This is what the present world ranking nationalities breakdown looks like in detail:
1 Sweden 206 39%
2 Finland 114 22%
3 England 65 12%
4 Austria 51 10%
5 Scotland 49 9%
6 Germany 12 2%
7 Belgium 6 1%
8 France 5 1%
9 Bulgaria 5 1%
10 South Africa 2 0%
11 Greece 2 0%
12 Norway 1 0%
13 Estonia 1 0%
14 Portugal 1 0%
15 Hungary 1 0%
16 Nigeria 1 0%
17 Latvia 1 0%
18 Australia 1 0%

Total: 524 100%

Crossing the Atlantic

2003 was to become the first year of the IRF Racketlon World Tour. It contained 7 tournaments and took Racketlon to 5 different countries in Europe. Beside the two dominating Scandinavian Racketlon strongholds Scotland, England and Austria were visited by this Racketlon movement. In total almost 400 players took part in at least one tour event and each event attracted significant amounts of travelling players from abroad. A handful of players even took part in all seven events. Leading members of this exclusive club that did the full tour include the three players that finished at the top of the Tour Race (see this link for the full and final Tour Race List):

1 Magnus "Lia" Eliasson Sweden 7656 (Tour Race Points)
2 Rickard Persson Sweden 3176
3 John O'Donnell England 2390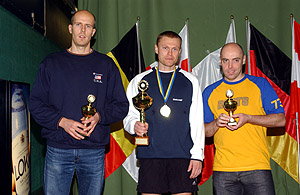 Persson, Eliasson and O'Donnell.
Success on the Racketlon Tour.
The tour meant that interest for the World Championships in Gothenburg, which was the final event of the tour, reached unprecedented levels and many of the applicants even had to be turned down due to lack of capacity. Also, from a media point of view interest was higher than ever before as shown by e.g. full page articles in Finland's biggest newspaper Helsingin Sanomat and Gothenburg's biggest (Sweden's No.3) newspaper, Göteborgsposten, or through an appearance in BBC National Radio in the UK. Racketlon also continues to enjoy good coverage at www.squashplayer.co.uk , one of the most visited squash sites on the internet, which presently highlights the Racketlon World Championships at the top of their homepage. In addition Swedish national television made a 3 minute interview with Eliasson and Trans World Sports, a British television program transmitting (over the Sky satellite channel) to over 100 countries, had a report from the event in their show two weeks after the event. Global exposure for Racketlon.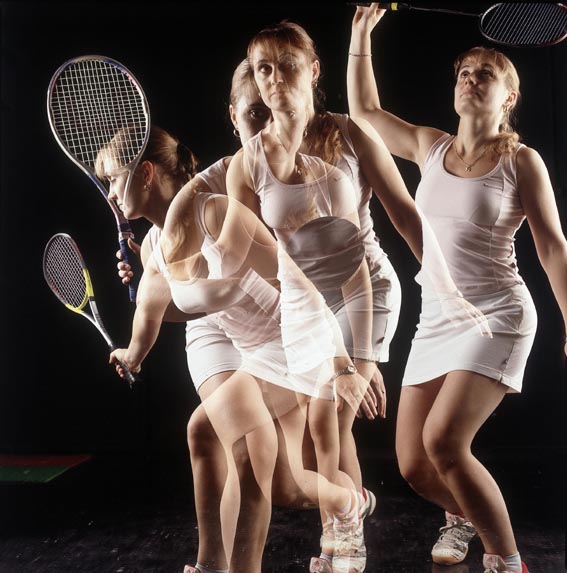 "The Queen of the Four Rackets". Finnish No.1 Hanna Miestamo as depicted in Helsingin Sanomat.
Photo: Aki Roukala
One interesting measure of Racketlon growth and Racketlon awareness is the number of hits on Racketlon.com. The below figure shows how the number of hits per day (running monthly averages) has changed since the start of the web site in June 2001. As seen, there is little doubt that Racketlon is growing quickly. During the first World Open two years ago the hit rate peaked at around 20 hits per day while this year's figure is 6 times as high. (Note, again, that these are monthly averages. On a single day the number of hits has been above 300.) In total there has now been above 30 000 visits to Racketlon.com from over 70(!) different countries.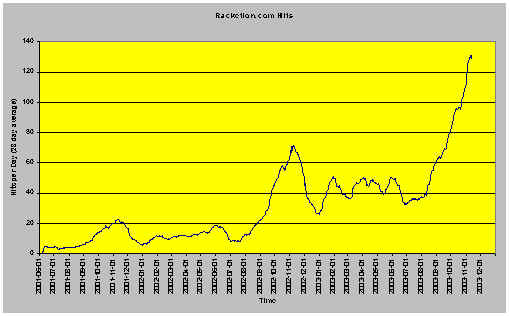 One, Two, Three, Ready to Fly?
Racketlon.com hits per day. Three World Championships - Three peaks.
And the crusade has only begun. For next year the IRF plans an extension of the tour from 7 tournaments in 5 countries to 12 tournaments in 10 countries. Among the new tournaments two of the more interesting are German Open and Belgian Open, since both will open the doors to decade long traditions of multi racket sport. The Belgian Open is a tournament that has been going on since the beginning of the Nineties under the name "King of Rackets". Given that each event has gathered around 140 players during the last couple of years, to the best of the knowledge of Racketlon.com, the King of Rackets tournament is in fact at present the biggest single multi racket tournament in the World. In 2004, this classic tournament adopts the Racketlon format and takes on the new name Racketlon Belgian Open.

Germany, on the other hand, might well be the country with the highest number of multi racket players in the World. There are indications of so called Mehrschlägerturniere or Racket-triathlons from places all over the country, such as Weiterstadt, Solingen, Münster, Bonn, Kaarst, Schönwalde, Leimersheimer, Schnaitsee and Munich. The format varies with each place. Expectations are already running high that the German Open will be the factor that unifies all these traditions into one strong force. Watch out for Germany!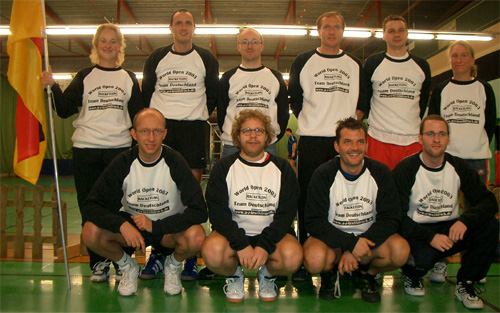 Suddenly the biggest non-Scandinavian nation.
10 of the 11 German participants at the 2003 Racketlon World Championships.
But the most spectacular of all breakthroughs is the crossing of the Atlantic. Organizer, and present Racketlon World No.7, John O'Donnell confirmed earlier this week that the first Canadian Open will be held in Toronto 12-14 March. This will, in fact, be the first Racketlon tournament outside Western Europe!

And then, at the end of the year, the tour will, again, peak with the World Championships, in 2004, for the first time outside Gothenburg and Sweden. The fourth Racketlon World Championships will be held at the Club Danube Sport Centre in Vienna, Austria. The organisers behind Austrian Open in September 2003 showed clearly that they have the potential to turn this into the biggest Racketlon feast so-far. At Austrian Open there were excellent player conditions both in terms of the actual sport center and very comfortable accomodation at an adjacent hotel ten minutes sub-way transport away from the beautiful centre of Vienna. In addition the Club Danube sport centre has the capacity to run four parallel racketlon matches as opposed to two in most other places such as Alelyckan in Gothenburg, which has given tournament director Marcel Weigl the opportunity to promise that everyone who applies will be admitted. The preliminary plan presented at the IRF meeting in Gothenburg is that the tournament will start on Thursday already with the Team Event, while the individual events will start on Friday morning. If interest is extreme, which does not look like that much of a far-fetched thought given present Racketlon growth, there is also the option to carry through local qualification rounds on the weekend before the main event.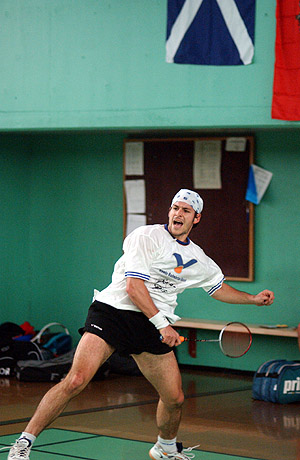 Marcel Weigl. World No.15 and the tournament director
of the Word Championships in Vienna, 2004.

The confirmed schedule for the IRF Racketlon World Tour 2004 will be published here on Racketlon.com by the beginning of December. For readers that cannot contain themselves until then, however, this is what the draft of the tour looks like at this moment (as seen by the exclamation marks most of the events have been finally confirmed, only a few dates remain somewhat unclear):
January: SWEDISH OPEN-week2!!!
February: WELSH OPEN-w6???
March: CANADIAN OPEN-w11!!!
April: BRITISH OPEN-w14!!!
May: FINNISH OPEN-w20!!!
June: BELGIAN OPEN-w23!!!
July: BULGARIAN OPEN-w29!
August: SCOTTISH OPEN-w32! + GERMAN OPEN w35!!!
September:
October: ENGLISH OPEN-w41!!!
November: GOTHENBURG-w45!
December: WORLD CHAMPS (venue: VIENNA)-w49?
The Future of Racketlon

So, in terms of hits on Racketlon.com and the number of countries involved in the Tour anyone would agree that the future of Racketlon looks bright. Another way to project the future, however, could be to turn the attention towards the Racketlon youth. It is a striking fact of the present that the vast majority of the players of the Elite classes are over thirty years of age. Most of the players of the Stockholm community that is presently dominating World Racketlon were, in fact, born 1968 or thereabouts, and although many of them will surely hang around for many more years, at some point in time they are bound to be challenged by players of a younger generation. It is indeed an official goal of the next World Championship in Vienna to appoint the first Junior World Champion. (None of the three World Championships so-far have had enough demand to make up a Junior class and out of the seven tour events this year it was only Finnish Open that had Junior classes.)

Nevertheless, the World Championships did offer some indications of who the dominant players of the future might be. Stefan Adamsson, 23, is, of course, the most apparent example of a young challenger. In fact, more than just a challenger, since he has already won the prestigious Swedish Championships, against Eliasson in the final in May this year. And his series of victories this time (Engström +26, Lazarus +20!, Kärkkäinen +11, Källberg +8) to reach the final is impressive. It brought him straight up from No.7 to No.2 on the Racketlon World ranking.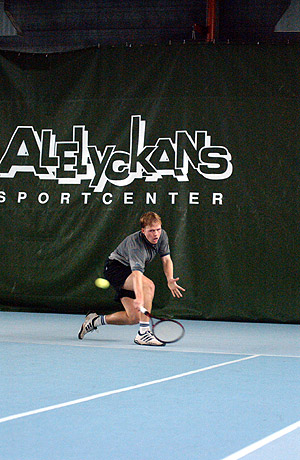 Adamsson. During the final rallies against Eliasson
in the World Championship final.

Another young player is Finland's Mikko Kärkkäinen. Although World Champion two years ago and former World no.1 he is still only 22 years old! But there are, at present, question marks surrounding his Racketlon career. Although still ranked No.3 it is a fact that he is moving downwards rather than upwards on the world ranking and he has only taken part in two tour events in 2003. His loss to Adamsson in the World Open quarter final did not do much to improve this impression. On the other hand, he still has plenty of room for improvement in both Badminton and Squash. And time is on his side.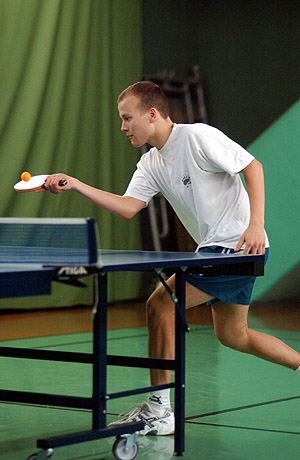 .

Kärkkäinen. That special touch.
A third player was a Bulgarian surprise and a true challenger of the established Racketlon community; the winner of the Amateur Class, Nikolay Angelov, 24. He is the ruling Bulgarian Squash Champion and a former junior national team member in Badminton. This was his first Racketlon tournament and there is a distinct possibility that we will see much more of this Bulgarian.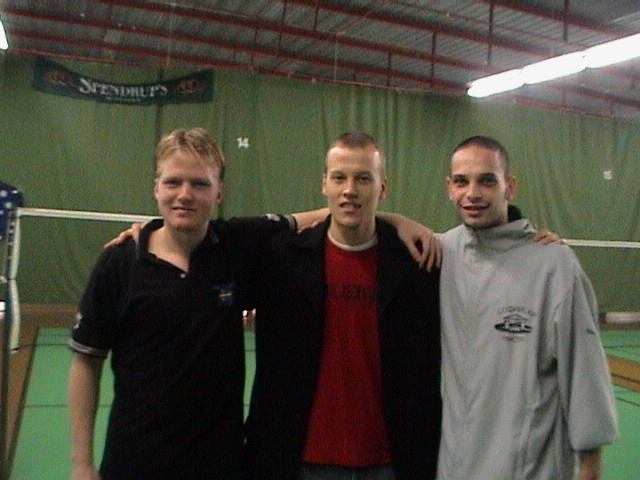 Adamsson (23), Kärkkäinen (22) and Angelov (24).
The Future of Racketlon?

Results in summary from the individual competitions this year:
Men's Elite
Quarter Finals:
Magnus Eliasson (SWE) bt Stefan Larsson (SWE) +24!
21-12, 21-10, 21-7!
Roland Helle (SWE) bt Rickard Persson (SWE) +3!
9-21, 21-16, 21-5, 9-19!
Mats Källberg (SWE) bt John O'Donnell (ENG) +3
21-5, 1-21, 20-22, 21-12
Stefan Admasson (SWE) bt Mikko Kärkkäinen (FIN) +11
17-21, 21-7, 21-13, 14-21
Semi-Finals:
Magnus Eliasson (SWE) bt Roland Helle (SWE) +5!
21-17, 21-14, 13-21, 19-17!
Stefan Adamsson (SWE) bt Mats Källberg (SWE) +8
6-21, 21-8, 21-17, 21-15
Final:
Magnus Eliasson (SWE) bt Stefan Adamsson (SWE) +17!
21-17, 21-8, 17-21, 9-5!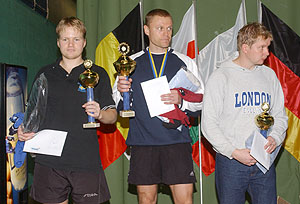 WORLD CHAMPION: MAGNUS ELIASSON (SWE)


Ladies' Elite
Quarter Finals:
Lilian Druve (SWE) bt Katja Turtiainen (FIN) +32
21-3, 21-16, 21-3, 12-21
Silke Altmann (GER) bt Katie Buchanan (SCOT) +22!
21-5, 11-21, 21-9, 7-3!
Suasanna Lautala-Näykki (FIN) bt Sunniva Aminoff (SWE) +15
20-21, 18-21, 21-6, 21-17
Hanna Miestamo (FIN) bt Irene Seifert (GER)
16-21, 21-2, 21-4, 21-13
Semi-Finals:
Lilian Druve (SWE) bt Silke Altmann +9
13-21, 15-21, 21-7, 21-12
Hanna Miestamo (FIN) bt Suasanna Lautala-Näykki (FIN) +9
21-14, 21-11, 16-21, 10-13!
Final:
Lilian Druve (SWE) bt Hanna Miestamo (FIN)
21-13, 15-21, 21-6, 5-0!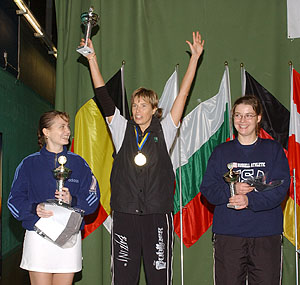 WORLD CHAMPION: LILIAN DRUVE (SWE)

Veterans (45+)
Quarter Finals:
Harri Peltola (FIN) bt Anders Waas (SWE) +27!
21-5, 18-21, 21-7!
Staffan Myrdal (SWE) bt Kevin Lawlor (SCOT) +25
21-2, 8-21, 21-11, 21-12
Olle Benéus (SWE) bt Graham Norton (ENG) +5
21-6, 15-21, 19-21, 19-21
Pär Carleke (SWE) bt Gunnar Ljung (SWE) +37!
21-16, 21-5, 21-5!
Semi-Finals:
Staffan Myrdal (SWE) bt Harri Peltola (FIN) +2
17-21, 21-14, 17-21, 21-18
Pär Carleke (SWE) bt Olle Benéus (SWE) interrupted!
21-8, 21-3, 6-6!
Final:
Pär Carleke (SWE) bt Staffan Myrdal (SWE) +21!
21-23, 21-2, 21-12, 6-11!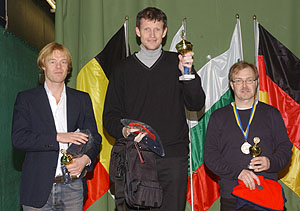 VETERAN WORLD CHAMPION: PÄR CARLEKE (SWE)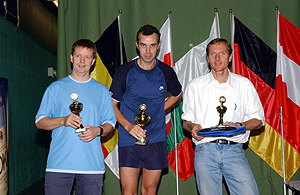 Winner of the Men's Class 1: Anders Brodin (Swe)
2nd: Calum Munro (Scot), 3rd: Volker Sach (Ger)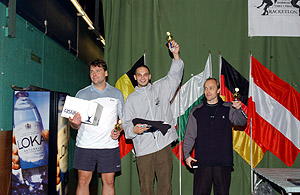 Winner of the Men's Amateur Class: Nikolay Angelov (Bul)
2nd: Martti Vottonen (Fin), 3rd: Mathias Persson (Swe)
For complete and detailed results from the Racketlon World Championships, see this link.
For more information about the history and characteristics of the game of Racketlon, see this introduction.
_________________________________
Most photos on this page: www.digitafoto.nu