Canadian Thomson has Another Go
2005-03-15
_________________
Richard Thomson, the Canadian who, last year, in his first(!) Racketlon event came very close to beat the World no.1 (see report from last year's Canadian Open) gave it another try this year. Derek Tilley reports:
_________________
Building on last year's inaugural event, the 2005 Canadian Open was held March 11-13 in Toronto, Canada. World #1 Magnus Eliason held off determined Canadian Richard Thomson +30 (tt:21-6, ba:21-14, sq:19-21, te:21-11. Thomson's excellent play throughout the tournament garnered the support of the local fans, but in the final the world's #1 displayed why he is consistently the best player in the world.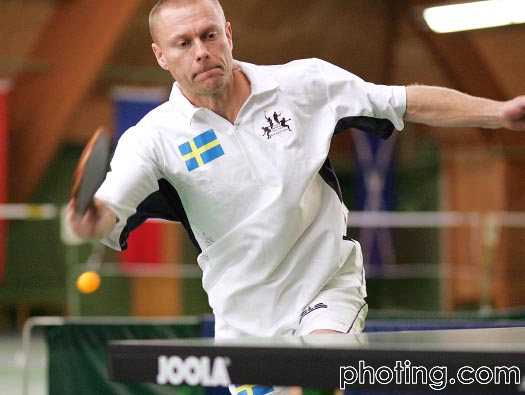 Magnus Eliasson. Again.

Thomson reached the final by winning his pool 3-0, most notably including a victory over world #7, Englishman John O'Donnell +17 (tt:10-21, ba:21-13, sq:21-15, te:21-7). Eliason also went undefeated in his pool, defeating fellow Swede Hans Mullamaa and Canadians Stephane Cadieux and Horatio Pintea (Pintea, originally from Romania, is a former world #80 in table tennis). This set up a classic match between Eliason and Thomson, a repeat of the 2004 Canadian semifinal where the Swede first experienced the skill of the elite Canadian player.

The 2005 Canadian Open was a resounding success for organizers and participants. The Badminton & Racquet Club of Toronto were exceptional hosts, and tournament chair Stephane Cadieux did a remarkable job of sponsorship, organization, and running the event. All involved are looking forward to the 2006 Canadian Open- extending a warm invitation to all European Racketlon players to come to Toronto and participate in the only North American stop on the tour.
Other Results- 2005 Canadian Open:

Shona Kerr won the ladies event over Sonja Vojnov in the final.
Men's Class 1 was won by Canadian Jason Christie over compatriot Ben Hatcher +15 (21-13, 21-6, 3-21, 16-6)

Women's Amateur saw Catherine Farquier go undefeated in her round robin to win her division, with scores of +36 and +17.

Men's Amateur Final was another all Canadian duel, with Paul Morrison outlasting Steven Mikovich +4 (16-21, 17-21, 21-3, 16-21).

Men's Over 45 Final- Gary Hemkay won with a +14 (7-21, 21-7, 21-7, Retired (INJ)) over Frank Sabetti.

For full results, see the Canadian Open homepage (www.racketlon.ca)
_________________________________