The King of Rackets tournament in Oudenaarde, Belgium is over and after what seems to have been an unusual amount of interesting matches with surprising outcome in the Men's Elite the winner is also, suitably, a big surprise! With a world ranking of 42, unseeded and silently emerging from what beforehand looked to be the clearly weakest quarter of the draw Holland's Bart Beks won the final against Belgium's Peter Duyck. And he did it by one single point after an equally tight victory (also one single point!) in the semifinal over big favourite Douglas Struthers (England). To make it even more clear that this was Beks' tournament he also won the doubles final (together with fellow Dutch partner Paul Twisterling) - also by one single point!
Here are the results in summary (see tournament homepage for full results):
MEN'S ELITE
Quarterfinals:
Peter Duyck (BEL WR20) - Alexander Köpf (GER WR5) +22
(tt:21-11 ba:21-17 sq:21-13 te:-)
Achim Berkemeier (GER WR28) - Peter Vesely (CZE WR13) +5
(21-13, 21-16, 2-21, 21-10)
Bart Beks (NTL WR42) - Geert Blomme (BEL WR37) +10
(10-21, 17-21, 21-12, 21-5)
Douglas Struthers (ENG WR24) - James Greenhead (ENG WR114) +25
(21-7, 21-12, 21-19, -)
Semifinal:
Duyck-Berkemeier +16 (20-22, 21-14, 21-11, 7-6)
Beks-Struthers +1 (21-19, 13-21, 11-21, 21-4)
Bronze:
Struthers-Berkemeier +19 (9-21, 21-12, 21-3, 7-3)
Final:
Beks-Duyck +1 (3-21, 18-21, 21-9, 21-11)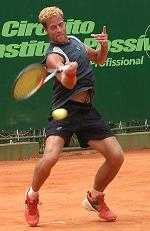 Beks on the ATP tour.
LADIES' ELITE
Semifinals:
Florence Martin-Bouet (FRA WR55) - Susanna Lautala-Näykki (FIN WR1) +10
(21-19, 21-18, 21-17, 13-12)
Martina Kakosová (CZE WR2) - Inge Van Den Herrewegen (BEL WR36) +40
(21-16, 21-12, 21-6, 21-10)
Bronze:
Lautala-Näykki-Van Den Herrewegen +19 (21-13, 21-12, 21-18, 2-3)
Final:
Kakosová-Martin-Bouet +13 (19-21, 9-21, 21-0, 15-9)
MEN'S VETERAN O45
Quarterfinals:
Volker Sach (GER WR1) - Steve Kneller (WAL WR33) +42
(21-7, 21-4, 21-10, -)
Jocheim Reinhard (GER WR-) - Michaël Heldsdörfer (GER WR9) +24
(21-5, 14-21, 21-6, -)
Anders Lundström (FIN WR3) - Richard Whitehouse (ENG WR21) +20
(21-9, 19-21, 21-11, -)
Peter Sakovics (HUN WR2) - Ray Simpson (ENG WR22) +11
(15-21, 9-21, 21-10, 21-3)
Semifinal:
Sach-Reinhard +17 (8-21, 21-3, 21-14, 10-5)
Lundström-Sakovics +22 (21-7, 21-11, 19-21, -)
Bronze:
Sakovics bt Reinhard W.O.
Final:
Lundström-Sach +28 (21-12, 21-12, 21-11, -)
COMMENTS:
- In the ladies' event reigning World Champion Martina Kakosová put an end to the aspirations of French star Martin-Bouet in the final by 13 clear points. Not without effort, however. She was 14 points down before the squash but an emphatic (and unusual) 21-0 in her favourite discipline gave her a 7 point lead into tennis and victory was within grasp.
- Martin-Bouet's, however, achieved one of the tournament's biggest upsets by beating Finland's world no.1 Lautala-Näykki in the semifinal of the Ladies' event. However, Martin-Bouet is by no means a newcomer and has previously shown good capacity - but little participation over the last year had caused her to drop down the world rankings to position 55(!) before the tournament. Note that she won all four sets - each with a very small margin indicating strength on critical points.
- After his first victory at a world ranking event (the Waregem Open Challenger in Belgium back in February this year) Bart Beks might have deserved more of a buzz before the Belgian Open. But hardly anyone would have guessed that he would go and win the whole tournament! (right, Marc?) It seemed fair to describe him as "Rapidly improving" but capable of beating someone as established as Struthers? No way! There was e.g. no such signals hidden in his results from the World Championships on home soil in Holland only five months ago; here is a sample:
***From the first round:
Beks-Eliasson -39 (9-21, 3-21, 12-21, -)
***In the plate semifinal:
Bart-Vesely -27 (15-21, 11-21, 10-21, -)
***In the match for 19th place:
Beks-Volker Sach +6 (6-21, 12-21, 21-4, 21-8)
This might well be the most surprising winner ever in a World Tour event! (not even Christian Wall, the winner of the 2006 Gothenburg Open (see report), can really compete...)
- Beside Martin-Bouet, the other French player to watch out for is Sébastien Plançon, a badminton/squash profile who took part in his first world ranking event. He knocked out Belgium's quality player Adolphe Fernandez-Diez in the first round;
Sébastien Plançon (FRA WR-) - Adolphe Fernandez-Diez +14 (4-21, 21-4, 21-11, 12-8)
...and then pushed no one less than Douglas Struthers well into the tennis. In fact, as the tennis started he was still in the lead by 5 points!
Struthers-Plançon +6 (21-14, 17-21, 13-21, 21-10)
The squash impresses. Struthers has not lost many squash sets previously. And the score in badminton shows a surprisingly small margin since this is reportedly Plançon's best sport (French ranking: 41). Maybe this is where the match was decided in Struther's favour?
- New German player Achim Berkemeier confirmed that he is a man to be reckoned with as shown by his results on his way to the semifinal;
Achim Berkemeier (GER WR28) - Mika Hasmats (SWE WR47) +6
(15-21, 21-17, 16-21, 21-8)
Achim Berkemeier (GER WR28) - Olli Zwiers (GER WR19) +29
(21-3, 21-5, 16-21, -)
Achim Berkemeier (GER WR28) - Peter Vesely (CZE WR13) +5
(21-13, 21-16, 2-21, 21-10)
- In the Vets class Finland's Anders Lundström confirmed that he is getting ever harder to beat. Take a look at his record against Germany's top ranked Volker Sach;
Head-to-Head, Lundström (WR3) - Sach (WR1):
2007, July: German Open final: -2 (14-21, 13-21, 21-2, 15-21)
2007, Sept: Scottich Open quarter: +38 (21-11, 21-5, 17-5, -)
2007, Nov: Austrian Open, bronze: +22 (21-13, 21-19, 21-9, -)
2008, April: Czech Open final: +17 (22-20, 21-14, 22-20, 11-5)
2008, June: Belgian Open final: +28 (21-12, 21-12, 21-11, -)
An additional Lundström result to notice comes from a tournament on the Finnish tour; In Lahti a couple of weeks ago he even challenged Mikko Kärkkäinen;
Kärkkäinen-Lundström +18 (13-21, 21-11, 21-9, 8-4)
... to be compared with:
Kärkkäinen-Eliasson +26 (21-8, 21-18, 21-11, -)
...from the 2007 World Championship final in the Men's Elite.

It will probably take a Swede (Peter Bittár or Ulf Bredberg) in very good shape to keep Lundström from becoming World Champion later this year. If that will be enough...
-Thanks to the tournament team for excellent result reporting! Results seem to have been invariably on-line straight after each match was finished. Great work!
/H

Beks Interview:
"I improved my tennis through training squash."


Dutch Racketlon President Marc Veldkamp interviews Bart Beks below.
Photo: www.sportmarc.com
Bart has improved his Racketlon game remarkably over the last half year as was shown in his victory in the Belgian Open. Of course, he did very well in the final against local favourite Peter Duyck. But the biggest surprise was his win in the semis over Doug Struthers who is seen as one of the few being able to beat world numbers one and two, the Finn Kärkkäinen and the Swede Eliasson. Kärkkäinen, of course, only if he is not in the shape he was in at the Worlds in Rotterdam half a year ago.
In both matches in Belgium he had to come back from a severe loss in table tennis. The basis for the final result was not his excellent tennis, but his improvement in badminton (although he doesn't practice this part at all) and squash which he plays 2 to 3 times a week when he is at home; "When I'm not on the tennis tour, I play squash in Eindhoven at the centre of the National Squash Coach. I got some tips from him, but I don't train specifically on certain strokes. I just play matches." This little effort made him improve to B player in squash at national level in a short time and if he really starts to train he should be able to reach A level within one or two years. About the badminton he says : "As far as my badminton is concerned I think it has improved through my better squash. Squash made me fitter and the walking patterns of badminton are very similar to squash." And he also has an opinion about his remarkable results in tennis the last year: "I also play better tennis because of my improved fitness through squash. I'm not getting tired any more in long tennis matches"
What we see is that Bart is totally in love with Racketlon and that he is a big promise for the future in this sport. However, so-far he is still focussed on tennis, mainly because of the earnings. Due to the financial part of being a professional sportsman this might change: "I never thought I would win any money with Racketlon, but the prize money in Belgium was very good. This makes it easier to switch next year to Racketlon." Before he does that Bart has two major goals for tennis this year. He just reached the age of 35 and he wants to become World Champion in the Masters in august in Turkey and the second goal is to go for a surprise on the Dutch Outdoor Championships in September. After that he has his last international tour through South America before he goes back to Racketlon in November, one month before the Worlds in Germany.
From November on Bart will concentrate on Racketlon : "I'm really going to train to be able to play proper squash. My game is at this moment too much based on my speed and is too much just hit and run without any strategy. The funny thing about badminton is that I play squash regularly with Ruud Kuijten, who has been Belgian Champion in badminton for many years, but I never played badminton with him. But I'll start practicing badminton also next year and my goal for Racketlon is to become a top 10 player in 2009".
/MV