The First Dutch Open Coming Up
2006-12-12
_________________
The first world ranking event in a new country! Although Racketlon growth is as healthy as ever it does not happen every day. Last year it only happened once - in the Czech Republic. This year it has only happened in Hungary so-far. And now it's Holland's turn. It's special! In the sense that Holland like Germany and Belgium (who both joined the Racketlon community in 2004) have a long multi-racket tradition. In Holland's case (see previous article) it stems back to 1985(!)
So, not entirely surprisingly, Holland has already left a mark on the international Racketlon scene (see e.g. newsitem from the English Open a few months ago, where there was a Dutch victory in the Ladies' class with Marielle van der Woerdt and a Veteran Champion of Dutch descent with Jacob de Vries (competing for Portugal, however)). It should also be noted that a first Dutch Racketlon Championship was held in April (see newsitem).
And this should just be the beginning. Rotterdam have been selected to host next year's Racketlon World Championships!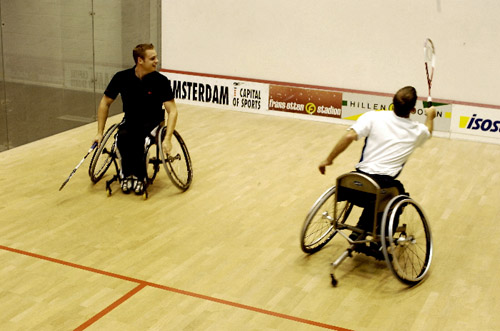 "Only three let situations!" The first wheelchair Racketlon match will take place at the Dutch Open. Wheelchair squash is not really commonplace and it is unclear whether it has indeed ever been played before this test match was organised a few weeks ago. Sceptics were proven wrong. It worked surprisingly well.
Photo: Jos Aarts of the Dutch Squash Magazine

The draws of the Dutch Open were published yesterday on the tournament homepage (look under "SCHEDULES"). Racketlon.com journalist Keith Lesser previews below.
_________________
A major landmark in modern Racketlon history is about to happen. The first Racketlon Dutch Open!!! The venue of the 2007 World Championships (December 27th-30th) is set to light up the Racketlon globe. Not just with their orange jackets and hats!!!

A strong entry sees some of the World's best slog it out this coming weekend in Rotterdam. This preview outlines some of the ones to watch:

Elmar Schaub (Germany)

Schaub first rocked the Racketlon world defeating a resilient John O'Donnell in the 2005 Czech Open. Schaub eventually came unstuck in the semi-finals of the event losing to Calum Reid, in the young Scot's first tour title. Schaub and Reid later faced off in the 2006 German Open. This time the final saw the crowd in awe of Elmar's allround racket skills. Schaub certainly had the young Scot on the ropes winning 21-15, 21-15, 10-9 before succumbing 12-21, 11-21, however the German has also performed well in the Austrian Open again defeating O'Donnell (seeded two in this event) and Austrian number one Michael Dickert. This leaves the German ranked 8th in the world and will be a hard man to beat.

John O'Donnell (England)

You would expect John to come through the bottom half unscathed, however who knows what surprises the tournament could throw up. 4th in The English Open, dumped out in the quarters by Schaub in Austria, the man who has beaten Magnus Eliasson at three sports will be keen for revenge.

Mark Chaloner (England)

Rumour has it Mark Chaloner (is it the same one?) http://www.squashpics.com/mark_chaloner.htm - tells a story itself (best world ranking: 4!), it will be interesting to see if Chaloner ends up facing Schaub in the top half. However, surely a nightmare profile for any squash professional, Elmar does not rely on his squash for victory.

Paul Twisterling (Holland)

Some will be surprised at the outrageous statement that Paul Twisterling will win this tournament. The Class B winner at the 2006 English Open showed his true badminton prowess by crushing a defiant and sober! Phil Reid 21-4. Twisterling faces off with mammoth pussy cat Ray Jordan and should Jordan repeat the English Open doubles exploits (10-1 in Birmingham) he may be too good. This does not contradict the fact however that should Twisterling scrape through and perhaps have a decent enough profile to pass Mark Jackson he may even give number one seed Schaub a decent run. Time will tell, but you heard it here first from the man who said Gregor Puchas would (at least) reach the Austrian Open quarter finals!

Bart Beks, Fernon Wibier and Ruud Kuijten (Holland)

Bart Beks is still a professional tennis player (mainly doubles) and has a world Racketlon ranking of 36 capturing scalps in the past like Calum Munro. Fernon Wibier is a former tennis professional (highest world ranking 126 singles, 47 doubles) and also a very gifted badminton player. Ruud Kuijten is a former Dutch national badminton team player (Dutch champion doubles in 1995) and several times Belgium Badminton champion (since 2000). He has beaten Bart Beks already in a friendly Racketlon match. Many players like squash county champion Steffan Morgan (England), Hans Mullamaa (Sweden) and Peter Duyck (Belgium Number One) may not stand aside so easily!

Marielle van der Woerdt (Holland)

English Open Champion Marielle will take some stopping. Her badminton and tennis destruction in Birmingham of former world number one Katy Buchanan shows great strength. Always nice to see someone win with a smile on their faces, Marielle is the strong favourite.

Milja Dorenbos and Joyce Crouse (Holland)

Check out - http://www.milja.nl/ , 5th in the Dutch ranking squash, runner up in the Dutch Racketlon championships and also very gifted in badminton and tennis. Joyce Crouse is an outside bet being mentally very strong and very fit. Joyce finished a respectable 3rd at the Dutch National championships.

Olivier Zwiers/Alex Köpf

Zwiers/Köpf look to take their second world doubles title !!! The World Number Two's will hope to re-claim their world number one crown after some recent dips in form. Noone would believe that two such gifted players could lose so early in competition. However the 2007 German Open organisers may well find themselves on the scrap heap after being demolished by either a very good Dutch pair or even a Swedish/English pair, rumoured to be a "nightmare" doubles profile for any tennis specialists.

Wheelchair Racketlon!

World Premiere; The first wheelchair Racketlon match ever played : Robin Ammerlaan, WR1 wheelchair tennis and former world champion wheelchair badminton against Maikel Scheffers, WR 7 in wheelchair tennis.

Tournament Organiser Marc Veldkamp continues:

"We had last friday (17 Nov) the novelty of a real wheelchair squash match
during the NEC wheelchair tennis masters in Amsterdam (best 8 men and
best 8 women of the world).

Robin Ammerlaan (WR 2, www.robinammerlaan.nl) did some
exercises with me and then played a match with his tennis mate Maikel
Scheffers (WR 8, www.maikelscheffers.nl). The only adjustment
they made to the game was the use of the blue mini squash ball. Robin
won by 3-1.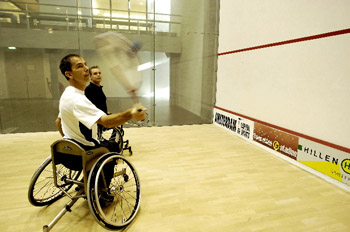 Robin Ammelrlaan and Maikel Scheffers. WR 2 and 8 in Wheelchair tennis.
Photo: Jos Aarts of the Dutch Squash Magazine

It was far above expectations. The players were surprised it went that
well and they really enjoyed playing squash. Ablebodied spectators were even
more surprised, almost everyone was very sceptic before, but the
players proved them wrong. There were only 3 let situations in the
game and they only hit twice the wall slightly with their wheelchairs.

Saturday the 16th, at 15.00 hrs, during the 1st A-LEX Dutch Open will
be the first Racketlon wheelchair match ever played between Robin and
Maikel (Maybe a glimps of the final of next year's World Championships?)"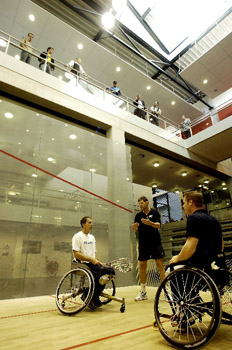 Dutch Open Tournament Director Marc Veldkamp addresses the players.
Photo: Jos Aarts of the Dutch Squash Magazine

Keep posted to Racketlon.com (Breaking News) for some electrifying updates over the weekend!!!!!
/KL

_________________________________