A tournament of close games!!
The 2008 Dutch Open was a tournament of narrow matches – especially in the Men's Elite category – and friendly banter throughout, set in the surroundings of a new David Lloyd Centre, the likes of which we have been used to in the past with English tournaments.
There was a disappointingly low entry for this tournament, probably not helped by the fact that it fell in between the flagship tournaments in Belgium and England, but that at least meant there were few queues for different sports (in fact there were none) and a good atmosphere. Elmar Schaub retained his title won in December 2006 and at the same time claimed his first World Tour title with an incredible gummiarm victory over returning Englishman John O'Donnell who agonisingly missed out on his first tour victory. He must have thought it was his tournament, after good wins over Twisterling and Vesely he took on Belgian Open runner-up Peter Duyck, needing 13 in tennis to achieve a gummiarm...which he duly did, and won the last crucial point. Then both after badminton in the final and at 5-4 in the tennis it looked like his tournament – however Elmar fought very hard in squash to achieve 10 points (a noticeable improvement on the 0 scored in Prague 3 years ago!!) and made a great comeback in tennis, coupled with an excellent serve at gummiarm to win the match. The German, recently a father, hasn't been training much lately so one wonders what form he can show at the forthcoming English Open if he finds time to practice!!
Martina Kakasova was in a class of her own in the Women's A category, defeating a trio of Dutch challengers – although she was taken to the tennis in both the semi-final against Karin Geertsma and the final against Joyce Crouse. Unfortunately for the host nation they didn't have the same consistency as the Czech player, who shows good ability (or better) in all four sports. She is the reigning world champion and it will take some player to beat her at any stage this year. It has to be said though, that 8 ladies was a disappointing entry, hopefully we will see more at other events this year.
Volker Sach took another veterans title, beating Wingrove Manners in a close final; the first final for the Englishman from Bradford – let's see if he can match that at the English Open in August!
Kakasova added to her singles title by taking the mixed doubles with fellow Czech Petr Vesely; however Vesely fell short in the mens doubles where the German pair of Kopf/Schaub beat the new pair (have they even met before?) of Plancon/Berkemeier – a dangerous pair covering all four sports with the Frenchman playing squash second! And what of Plancon? Some thought this could have been his first title and he was looking good after easy wins against 'obstacle of size' Ray Jordan (despite a 0-21 tt score..) and Andrew Kim, but then he came up against Peter Duyck. They shared – not surprisingly – 2 sports each, but the Belgian took the match with an excellent 21-8 tennis score (Plancon plays a good tennis game but was far too defensive this time). He won't be at the English Open in August so he will have to wait until the Autumn for another chance.
How does your job affect Racketlon? It is a question I was pondering in Eindhoven after chatting to John O'Donnell who announced that he has been unable to train much for Racketlon as he is now working as a postman in Stockholm (!) and is often tired after a hard round in the morning. Still, it was pleasing to hear him swear in Swedish for a change....
Does a more physical job help Racketlon or hinder it? Are you too tired after a physical day at work or does it keep you fit? There are many different professions that I'm aware of within Racketlon – plenty of players work with computers, based in offices. There are a number of journalists and players that either work in or coach sport. One player part-owns a fudge company, one works in accounts for BT, plenty are students. If anybody has any experiences or opinions on this matter, hit the chat!
The best job in Racketlon? Surely it belongs to the player who has a four day week (never works a Friday) and therefore never needs to take a day off for tournaments!
Anyway all, as an esteemed player once said "keep going!" and you will see each other for what proves to be a marvel of sport at this year's English Open where Peter Nicol will be in attendance!


/RJ
Results in Summary
Veldhoven, 2008-07-18--20
Dutch Open
- tournament no.6 (out of 12) on the Racketlon World Tour
For full results click here.
MEN'S ELITE
Quarterfinals:
Alexander Köpf (GER WR4) - Volker Sach (GER WR16) +9
(tt:8-21 ba:14-21 sq:21-5 te:21-8)
Elmar Schaub (GER WR8) - Achim Berkemeier (GER WR24) +16
(21-15, 21-12, 21-16, 2-6)
John O'Donnell (ENG WR9) - Petr Vesely (CZE WR11) +7
(21-17, 21-14, 17-21, 15-15)
Peter Duyck (BEL WR7) - Sebastien Plançon (FRA WR136) +1
(21-5, 7-21, 7-21, 21-8)
Semifinals:
Schaub-Köpf +11 (21-8, 21-10, 12-21, 7-11)
O'Donnell-Duyck +1 (10-21, 24-22, 21-4, 13-21, G:1-0)
Bronze:
Köpf bt Duyck W.O.
Final:
Schaub-O'Donnell +1 (21-13, 11-21, 10-21, 21-8, G:1-0)
LADIES' ELITE
Quarterfinals:
Martina Kakosová (CZE WR1) - Kirsten Kaptein (NTL WR28) +27
(tt:7-21 ba:21-1 sq:21-0 te:-)
Karin Geertsma (NTL WR28) - Nathalie Monnier (BEL WR21) +35
(21-15, 21-11, 21-2, -)
Inge van der Herrewegen (BEL WR17) - Kateyina Sodomková (CZE WR39) +16 (14-21, 21-12, 21-8, 7-6)
Joyce Crouse (NTL WR25) - Irene Seifert (GER WR3) +23
(13-21, 21-3, 21-10, 21-19)
Semifinals:
Kakosová-Geertsma +25 (21-15, 21-12, 21-12, 4-3)
Crouse-van der Herrewegen +4 (14-21, 21-1, 21-16, 7-21)
Bronze:
van der Herrewegen-Geertsma +8 (21-9, 21-16, 7-21, 19-14)
Final:
Kakosová-Crouse +12 (21-8, 5-21, 21-5, 9-10)
MEN'S VETERAN O45
Semifinals:
Volker Sach (GER WR1) - Marc Veldkamp (NTL WR104) +18
(tt:21-6 ba:21-8 sq:5-21 te:10-4)
Wingrove Manners (ENG WR-) - Michaël Heldsdörfer (GER WR8) +35 (21-9, 21-10, 21-9, -)
Bronze:
Veldkamp-Heldsdörfer +15 (14-21, 7-21, 21-2, 21-4)
Final:
Sach-Manners +9 (21-7, 20-22, 13-21, 18-13)
Comments:
- A spectacular Gummiarm tiebreak ended the Men's Elite final between the two "comeback kids" of the tournament. Both finalists have not been seen on the tour since last year but proved that they are still to be reckoned with.
Schaub-O'Donnell +1 (tt:21-13 ba:11-21 sq:10-21 te:21-8 G:1-0)
- Second seed Peter Duyck (WR7) got away with a single point victory over French newcomer Sebastien Plançon in the quarterfinal, who thereby confirmed that he is already a world class racketlete. In the plate for quarterfinal losers he came out victorious after e.g. beating Petr Vesely (WR11) +3 (tt:6-21 ba:21-10 sq:15-21 te:21-8) (confirmed score).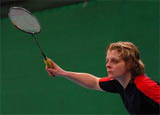 Martina Kakosová (CZE)
photo: www.czechracketlon.cz
- In the Ladies' Elite Martina Kakosová lived up to the high expectations and delivered yet another victory. It is starting to be difficult to recall when she last lost a match on the World Tour. Her opponent in the final, Holland's unseeded(!) Joyce Crouse resisted well, however, by winning two out of four disciplines. Slightly unusual for Kakosová the match was not over until she reached 9 in the tennis (at 9-10).
Kakosová-Crouse +12 (21-8, 5-21, 21-5, 9-10)
- A new star seems to have emerged on the vet sky in England's Wingrove Manners. In his first tour event he finished off both Fromlet (WR29) (+50) and Heldsdörfer (WR8) (+35) before tennis in the first two rounds and even pushed world no.1 Volker Sach well into the tennis. Sach was only 4 points ahead before tennis and got away with 18-13 there.
Sach-Manners +9 (21-7, 20-22, 13-21, 18-13)
/H