Schaub Conquers!
2007-06-24
_________________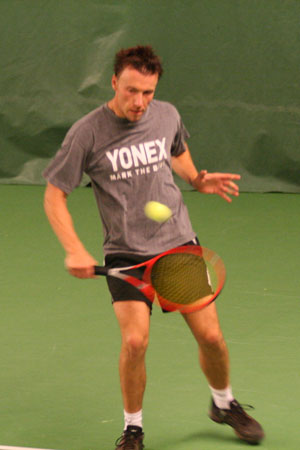 Elmar Schaub. Germany's number 1 and the winner of Swiss Open.
Photo: Henry K C Wu
SWISS RACKETLON OPEN, ZÜRICH, 23-24 June 2007
Results in Summary

MEN'S ELITE
Quarterfinals:
Michael Dickert (AUT) bt Rickard Persson (SWE) +9 (tt:19-21 ba:21-18 sq:24-22 te:19-13)
John O'Donnell (ENG) bt Kristian Achenbach (GER) +21 (21-7, 11-21, 21-4, -)
Elmar Schaub (GER) bt Boris Klemencic (SLO) +20 (21-3, 21-18, 7-21, 21-8)
Marcel Weigl (AUT) bt Uwe Knoller (CH) +21 (21-6, 21-19, 21-18, 2-1)
Semfinals:
Dickert-O'Donnell +9 (21-17, 21-17, 17-21, 18-13)
Schaub-Weigl +15 (21-3, 21-19, 15-21, 8-7)
Bronzematch:
O'Donnell-Weigl +22 (21-14, 21-12, 21-15, -)
Final:
Schaub-Dickert (18-21, 15-21, 21-13, 21-17)


Germany´s Elmar Schaub won his second Challenger title (following his victory in the Dutch Open at the end of last year, see report) beating rapidly improving Austrian Michael Dickert in a very tight final. Schaub said after the game that the result in all of the three first disciplines were "upside down"; He normally wins the table tennis against Dickert but this time he lost 18-21. He normally wins the badminton but this time he lost 15-21. And he has never previously won the squash - but this time he won 21-13!

The squash set was a big surprise to many since squash was the discipline in which first seed Dickert had impressed the most during earlier matches, e.g. beating Persson 24-22 and getting no less than 17 points off squash specialist O'Donnell in the semifinal.

The squash upset ment that Schaub could walk into the tennis with a deficit of only one point, meaning that whoever won the tennis would be the winner of the match and after a very tight game he could finish it by a strong serve followed up with a killer volley.
Noteworthy from the rest of the tournament:
- Persson, who looked in good form at the Finnish Open last weekend, where he beat Finland's no.2 Kainulainen +17 (tt:21-5 ba:13-21 sq:21-14 te:7-5) and even pushed World Champion Kärkkäinen for a good while into their quarterfinal (losing by 13 points only; tt:19-21 ba:22-20 sq:16-21 te:9-17) was held by some as the favorite in the quarterfinal against first seed Michael Dickert. And he did look as a winner when he took the lead by 11-6 in the deciding tennis, at which stage he had an overall advantage by 2. Unfortunately, for the experienced Swede he then could not quite keep it together and started to hit double faults and unforced volley errors into the net. Dickert said after the match that he "did not need to do much" at that stage in order to turn the match into victory.
- Nicolas Müller, the 17-year-old winner of the last Swiss Squash Championships (at senior level!) and the last Junior (U19) Squash European Championships pushed squash specialist John O'Donnell to a very tight game that was not over until O'Donnell had made 5 points in the tennis at 5-15. (End difference: +7.) O'Donnell faught well to get 5 points in a squash set that was very entertaining (at least for those watching that are used to losing out heavily to O'Donnell in the squash, such as the author of this article...).
- Uwe Knoller, who was the only Swiss player to reach the quarterfinals got there by beating experienced Hans Mullamaa +6 (tt:10-21 ba:21-8 sq:18-21 -) in his first ever Racketlon match.
All in all the tournament turned out to become a great milestone for Racketlon; Organisation was smooth, the sport centre perfect and interest among the some 150 Swiss players, almost all new to Racketlon(!), great. Well done, tournament director Nico Hobi with team!

/H

_________________________________