Sensational Winner in the Gothenburg TOP 8
Date: 2002-03-24
_________________
Former top international tennis player Magnus "Gusten" Gustafsson earlier today, very unexpectedly won the monthly Gothenburg TOP 8 event, thereby defeating such established racketlon players as Hans Mullamaa, presently no:17 on the Swedish racketlon ranking, and, in the final, Håkan Granberg (no: 13). This sends shockwaves through the Gothenburg racketlon community, perhaps not so much because of the actual victory (which was achieved with a very small margin) but because of the rate at which Gusten seems to improve since he first took up racketlon at World Open last November. That is only four months ago... If this continues, some feel, we might be looking at a serious contender for the World Open title within the near future.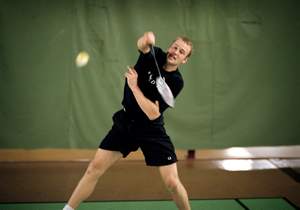 Gusten. Best Racket Player in the World, 2003?
Present holder of the top position on the Gothenburg Racketlon ranking, Håkan Granberg, said, after the final, that he was "very surprised" that he lost to Gusten. Although impressed by Gusten's rate of improvement he was very disappointed and felt that he should never have let this happen - and indeed that it "shall never happen again". Gusten's margin landed on a close +3 points (21-19, 15-21, 9-21, 21-2) and Granberg felt that these figures were disappointing and unexpected in all four disciplins. He was particularily unhappy with his loss in table tennis where Gusten still employs a "beginner racket" that does not give any spinn; "It was like playing against a wall" Granberg complained.
Gustafsson asked after the final: "When did you say that the Swedish national championships were going to take place?". (The answer is end of May...)
Racketlon.com appreciates the fighting spirit hidden behind Granberg's gloomy words while congratulating Gustafsson on his first top 8 victory (neatly complementing his 14 victories on the ATP Tour from before ;-) and his rise to third place on the Gothenburg Racketlon ranking.
For more figures from the event, see full results from March Top 8.
The Gothenburg Top 8 events are monthly, informal racketlon competitions for Gothenburg's best racket players - and for special guests from anywhere. Since Top 8 was started at the end of last year During it has managed to attract not only Gusten but also a substantial part of the rest of the Swedish Davis Cup team from the mid Nineties. How about names like Jan Apell (once tennis world champion after his doubles victory in Masters) and Christian Bergström (twice Wimbledon quarter finalist)? Among other prominent names that have joined this Gothenburg Racketlon "movement" are Jens Wahlman (recently number 6 on the Swedish badminton ranking), Peter Hedram (one of very few tabletennis players that can claim that they have won more matches than they have lost against former World Champion Jan-Ove Waldner) and Olle Benéus (number 9 on the Swedish squash ranking not so many years ago).
The main feature of the top 8 events is that each participant gets to play three full racketlon matches more or less in sequence thereby making them very intense and time effective training sessions. Anyone can apply. To read more about it see the Top 8 web page (which is also the place where the Gothenburg Racketlon ranking list is published).
_________________________________