Next Stop Budapest
2007-02-21
_________________
The draws for the upcoming Hungarian Racketlon Open have now been published on www.racketlon.hu (see direct link to the draws).
According to its Entry Engine this tournament has this year managed to attract no less than 163 entries from 15 countries, which indicates an increase by about 60% from last year's inaugural event (see report). The move from small town Pécs in the south of Hungary to capital Budapest should explain some of the increase; Budapest should mean a bigger local market (although the number of Hungarian entries (58) in this year's tournament is about the same as last year) and also a more interesting and easy-to-get-to target for the international players (that's where the biggest real increase has com from).
Another exciting Racketlon weekend is awaiting. For "a closer look" at the Men's Elite draw see the preview below. Another preview of the tournament has been published on the homepage of the Austrian Racketlon Federation; www.racketlon.at (see direct link)
_________________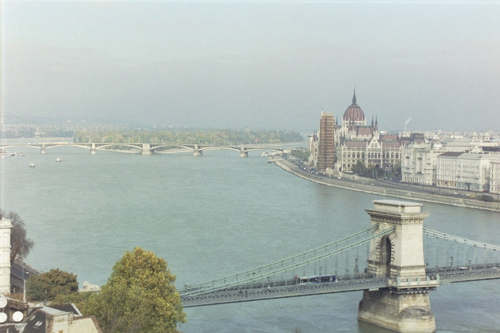 Budapest greats the international Racketlon community for the first time.
A CLOSER LOOK AT THE HUNGARIAN OPEN DRAWS

Predictions according to the seedings (world rankings as of 17th December):

Men's Elite quarterfinals:
(1) Calum Reid [SCOT WR2] - Henrik Håkansson [SWE WR18]
(2) Michael Dickert [AUT WR10] - Rickard Persson [SWE WR8]
(3) John O'Donnell [ENG WR9] - Marcel Weigl [AUT WR11]
(4) Christoph Krenn [AUT WR13] - Elmar Schaub [GER WR5]

...however:

(1)
-What could Oliver Kudicke [WR27], one of several rising German Racketlon stars, achieve against Henrik Håkansson in the second round? Kudicke has started to build an impressive history of upsetting the seedings; How about his first round win against Rickard Persson in the 2005 German Open? Or the more recent clear quarter final victory over John O'Donnell [WR9] in the Dutch Open last December; Kudicke - O'Donnell +8 (tt:11-21 ba:21-6 sq:9-21 te:21-6)?
-How good is Calum Reid at present? He has not been seen on the World Tour for almost 4 months after his rather weak performance in the Gothenburg Open at the beginning of November.

(2)
- Could Austria's Gregor Puchas [WR34] challenge Rickard Persson in the second round? Puchas is a name that is mentioned with an increasing amount of respect after his Class B victory in the last World Championships and his single point win over Marcel Weigl [WR11!] in the Austrian Open a few months ago; Puchas-Weigl +1 (tt:20-22 ba:16-21 sq:21-17 te:21-17).

(4)
- Who is the mysterious Hungarian "Nandor L", who never before took part in a Racketlon world ranking event and has been given a wildcard to the Elite draw? Facing Germany's Alexander Köpf [WR20] in the first round.

/H
_________________________________