"The Wayne Gretzky of Racketlon"
2006-10-10
_________________
Revision history:
2006-10-10: First published version.
2006-11-20: Added pictures, a link to a video and some complementary text.
_________________
Tournament Director Dean Gillis reports below from the first Pacific Rim Open, the first racketlon world ranking event with "challenger status" - meaning that it is not part of the official tour and that only half the number of ranking events were on offer compared to a standard tour event (see newsitem from when the challenger concept was introduced a couple of months ago).
Noone came close of stopping Sweden's three times World Champion Magnus Eliasson from picking up the prize check of $1000cad. And, not surprisingly to those who have seen him play earlier, he seems to have made an impression; In a report on Canadian television he was introduced as "the Wayne Gretzky of Racketlon". Watch that video!
According to its Entry Engine the event attracted as many as 69 entries. Not a bad start for a first time racketlon event in a completely new part of the world! And, according to Gillis the event will be back next year.
_________________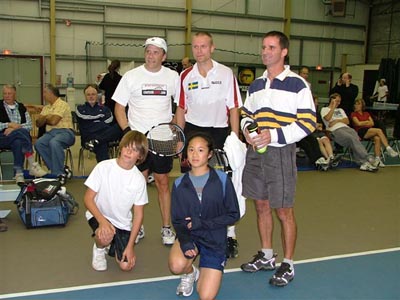 Participants at the first pacific Rim Open in Victoria, BC, Canada.
Men's Elite finalists Peter Brix and Magnus Eliasson at the top left.
photo: Dean Gillis
The Pacific Rim Open was a huge success. Here are the "A" results. For full resuts see tournament website.
Men's Elite
Quarters
Eliasson def Colin Koo
21-6, 21-5, 21-2, 21-10
Hayward def Byron Kidd
21-8, 3-21, 21-12, 20-18
Blum def Sasha Brkic
12-21, 21-3, 12-21, 21-11
Brix def Stan Dee
21-6, 11-21, 15-21, 21-14
Semis
Eliasson def Jon Hayward
21-4, 21-4, 21-10, 21-9
Brix def Hannes Blum
8-21, 21-2, 21-7, 10-21
Final
Magnus Eliasson def Peter Brix
21-5, 21-14, 21-16, 21-7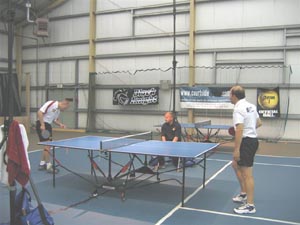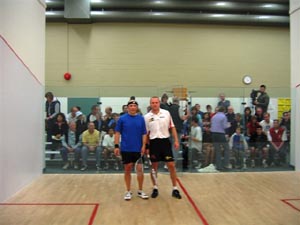 Eliasson faced racketlon first-timer Peter Brix in the final.
Women Elite
Round Robin Final:
Damaris Brix def Allison Marr
Magnus also played a Pacific Rim all star team winning +5.
Eliasson def S.Brkic 21-16
M.Lee def Eliasson 21-17
Eliasson def J.Hayward 21-10
P.Flint def Eliasson 21-14
Thanks and we'll see you next year.
Dean
_________________________________