Two More World Ranking Events!
2006-06-11
_________________
The International Racketlon Federation announces today two more World Ranking Events on the 2006 tournament calendar. It is the Pacific Rim Open in Canada in the beginning of October and the Dutch Open in December that have been awarded so called "Challenger" status meaning that they become lower level (prestige Factor 0,5) World Ranking Events "in orbit" around the official Racketlon World Tour.


Cedar Hill Recreation Centre on beautiful Vancouver Island, on the Canadian West-coast. The venue for the first Pacific Rim Open 5-9 October - a five day(!) tournament that is aiming for a total pot of Prize Money of 3000 Canadian $ (see sponsorship offer). It has the potential to attract participants from nearby Vancouver (3 million people) and Seattle (5 million people). Details under EVENTS!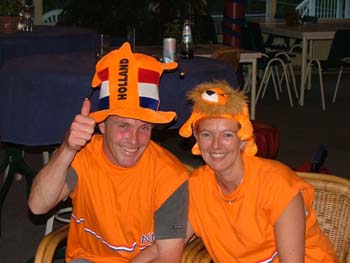 Linking up with the Dutch multi-racket community with traditions going back to 1985(!) Dutch Open will take place in Rotterdam 15-17 December. Details under EVENTS!
(Photo: www.racket4s.com )
These are the first tournaments that have ever been awarded "Challenger" status and mark the introduction of this new concept. The plan is to - one or a few tournaments at the time, as opportunities emerge during the next few years - expand the number of IRF World Ranking events with these "lower level" Challenger Events. And the simple idea is that this will stimulate the creation and growth of new local racketlon communities in new geographical areas. While focus still remains on the 12 "higher level" tournaments of the official IRF Racketlon World Tour, that will also, no doubt, gain from the fact that players from the new communities will emerge on their entry lists in search of the best opportunities to advance on the World Ranking.


Introducing "Challenger Events"!
(Look for this new icon under EVENTS.)
The other main idea is that the Challenger Events will be allowed to compete for official World Tour status with the rest of the World Ranking Events, which should lead to increased quality among the World Tour events - both through the forces of competition and through the fact that the best tournaments will move "up" to become Tour Events and others will fall "down" to become Challengers.
For more details on the Challenger Events, including a continuously updated Challenger calendar and a description of how this new concept will work together with the World Ranking System, see the introduction to IRF Challenger Events 2006.
_________________________________