The Pacific Rim Open in Victoria was a model of how all tournaments should run. I'm not talking about hordes of top ranked players, countless cars running between airport and venue, or a perfectly formed time schedule allowing everyone to have a 6 hour meal break between each match......I'm talking about an atmosphere of friendliness, genuine enthusiasm and unquestionable sportsmanship.
Victoria is set on Vancouver Island, to the south-west of the city of Vancouver and to the north-west of Seattle. My first experience of the island (and indeed Canada), was a friendly greeting from the customs official at the harbour - a stark contrast to the frosty welcome I had received at Seattle airport and in many other countries around the world (including the UK might I add!) - and at first glance Victoria looked fantastic, helped by the excellent weather.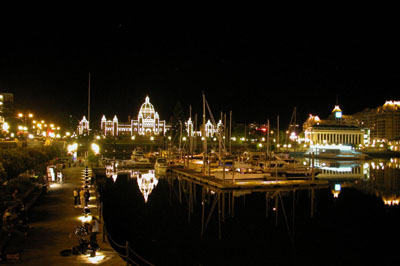 Victoria Harbour by night. The parliament buildings in the background.
photo: www.kjk.ca
That evening we made our way to the venue - deciding to walk as we had plenty of time (a 50 minute journey told us we would get the bus the next day). The venue is an excellent sports centre set in a quiet green neighbourhood alongside a golf course. Excellent standard squash, badminton and tennis courts sat alongside the table tennis tables brought in for the event - "near enough the only tables we have on the island!" joked Dean Gillis, tournament organiser. Several people introduced themselves and were very chatty, as the tournament desk projected the latest scores from the laptop onto a free white wall for all to see and players buzzed around, watching, playing and talking about this new sport they had suddenly become part of. I had no match on the Friday but was able to support the elder Jordan in his nailbiting +2 victory in Men's C over local stalwart Reg Hashizume.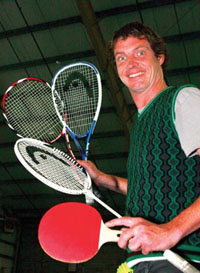 Tournament Director Dean Gillis shows off four rackets for a local newspaper. For the full article, published in the "Victoria News" just before the tournament, click here.
photo: Victoria News
We returned to the venue on the Saturday morning via a very straight forward bus ride (it always amazes me the number of people who go to a tournament and seem unable to use public transport..), and were confronted with the sight of several tables laid out with fresh coffee, muffins, croissants and fruit next the practice table tennis for the players to enjoy at leisure. Nice touch. The Men's A had started the previous evening for those with first round matches, so it was second round (or quarter-final) time around midday, with Byron Kidd, Peter Brix, Nick Coutts and Ray Jordan all safely through. The same went for the Ladies' A, with the semi-finals being played and last year's finalists Alison Marr and Damaris Brix both winning to set up a rematch the next day. Men's Doubles continued too, and I must say I think I ought to give either Tom Whitehouse or Jermain Manners a call to find out how to play doubles with your dad successfully. Still, we won through one round but lost out to eventual runners up Sasha Brkic and Hannes Blum in the semi-finals. They would go on to lose in the final to the 'Quebecians' Rod Bedard and Jeremy Easterbrook, who had no real weakness over the 4 sports, which was the key to their victory.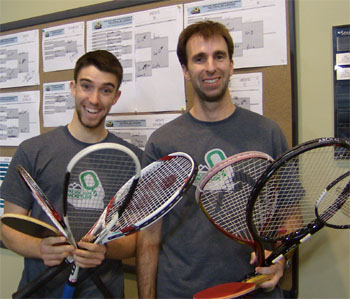 For the first time in Canda Racketlon Doubles was played. Above the winners of the Men's Doubles; Jeremy Easterbrook and Rod Bedard. Travelling all the way from Montreal to take part.
Photo: Marie-Hélène Bedard
As the afternoon moved towards evening another culinary surprise lay in store for us, with the breakfast tables transformed to dinner tables with several plates of sushi! Dean explained he had decided on a help yourself buffet in the afternoon to allow the players to socialise more, and it certainly worked. Knives and forks were on hand to help those not adept at using chopsticks (I for one, used chopsticks after receiving some expert coaching in a Thai restaurant after last year's Swedish Open.) One other great innovation from this tournament was the complete absence of scoresheets! That may sound odd, but it worked brilliantly. In order to get between any two sports you had to walk past the registration desk, so the organisation decided that after each sport the players would simply give the score for that discipline so they could add it to the 'scoresheet' on the laptop and move on. They wouldn't be given a shuttle until they had given their table tennis score, and they would only be assigned a tennis court (always the bain of Racketlon tournament organisers!) once they had given their squash score. Frequent shouts from the desk along the lines of "start your tennis now you've been hitting for 3 minutes" and "get on with it NOW, they are players waiting", etc kept the tennis running very smoothly and it has to be said, the system worked perfectly. Whether that would work for larger tournaments I'm not sure, but it certainly was refreshing to see players taking responsibility for their own games and actions for once!!! As it should be, of course. And to the best of my knowledge, not one person forgot a score, or caused a problem. Something we could all learn from.
Sunday came (along with more cereal bars, fruit and coffee), and the men's semi-finals. Two senior players, very equal in every sport, played out a fantastic match with Peter Brix winning by virtue of a 21-10 table tennis victory. In the top half I beat Nick Coutts - a world ranked tennis player (1440 in doubles), fortunately I only needed 1 in tennis to win and although we played to the end I was tempted to retire 'injured' when leading 3-2...eventually getting 5. Nick could be a dangerous player in time; his real weakness is squash, but he has excellent tennis, good badminton and OK table tennis, so let's see if he does more damage next time! Tennis was by far the best represented sport at the tournament - there were something like 3 tt players, 3 badminton players, 4 or 5 squash players and the rest tennis. 3 full time squash referees were on hand to referee ALL squash games - an excellent touch and much appreciated by all, especially when several players needed help with the rules!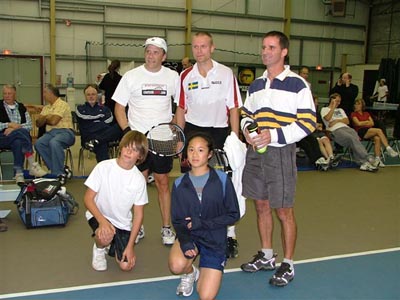 This year's winner, Peter Brix, at the top left together with World No.1 Magnus Eliasson. The picture is from 2006. Brix lost to Eliasson in the final of both previous years of this tournament.
photo: Dean Gillis

Joshua Coutts (brother of Nick) won the B class, defeating Winston Pain in the final, Geoff Jordan edged out Calvin Tai in the C and Georgina Price won the Ladies' C at a canter. Husband and wife Peter and Damaris Brix won the mixed doubles, defeating Alison Marr and Omar Samand in the final. It was a very successful weekend for the Brix family as Damaris doubled up to win the ladies' singles against Alison, avenging her Toronto defeat. That was played alongside the men's final in which Peter Brix defeated me in a close match - his 8 points in the table tennis proving crucial as he went into the tennis 5 ahead (both badminton and squash were 21-12), giving him enough to leave the shadow of Magnus for the past two years and claim the title for himself. I'll get him next time...

It just leaves me to say thank you very much to all the people who helped organise the event, especially Dean who found some wonderful free accommodation for us - fantastic stuff - and here's to the Pacific Rim in 2009, believe me it's worth a visit.


/RJ
Reflections from Victoria
- from the viewpoint of the President of the Canadian Racketlon Association.
_____________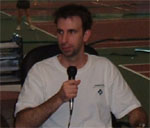 Rod Bedard. President of the newly founded Canadian Racketlon Association.
Photo: David Liu
This year, myself and three fellow Quebec players decided to make the 6 hours flight to cross Canada and participate in the Pacific Rim Open Racketlon tournament. Since I was the one who convinced the others, I was hoping for a decent tournament so my teammates would not regret their journey. I was not disappointed.
On Thursday we visited the venue, very nice by the way, and hit a few balls. We were impressed by the squash and badminton courts. Friday morning and afternoon was dedicated to a visit of Victoria, wow, what a nice city. We started by visiting the legislature building, going on a boat tour in the inner harbor (it was strange to see all the float houses) and finally a stroll across Beacon Hill park. The scenery of the Pacific Ocean and the mountains of the mainland was indescribable.
Now a few comments on the tournament itself: many good athletes were on hands, two tennis players with a world ranking in doubles, some national ranked squash and badminton players plus 3 good table tennis players. The most impressive was the gentlemen O-45, Byron Kidd (semi-finalist) and Peter Brix (winner) both competing in the Open division and showing the youngsters that fresh legs is no match for experience. Some positives points about the tournament: squash referee for each squash match (excellent idea), very good lighting (I heard they improved it from last year), running score projected on the wall so we can follow many matches at the same time, it was the first time I experience this and it is very pleasant. The organizers were very nice and kept their cool under pressure, thank you Dean and John. All rounds started on schedule except when players were involved in many semis or finals.
Some negatives (just so I don't look too bias) table tennis standards were lower than the other sports, 3/4 inch playing surface is necessary plus playing area divided by table tennis dividers. Most people are not moving much from the table since they are beginners but for the more experienced players, it was like an obstacles course. Transportation from the venue was complicated due to the long weekend in Canada, taxis were not easily available thus making us wait up to an hour to get a ride back (at 12h30 at night). Depending on the numbers of players from out of town playing the last round ,may be one person with a minivan could stay (just a suggestion).
Overall it was an excellent event that will keep growing in popularity I'm sure. More players from Quebec will be coming next year and hopefully a few from Toronto too. As for European, I suggest you plan your vacation in advance, you'll get to discover 1-how big is Canada 2-how nice is Victoria 3- how polite are the people there 4- how to run a successful tournament.
See you next year in Victoria.
Rod Bedard
President
Canadian Racketlon Association
_________
Results in summary (see tournament homepage for full results):
Victoria BC, Canada, 2008-10-10--12
Pacific Rim Open
- a Challenger World Ranking Event

MEN'S ELITE
Quarterfinals:
Ray Jordan (ENG WR27) - Sasha Brkic (CAN WR337) +19 (tt:21-10 ba:21-1 sq:8-21 te:4-3)
Nick Coutts (CAN WR-) - Hannes Blum (CAN WR337) +23 (21-9 21-7 9-21 21-12)
Peter Brix (CAN WR115) - Patrick Flint (CAN WR-) +40 (21-15 21-6 21-2 -)
Byron Kidd (CAN WR337) - Rod Bedard (CAN WR63) +27 (8-21 21-8 21-2 21-13)
Semifinals:
Jordan-Coutts +5 (21-3 11-21 21-8 5-21)
Brix-Kidd +11 (21-10 24-26 21-19 11-11)
Final:
Brix-Jordan +11 (8-21 21-12 21-12 17-11)
LADIES' ELITE
Semifinals:
Allison Marr (CAN) - Marie-Hélène Bedard (CAN) +22
(tt:18-21 ba:21-2 sq:21-2 te:8-21)
Damaris Brix (CAN) - Line Bellerose (CAN) +25
(21-18 21-10 21-2 13-21)
Final:
Marr-Brix +3 (14-21 21-16 21-16 n/a)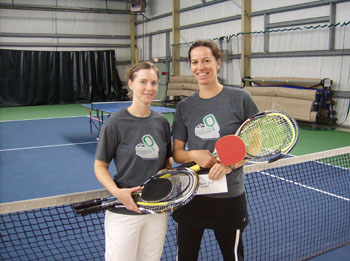 The winners of the Ladies' Doubles; Marie-Hélène Bedard and Line Bellerose.
Photo: Rod Bedard