A Veteran Winner in the Elite!
2007-04-18
_________________
The Dutch Racketlon community, with Marc Veldkamp in the lead, is gearing up big time for the 2007 World Championships to be held at the end of this year. Racketlon activities are emerging like mushrooms in several places of the country. Since the first Racketlon tournament (the Dutch Champs) was held near Haag about a year ago (see report) the following developments can be noted:
Rotterdam:
The first Dutch world ranking event was held in Victoria sport center in mid December 2007 (see report). This will also be the venue of the 2007 World Championships.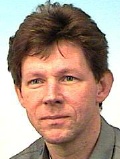 Marc Velkamp. The tournament director of the next Racketlon World Champs. And the strongman of Dutch Racketlon.
photo: www.sportmarc.com
Haag:
Yesterday (Tuesday17th of April) a "Racketlon Day" for kids was organised in the small town of Zoetermeer in the outskirts of Haag. The venue was the same as the one used for the first Dutch Champs last year and the arrangements similar in the sense that the event was part of the "National Day of the Racket Sports". The driving force behind the Racketlon Day was Sietske Friesen, a participant at last year's Dutch Champs that got so enthusiastic about Racketlon that she started this. 240(!) kids in the ages of 10-12 participated and all got to practice every single racket sport for 30 minutes under the guidance of professional coaches and were entertained during the lunch by Edward van Cuilenborg (a TV sports reporter), Winston Post (an actor), Trinko Keen (Dutch Champion Table Tennis) and Robin Ammerlaan (World Champion Wheelchair Tennis) who played Tennis and a Table Tennis Doubles. Also some schools(!) in other locations organised a Racketlon day instead of a traditional sports day.
Zevenaar:
A new Racketlon tournament (World Ranking Event?) is being planned for the end of this summer in the small town of Zevenaar by the German border. Stay tuned to Racketlon.com for further updates on this!
Amsterdam:
In the sport center of Amstelborgh/Borchland (see their Racketlon webpage!) monthly tournaments taking place on the first Friday of every month have emerged. This also became the venue for this year's Dutch Championships that took place over the previous weekend. Who won? See Marc Veldkamp's briefing below for the answers! And be sure to check out the excellent videos from the finals through this page. (Through the same page you can also access a video from the 2006 Dutch Open final between Elmar Schaub and Peter Duyck. )
_________________


Van der Woerdt wins second titel and veteran Jacob de Vries surprisingly wins his first title.
WOMEN'S ELITE:
Semifinals:
Mariëlle van der Woerdt - Joyce Crouse TT 21-19, B 21-14, SQ 21-13, T 21-12 : +26
Karin Geertsma - Monique Jordan TT 21-6, B 7-21, SQ 21-5, T 21-4 : +34
Final:
Mariëlle van der Woerdt – Karin Geertsma TT 11-21, B 21-2, SQ 14-21, T 21-17 : +6
Comment:
In a close match Mariëlle van der Woerdt (wr 8) only won with 6 points difference over squash player Karin Geertsma. After Squash Mariëlle was only leading by 2 points. Mariëlle managed to stay ahead in in Tennis and won in the end the whole match with a difference of 6 points.
MEN'S ELITE:
Semifinals:
Jacob De Vries - Herbert ten Have TT 13-21, B 15-21, SQ 21-1, T 21-17 : +10
Paul Twisterling – Alwin Krist TT 14-21, B 21-8, SQ 7-21, T 21-6 : +7
Final:
Jacob de Vries – Paul Twisterling TT 21-5, B 11-21, SQ 21-12, T 7-16 : +1
Comment:
Jacob started very well in table tennis and took the lead with 21-5, Paul didn't manage to keep Jacob below the 10 in Badminton, but played above expectation in Squash. Jacob only needed 7 point to win in tennis, Paul played very well until he made a couple of unforced errors.
_________________________________