Press Release:
The FIR Launches the 2007 Racketlon World Tour
2006-10-30
_________________
Revision History:
2006-10-30: First published version.
2006-12-10: Updated with pictures and some more text. (No substantial changes.)
2007-01-16: Changed the venue for the Hungarian Open from Györ to Budapest
2007-01-19: Changed the name of the Belgian tour event from "Belgian Open" to "King of Rackets" in accordance with directives from Belgium
_________________
The International Racketlon Federation (FIR) today makes official the calendar of the 2007 FIR Racketlon World Tour. A cousin of triathlon and decathlon, Racketlon is the sport where players challenge each other in all four of the world's major racket sports; table tennis, badminton, squash and tennis. Four sets to 21. Most points is the winner.
In 2007 the World Tour takes place for the fifth consecutive year. It contains 11 tournaments in 11 countries and compared to last year there are three major changes:
-The Netherlands (with a World Champs just after Christmas!) move up from Challenger status.
-Gothenburg is removed from the tour based on an FIR decision to only allow one tour event per country. (Stockholm will take care of the Swedish tour event in 2007.)
- Bulgaria is also removed.
Here is the full calendar:
w2 SWEDISH OPEN (Stockholm) 12th–14th January ***S***
w8 HUNGARIAN OPEN (Budapest) 23rd-25th February
w10 CANADIAN OPEN (Toronto) 9th–11th March ***S***
w13 CZECH OPEN (Prague) 30th March-1st April
w21 KING OF RACKETS (Oudenaarde, Belgium) 25th–27th May ***S***
w24 FINNISH OPEN (Espoo) 15th-17th June
w28 GERMAN OPEN (Rüsselsheim) 13th-15th July
w33 ENGLISH OPEN (London) 17th–19th August
w38 SCOTTISH OPEN (Edinburgh) 21st–23rd Sep
w47 AUSTRIAN OPEN + Doubles WC (Vienna) 23rd–25th Nov
w52 WORLD CHAMPS (Rotterdam) 27th-30th Dec ***S***

***S***="Super World Tour Event" = a minimum of 2000 Euro of prize money; and prestige factor 1,5 in the FIR Racketlon World Ranking system, except for the World Champs that has 2,0. (The other World Tour events have a minimum of 700 Euro of prize money; and prestige factor 1,0 as previously.)

Several of the existing tournaments have new venues; Hungarian Open moves to Budapest, the Finnish Open to Espoo (a gigantic complex outside Helsinki), the German Open to Rüsselsheim (still close to Frankfurt), and the English Open, finally, back to London (to a new venue though, in Redbridge, near Stansted airport).
The Challenger level (prestige factor 0,5 in the FIR World Ranking System) that was introduced in 2006 (see newsitem) in order to provide a simple way for new tournaments to compete for a position on the World Tour is maintained. Tournaments on this level will be announced as they emerge during the year.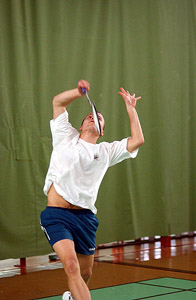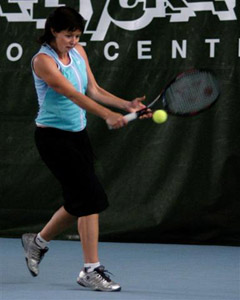 The 2006 Racketlon World Champions, Mikko Kärkkäinen (Finland) and Linda Jansson (Sweden)
Photo: BMM
The tour constitutes yet another in a series of increasingly ambitious efforts to find an answer to the question "Who is the Best Racketplayer in the World?" Is there still anyone unknown out there that could challenge this year's World Champions Mikko Kärkkäinen (Finland) and Linda Jansson (Sweden)? Although not exactly unknown these are three potential challengers on the men's side:
Not many people know that Canadian former squash World Champion Jonathon Power actually started his career (at a very young age) as a badminton(!) player and is apparently also a good tennisplayer. In March this year he announced his retirement (see Squash Canada article) at a time when he was, at the age of 31, the oldest player ever to be the number 1 on the squash world ranking. A few years ago, he expressed an interest directly to Racketlon.com to take up Racketlon once his squash career slowed down...
Swedish former tennis world #1 Stefan Edberg has taken up squash and made his debut in the Swedish top(!) squash division earlier this autumn (see newsitem). He did, in fact, already take part in his first racketlon tournament in 2004 - which he won (see newsitem) - but that was only a small local one in his hometown Växjö. We are still waiting with excitement for his debut on the tour - or indeed in a Swedish Championship. Rumour has it that Edberg feels that he needs to get better in table tennis and badminton first...
There are also indications that former table tennis world #1 Jan-Ove Waldner might be interested to try Racketlon when his incredibly successful table tennis career comes to an end. Just turned 40 and regarded by many as the best table tennis player the world ever saw, he is still winning; He became Swedish Champion again in 2006! And is said to play a strong game of Tennis - occassionaly against fellow Swede Mats Källberg, known to be the best table tennis player on the Racketlon World Tour - so-far!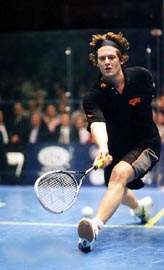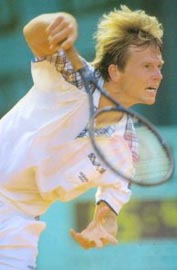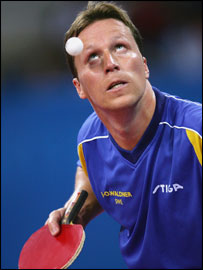 Power, Edberg, Waldner. Three potential challengers on the 2007 Racketlon World Tour!
If the reader of this press release is an excellent all-round racket player the FIR Racketlon World Tour provides an opportunity to find out if he even, in fact, is a top international racketlete. But the tour events are not targeted on elite players only. Anyone can take part (most events will contain at least three separate classes for amateurs, at least on the men's side) and everyone will get a position on the FIR Racketlon World Ranking.
More information about Racketlon in general and the tournaments of the tour in particular can be found at www.racketlon.com, the homepage of the International Racketlon Federation.
/H
_________________________________