The Present Scope of Racketlon.com
2018-05-07
_________________

As the international launch of Racketlon, started in 2001, has successfully moved on Racketlon.com has joyfully been joined by many other Racketlon websites in many countries, which has - step by step - made it possible to lower the ambition level for updates. Especially, in March 2007, Racketlon.net took over as the official homepage of the International Racketlon Federation (FIR) (see news item). Racketlon.com then continued to cover international Racketlon extensively in parallell over a "hand-over period" until the end of 2008 but as of then Racketlon.com is mainly about the past with occasional updates from the present. It aims to provide a unique and rather complete record of the international launch of a new sport.

However, in this occasionally updated record, there are still sections that are very much alive. The list of these sections may vary over time with ambition level and Racketlon needs. Here is what it looks like at present:

The Trademark Arrangements
- The main current purpose of Racketlon.com is to serve as the official information channel for the owners of the Racketlon trademark. This includes making sure that there is no doubt in anyone's mind that Racketlon is, in fact, a registered trademark. And to inform everyone about what that means.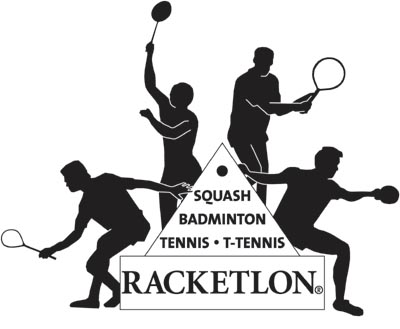 The original Racketlon logo. Racketlon is, since the beginning of the 1990:s, a registered trademark currently owned by a group of leading Racketlon individuals (featuring e.g. the original trademark owner, Peter Landberg of Stockholm, Sweden) marketed by the International Racketlon Federation under a licensing agreement.


The Racketlon.com Entry Engine
- available for anyone, anywhere, who needs a handy on-line entry system. This is the classic on-line registration tool that assisted the international launch of Racketlon beginning in 2006. Although there has been no new version of it for quite some time (maybe the last upgrade was in 2010(!)) it actually remains popular with some organisers. Amazingly enough.

Swedish Rankings
- the official Swedish Racketlon Ranking. On this site since 2002.
Swedish Events
- the official Events Calendar of the Swedish Racketlon Federation. On this site since 2002 (with a break during the period June 2015 - December 2017. For a record of Swedish ranking events during this period see the rankings excel document.)


(To keep track of updates made to Racketlon.com pleaser refer to the Revision History.)

/H
_________________
Revision History:
2011-11-21: First version.
2017-08-05: Removed Breaking News and Swedish Events from the list above. Added The Trademark Arrangements.
2018-05-07: Added the Swedish Events section above to reflect that this calendar is now again covered on Racketlon.com
_________________________________