Who's Next?
2006-08-23
_________________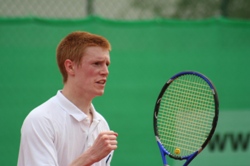 Calum Reid, Scotland. Favourite to win the title this year.
(photo: www.racketlon.be )
The third German Racketlon Open, tournament #8 on the 2006 IRF Racketlon World Tour, is only two days away and tension is yet again building up in the Racketlon community. The entry list (see the Racketlon.com Entry Engine) of this year's tournament reveals an exceptionally international field of participants; 163 entries from no less than 17 different countries including Croatia (Ljubisa Oskroban in the Men's C Class), Italy (Alessandro Toson and Massimo Galliano - both Men's C), Slovakia (Marcel Kravec, Men's B) and South Korea (experienced racketlete Andrew Kim in the Men's C). (Note, however, that the Entry list might differ somewhat from the draw due to last minute cancellations recorded off-line.)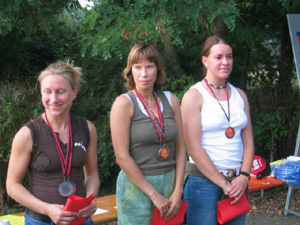 Last year's medalists. Silke Altman (2, Germany),
Lilian Druve (1; Sweden), Jutta Schaub (3; Germany).
(photo: www.racketlon.at )
Germany has long been identified as a country with huge racketlon potential given the sheer size of its population, its impressive infrastructure (an abundance of sport centres suitable for racketlon) and its long tradition in Multi Racket Sports (evidence of so called Mehrschlägerturniere ("many-rackets-tournaments") keep emerging from several parts of the country). At the moment there are also clear signs that racketlon is gaining momentum with a new tournament coming up in the city of Fürth in the southern part of Germany; "The Wilson Bavarian Open" (See Events for more details; Enter through the Racketlon.com Entry Engine). It's a tournament with ambitions that is set to assist the German Open and the tournament in Mittel-Hessen with the task of revealing more of the hidden German racketlon talent.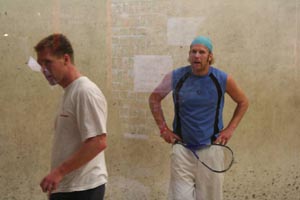 Henrik Håkansson (Sweden) and Alexander Köpf (Germany). Both will take part in German Open.
The picture is from the recent World Champs in Belgium where Köpf surprised by beating Håkansson +1 (tt:14-21, ba:22-20, sq:21-19, te:21-17)
(photo: www.racketlon.be )
Some of it has, of course, already been discovered; most notably on the ladies' side, where Silke Altmann has advanced to the number 3 position on the World Ranking ahead of players like experienced Irene Seifert (WR 15) and Jutta Schaub (WR 18) - but on the men's side as well; Elmar Schaub (WR14) shocked the racketlon world by beating John O'Donnell (England) (current WR 10) in the first round in his first ever event(!) after which he came very close of reaching the final (-2 against the winner Calum Reid in the semifinal; see report from the 2005 Czech Open). Another good example is Oliver Kudicke, a badminton specialist who knocked out number two seed Rickard Persson (Sweden) in the first round of last year's German Open (see report); Oliver Kudicke - Rickard Persson +1 (tt:8-21, ba:21-2, sq:7-21, te:21-12). A somewhat defeatist Persson was heard complaining after the match; "...and these are just Germans from the Frankfurt area. Imagine how many more Kudicke:s there might be in the rest of the country..."
Given all these indications of German racketlon potential and untapped talent the right question to ask before the 2006 German Open seems to be: "Who's next?" Who will provide the next "Schaub Shock"? Who will deliver the next "Kudicke Upset"? Is the answer to be found among the names of the five(!) new Germans that have entered the Men's Elite class?;
Michael Holzinger
Sandro Deeg
Ingo Zimmerman
Gernot Fess
Thorald Raynoschek
None of them has ever taken part in a World Ranking Event before...Who are they? Is one of them another German surprise? Stayed tuned to Racketlon.com to get the answers. A summary of results will be published on Breaking News before 18:00 Sunday evening and a full report is expected the day after.
The draws are to be found on the Tournament Homepage, another tournament pre-view has been published on www.racketlon.at (direct link here) and a press release from tournament management is available here (.doc; German only).
/H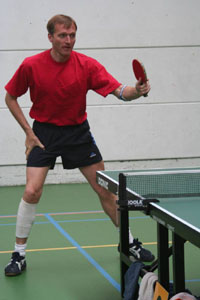 2006 (and 2005) German Open Tournament Director Volker Sach.
(photo: www.racketlon.be )
_________________________________